Indiana takes on red-hot Buckeyes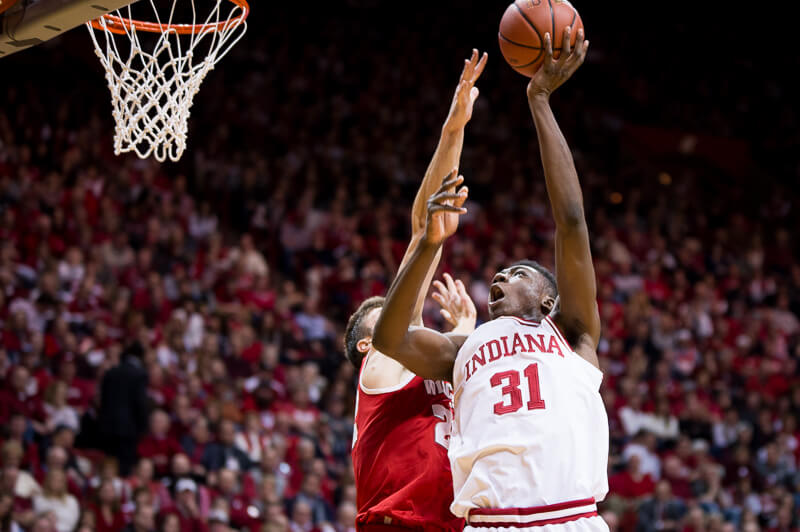 Indiana will put its eight-game winning streak on the line today when it plays host to Ohio State at Assembly Hall.
The Buckeyes, winners of their last seven, are also 3-0 in Big Ten play, and the winner will join Maryland at 4-0 atop of the league standings.
Ohio State's big win of the year came a few weeks ago, beating Kentucky by seven at the Barclays Center in Brookly. The Buckeyes have looked much better since that game after starting the season just 2-4.
"The Kentucky win was a huge win for them, because they really played with a lot of confidence on the road," Tom Crean said. "Probably like the Notre Dame second half did for us."
Crean went as far as to say Ohio State is "the best team we will have played thus far."
A young team with just one upperclassmen, the Buckeyes are led by junior forward Marc Loving. He's averaged 14.9 points and six rebounds per game. Indiana native and freshman JaQuan Lyle averages 9.1 points, 5.1 assists and 3.7 rebounds a game.
"Ohio State is clicking on all cylinders," Crean said. "Their length poses an issue, we're going to have to be very good on the glass and on transition defense."
The Buckeyes also have strong inside presence with Trevor Thompson, a transfer from Virginia Tech, and freshman Daniel Giddens. Giddens gets almost two and a half blocks a game, while Thompson averages 1.5. It'll be a significant challenge for Thomas Bryant – both scoring wise and when it comes to foul trouble. Ohio State's defense ranks 16th in the country according to KenPom.
"They're playing outstanding defense, they're posing a lot of problems – as much as any team we've seen to this point- with rim protection and being able to defend the paint," Crean said. "There's no question that they're really good."
While the Buckeyes have played great defense this season, the offense has been the opposite.
Ranking 141st in adjusted offensive efficiency according to KenPom, the Buckeyes are very much a work in progress. Indiana's defense has improved in conference play (No. 82 in KenPom), and the Hoosiers have yet to lose at home this season.
"From what we've been watching on film, and what we've been told, they have a lot of length on defense," Juwan Morgan said. "They're really active and they like to get out and run in transition. They'll be a challenge for us just like every Big Ten game."
Due to Ohio State's defense, limiting turnovers will be key for Indiana. And with James Blackmon Jr. out for the season, the Hoosiers will need Robert Johnson and Troy Williams to play better than they have through their first three conference games.
"We've had good stretches, but we've got to have longer ones," Crean said.
Filed to: Ohio State Buckeyes