Five takeaways from Indiana's win over Ohio State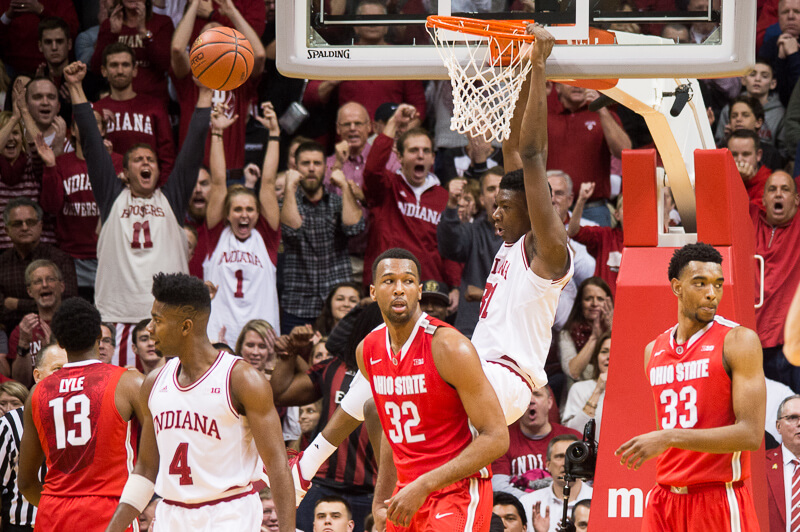 Indiana won its ninth straight game on Sunday afternoon in a complete dismantling of Ohio State at Assembly Hall. The Hoosiers dominated the Buckeyes in nearly every facet of the game in the 85-60 rout.
Here's a look at five takeaways from IU's fourth Big Ten win:
· The Hoosiers played with urgency from the opening tip: There was no hesitation from Indiana at all in the game's opening minutes. It was clear which team was the aggressor as IU raced to a 10-0 lead and never let up before halftime.
Perimeter shots fell. Plays were finished with ease at the rim. And Ohio State had to work for all 18 points it managed to scrape together over the game's first 20 minutes. It was a complete effort and a dismantling of a team that came to Bloomington as winners of seven straight and with one of the Big Ten's best defenses.
How did Indiana score so easily and efficiently? It shared the ball and cut down on turnovers.
"I'd say the key to that was moving the ball," Yogi Ferrell said. "We have more assists-to-turnovers, for the first time for us to happen in the Big Ten, I think that's pretty big for us. I thought we found the lane, and once we get in the lane and kick out, we've got basically anything we wanted."
· Troy Williams bounced back after a poor start to Big Ten play: Through three league games, it would have been hard for anyone to remember that Williams was a player being discussed in the preseason as a potential All-American.
Williams was turning it over too much, he wasn't getting to the line to jump start his offense and he hadn't made a 3 through the first three conference games.
All of that changed on Sunday in his 23-point effort.
Williams had just one turnover in 27 minutes. He took nine free throws after not taking any against Nebraska and Wisconsin and he hit two of his four 3-point attempts. He looked like a player that knew he hadn't played well recently and knew his team needed him to be successful.
"Troy played phenomenal with his head up," Ferrell said of his teammate. "I like his decision-making. He didn't over-penetrate. I felt like he picked and chose his spots."
· Thomas Bryant dominated in the paint: Ohio State's 2-point defensive field goal percentage coming into Bloomington was 39.5. That number suggested that Thomas Bryant, who was finishing 2s better than anyone in the country, could have problems against the Buckeyes.
But Bryant, who has come on strong since fouling out in six minutes at Rutgers to open league play, passed another test with relative ease. He shot 7-of-11 on 2s on his way to 18 points. Neither Trevor Thompson or Daniel Giddens had an answer for Bryant, who continues to provide energy to both his teammates and Assembly Hall crowds.
In four Big Ten games, Bryant is now shooting 72.4 percent from the field.
· Indiana's defense is improving: The Hoosiers may not have played a team yet in conference play that will make the NCAA tournament, but this group is growing defensively.
Sunday's effort was another step in the right direction as Ohio State scored just .54 points per possession in the first half and .85 for the game. That was IU's best defensive effort (from a point per possession allowed perspective) in a Big Ten game against a team not named Rutgers since Illinois came to town back in 2013-2014 and scored just 46 points.
Among the noticeable changes in IU's defense in recent weeks: A much better understanding and approach to guarding ball screens, better resistance at the rim and more awareness on the defensive glass.
· Yogi's brilliant play continues: Perhaps it's just the expectation at this point, but Yogi Ferrell continues to prove that he's one of the best guards in the country.
Williams and Bryant were the statistical leaders on Sunday, but Ferrell wasn't far behind in scoring 16 points and adding six assists, five rebounds and three steals. With James Blackmon Jr. sidelined for the season, Indiana needs Ferrell to pick up some of that lost production. So far, he's averaging 19.8 points in Big Ten play.
But perhaps more importantly, Ferrell seems to be a more engaged presence on defense over the last four games. After slowing down Andrew White in Lincoln and then Bronson Koenig on Tuesday, Ferrell was all over Ohio State's leading scorer Marc Loving on Sunday. Loving finished with just 12 points and had three turnovers in 32 minutes.
Filed to: Ohio State Buckeyes, Thomas Bryant, Troy Williams, Yogi Ferrell