The Inside the Hall Mailbag: January 8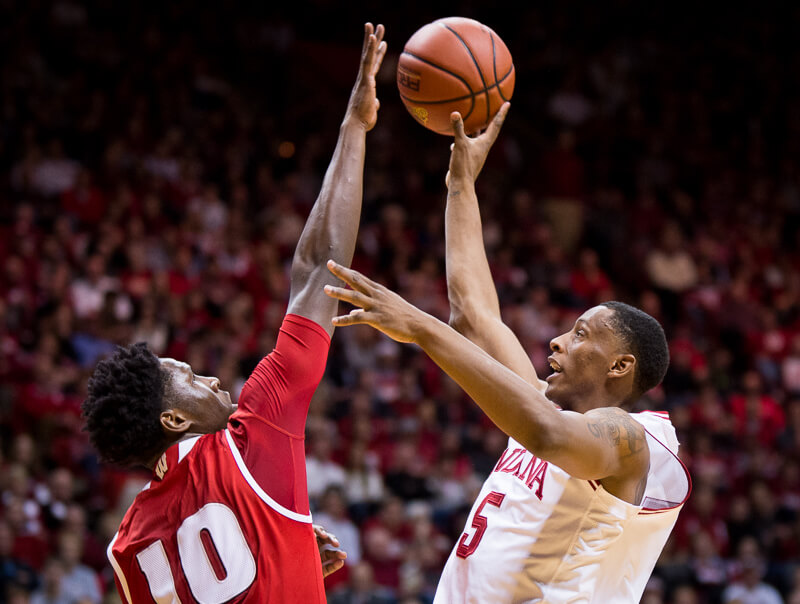 The Inside the Hall Mailbag is a collection of questions tweeted to us via Twitter (@insidethehall), via email, submitted on our premium forum and sent to us via our Facebook page. Submit your questions and we'll answer as many as we can.
Wayne writes via email writes: With Blackmon's recovery time and Williams going MIA the past few games do you think they will both be returning to the roster next year?
James Blackmon Jr. probably wasn't going to have a great chance to get drafted by an NBA team before his injury, so missing the entire conference season with a reported five-to-nine month recovery time means he's probably back for another season. He wasn't on many, if any, draft boards before he got hurt. That's not a knock on Blackmon Jr., who is an elite college scorer, but he needs more time to improve and this injury is a significant setback.
Troy Williams is a little bit different because this is his third season, he's on track to graduate after this season and he's a good enough athlete that a team would likely take a chance on him. His play recently has been poor – his last three games have been his worst stretch of the season – so there's a strong likelihood that things get better from here. Williams is still showing up on draft boards, but he no doubt has to start playing much better soon if he wants to enter the draft and earn a guaranteed contract. I would still be surprised if Williams plays a fourth season in college. – Alex Bozich
danargyn on the premium forum writes: I have a feeling that 'big' lineup plays better for Indiana this year. The deadliest in my opinion is Bryant – OG – Hartman – Johnson – Yogi. What is your optimal line-up?
A lot of it is dependent on matchups. Indiana is going to need bigger lineups to be successful later in the Big Ten season because the post play on teams like Maryland, Purdue, Michigan State and Iowa is very good. Through three Big Ten games, IU hasn't played a team with a good big man. Sunday will be different as Ohio State has two capable bigs in Trevor Thompson and Daniel Giddens.
I still believe that Williams is going to have his share of moments down the stretch, so based on the potential for that, I have a hard time keeping him off of the floor if he turns things around. Maybe you don't let him play through mistakes as liberally, but IU really needs to get him going soon. His second half performance against Notre Dame was pivotal for IU, but that has quickly been forgotten because he's really struggled his last three.
Ferrell and Johnson are obvious choices, as is Bryant. In terms of the other spot, you can make the case for OG Anunoby based on the last three games, but I would caution that he's still a freshman and to expect him to score in double figures moving forward is probably a reach. Defensively is where he has to continue to make his mark. Collin Hartman hasn't played great this season, but he belongs in the conversation, too. Max Bielfeldt has shown he can play with Bryant, so he's another guy who is probably going to get crunch time minutes depending on the game. I think with Blackmon Jr. out for the season, lineups are going to be even more fluid than before. – Alex Bozich
tj21 on the premium forum writes: What is your instinct on TW….is his play recently (Good TW) what we should expect the balance of the year or is "Bad TW" the more likely guy we see?
His play recently has been far more Bad Troy than Good Troy, but as mentioned early, Indiana really needs him to get it together soon. The turnovers are a major problem with Williams and against Wisconsin his minutes went down as a result.
It's hard to imagine Williams can play much worse than he has over his last three games, so I believe improvement is coming soon. The turnovers probably aren't going to come down to a level that you'd expect from a player in his third season, but IU needs his rebounding and ability to finish, so it may have to live with some of those mistakes as a result. Williams needs to simplify things as much as possible and stop trying to do too much with the ball. He's most effective as an offensive rebounder and a player who is making plays from the baseline. If he can get those two facets of his game going first, success will follow elsewhere. – Alex Bozich
GaHoosier on the premium forum writes: I know the sample size is small, but do you believe the improved defense in B10 play is going to become the norm for this team moving forward?
I'm not convinced yet because the competition level has been poor so far. IU definitely deserves credit for beating the teams in front of them, but Rutgers, Nebraska and Wisconsin aren't NCAA tournament teams.
The defense does look better, but how much of that is improvement and how much is the competition level? Probably a little of both. IU had some bad defensive games against some poor competition earlier in the season, so it's encouraging to see the Hoosiers are only giving up .96 points per possession in league play. The schedule remains advantageous through the end of the month, so Indiana needs to keep taking advantage. If the improvement continues and they keeping winning, it should build confidence for the back half of the schedule, which is much tougher. – Alex Bozich
TomJameson on the premium forum writes: Do you have any news on the recruiting front? New names, renewed focus on existing targets, or more interest from any recruits?
The IU coaching staff has been out on the road and active (if you follow us on Twitter, we typically retweet any reports when the staff is spotted at a game) and we definitely owe an update on the 2016 recruiting board soon. With no weekday games next week, it should give us a chance to do that.
As far as 2016 goes, Rawle Alkins and Thon Maker are still the names everyone wants updates on, but there's not much new in either case. The biggest development is probably the potential for 2017 guard Markus Howard to reclassify to 2016. He's going to take an official visit to Bloomington on the weekend of the Purdue game.
IU is also involved and in pursuit of Devonte Green, the brother of Danny Green who played at North Carolina and is currently on the San Antonio Spurs. He's a point guard ranked No. 195 nationally in the 247Composite.
Brewster Academy wing Alpha Diallo, who moved there from Colorado and played AAU with De'Ron Davis, is another name that IU has been linked to, as is Eron Gordon, who is still available. As things move into the spring, things should definitely pick up and the expectation is that IU will be active as always on the recruiting front. – Alex Bozich
madweber on the premium forum writes: Setting Iowa aside, which other B1G team has been the biggest revelation so far?
Ohio State, which comes to Bloomington, has surprised me. The Buckeyes have talent and have now won 9 of 10 after starting the season 2-4. The streak includes a win over Kentucky on a neutral court, which opened some eyes.
I'm also a bit surprised that Wisconsin isn't better than they are, but perhaps I overestimated Bronson Koenig and Nigel Hayes and the supporting cast. The Badgers just don't have enough guys who can create offense and I believed Ethan Happ would be better than he's been so far. Those are probably the two who stand out so far, but it's early. – Alex Bozich
Filed to: Twitter Mailbag