Anunoby, Ferrell and defense lead Indiana to win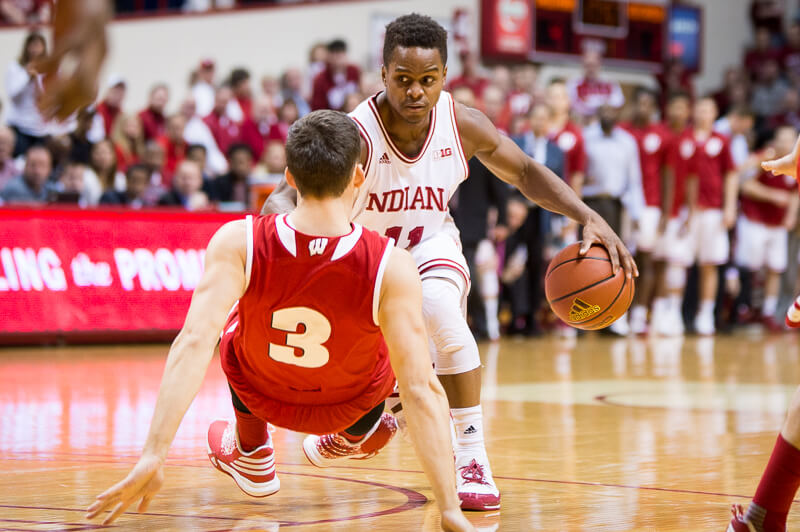 On a night that celebrated the undefeated national champions of 1976 at Assembly Hall, Indiana knocked off Wisconsin 59-58 to improve to 13-3 overall, and 3-0 in conference play. It was the eighth straight win for the Hoosiers.
It was slow and ugly throughout most of the game, different than what most games have been like at Assembly Hall, where the Hoosiers have been explosive on offense. Against the Badgers, however, it was the defense that won the game.
"I think the main thing was us getting stops defensively," Yogi Ferrell said. "We came together and had a collective mindset that we wanted to get stops. We weren't scoring, they weren't scoring."
Indiana held Wisconsin to 41percent shooting from the floor and just 25 percent from behind the 3-point line. It also forced 14 turnovers. Wisconsin's top two scorers, Nigel Hayes and Bronson Koenig, combined to shoot 7-for-25.
"I think it's very important for us to build on," Ferrell said. "I think this game the fans definitely helped us out a lot, so we thank them for being here and building a lot of energy."
The Hoosiers also had four blocks and seven steals.
"You have to play defense for 40 minutes," Ferrell added.
Anunoby's rise continues
For the second consecutive game, OG Anunoby came off the bench to score 11 points. He did not miss a shot, and also grabbed two rebounds. The 6-foot-8 freshman has provided a spark in each of IU's first three Big Ten games, and could potentially see himself in the starting lineup given the news that James Blackmon Jr. will be the remainder of the season after having knee surgery.
"I saw OG's potential in the summer," Ferrell said. "He was just a shy guy, a quiet guy, back then. But we've been on him about bringing that out. We're going to need that to win. These three Big Ten games that we've played, I feel like OG has been a great factor for us."
His continued improvement has also caught the eye of Tom Crean, who continues to give Anunoby more minutes.
"He's an excellent defender," Crean said. "His confidence is growing, you can see that with the way he's shooting the ball. One of the reasons we recruited him is because of the way he could shoot. He's getting more comfortable with it, but he's very smart, he's very athletic, he's very strong for his age and he's pretty fearless when it comes to defense."
Bryant on '76 champs: "That's unbelievable when you get to meet those guys"
The 1976 national championship team was honored at halftime and the group clearly left its mark on Indiana's freshman McDonald's All-American.
"I think about that every day walking into Cook Hall and then seeing the history right there," Bryant said. "That's unbelievable when you get to meet those guys, you get to talk to them. There's a certain humbleness you have to have to yourself and you try to pick up anything that those guys will try to give you. You just want to go out there and play well and get a win for those guys when they're here to watch and just show that you're representing them to the best of your ability."
Other notes:
– IU is 9-0 in Assembly Hall this season.
– The last time IU opened up Big Ten play 3-0 was the 2012-2013 season.
– IU made all 10 free throws it attempted.
– IU didn't trail in the final 13:57 of the game.
– Yogi Ferrell led the team in scoring with 19 points.
Filed to: O.G. Anunoby, Yogi Ferrell