Crean discusses '76 team, Wisconsin on weekly radio show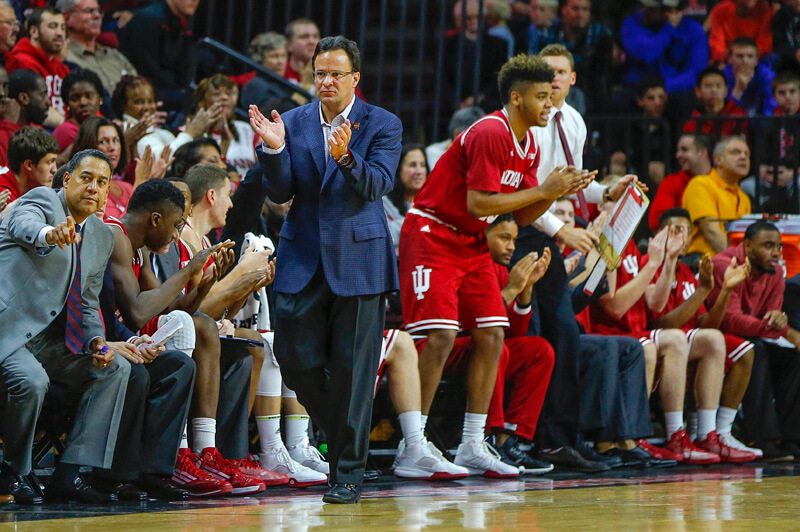 Back for his first radio show of the new year, Tom Crean answered questions from fans ahead of Tuesday's game against Wisconsin at the Holiday Inn in Bloomington.
At halftime of Tuesday's game, Indiana will honor the 1976 undefeated National Championship team. Don Fischer, the voice of IU basketball, said he expects almost all of the players to be there along with several assistant coaches.
"I saw the list today, and it's really, really impressive," Crean said. "So many people are coming back. I can't imagine the loyalty that they all have with another."
The halftime ceremony will be shown live on ESPN3.com.
Crean credits Bo Ryan
Crean talked about the style of Wisconsin's swing offense, calling a it a mix of a flex offense and a five-man out rotation. The key to the offense being effective is to have players who can shoot, pass and post-up, which is something Ryan has done well with in recent years.
However, Ryan is no longer running the show in Madison after retiring in mid-December. Ryan's longtime assistant, Greg Gard, will be coaching just his fourth game on Tuesday evening.
Crean said the most important thing when guarding against the swing offense is to stay alert. Wisconsin has traditionally been good at playing matchups, and the Hoosiers will see how that changes under Gard.
Two road wins in conference play
As both Crean and Fischer said at the beginning of the radio show, picking up road wins is critical to win a conference. IU is off to a 2-0 start in the Big Ten after wins at Rutgers and Nebraska.
"It got harder from the very beginning when we lost James (Blackmon Jr.) in last Monday's practice," Crean said. "It changes a lot of different things, it changes rotations, it changes combinations, it changes how much guys are in at a certain time."
Max Bielfeldt had a double-double versus Rutgers and Yogi Ferrell had 24 points in the Nebraska win.
"For our guys to find a way to get better inside a game, and to withstand some runs, to be on the road, to not play great in any one area, but to play good enough and to persevere through things to win the game was really, really strong," Crean said. "If you're going to be in a 40-minute game, you can't have many empty possessions."
The bench played a major factor in each win, most notably the freshmen OG Anunoby and Juwan Morgan, who continue to improve as they get healthy and the season moves along.
"I think it's important that you have a team that doesn't pace itself in the game," Crean said. "You want to play by a possession-to-possession mindset but you don't want to be in a pace where you say well I've got to play a lot of minutes so I'll go 60 when I could be going 90. You want to make good decisions and play fast, but at the end of the day if you have enough good players who can come in the game and impact the game, that's what makes it work. If people aren't impacting a game, it shortens your bench."
Filed to: Tom Crean