What to Expect: Wisconsin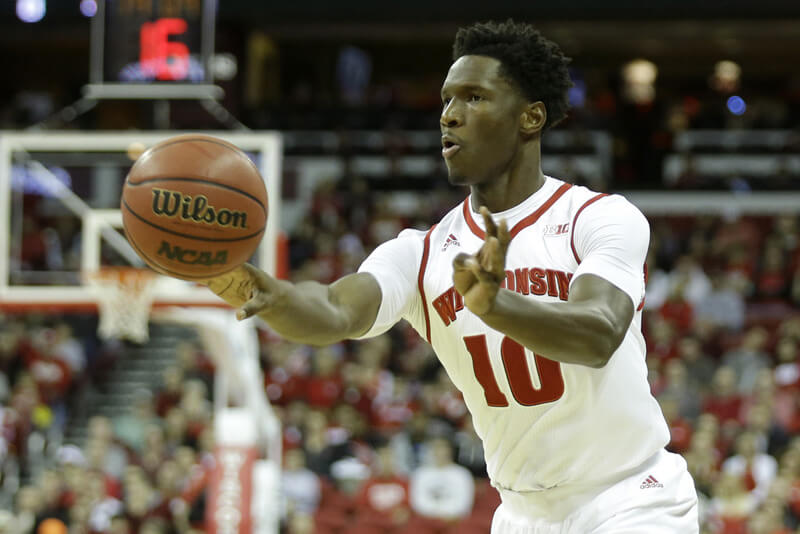 Indiana continues Big Ten play on Tuesday night as the Wisconsin Badgers travel to Assembly Hall. Wisconsin is coming off of a 79-57 win over Rutgers and is 9-6 this season.
The undefeated 1976 national championship team will be honored at halftime. The game will be televised at 7 p.m. ET on ESPN with Mike Tirico and Dan Dakich on the call:
Indiana's season appeared to be coming off of the rails following a 94-74 blitzing at the hands of Duke on Dec. 2 at Cameron Indoor Stadium. The Hoosiers looked to be in even more trouble on Dec. 19 when down 16 in the second half to Notre Dame in the Crossroads Classic at Bankers Life Fieldhouse.
And at times in its first two Big Ten road games against inferior competition, the Hoosiers looked shaky. But since that lopsided defeat over a month ago in Durham, the reality is this: Indiana is 7-0 with a win over the Fighting Irish and a pair of Big Ten road wins.
Has the competition been elite? Certainly not. But Indiana has taken care of business. At 12-3 overall, 2-0 in the league and with four of its next five games at Assembly Hall, the opportunity to continue building momentum is there.
The next challenge is Wisconsin, which looks much different than it did the last two seasons when it reached consecutive Final Fours. The Badgers have had IU's number for several years, but Bo Ryan is gone and the program is in transition under interim coach Greg Gard. With an Assembly Hall crowd that should be juiced to honor the '76 champs, Tuesday's game couldn't set up more favorably for IU. Can the Hoosiers deliver an eighth straight win?
MEET THE BADGERS
Ryan might have retired, but the Badgers aren't starting from scratch with new leadership. Gard, a longtime Ryan assistant, took over following Wisconsin's 64-49 win over Texas A & M Corpus Christi on Dec. 15. The Badgers have gone 2-1 since with wins over Green Bay and Rutgers and a loss to Purdue at the Kohl Center.
The two carryovers who played major minutes on last year's national runner-up team, Nigel Hayes and Bronson Koenig, give Gard a solid foundation.
The 6-foot-8 Hayes is the team's leading scorer at 15.7 points per game, is second in rebounding (6.7 rpg) and also leads the club in assists at four per game. However, he's really struggled with his shooting through 15 games as he's hitting just 29.4 percent on 3s for an effective field goal percentage of 42.4. Last season, he finished with an eFG% over 55.
Hayes has been solid from the left wing, where he's hitting 47 percent of his 3s. He's been just average in spot-up situations, according to Synergy Sports, scoring just 46 points in 57 possessions. Hayes is too talented of a player to continue shooting so poorly and if he breaks out in Bloomington, it could be a game-changer for the Badgers.
Koenig hasn't been great, either, but he's hitting 37 percent on 3s on 92 attempts. Unlike Hayes, he's been great in spot-up situations with 61 points in 47 possessions, per Synergy Sports. Koenig is second on the team in scoring at 13.9 points per game. His shot chart, per Shot Analytics, shows two areas where he excels from distance: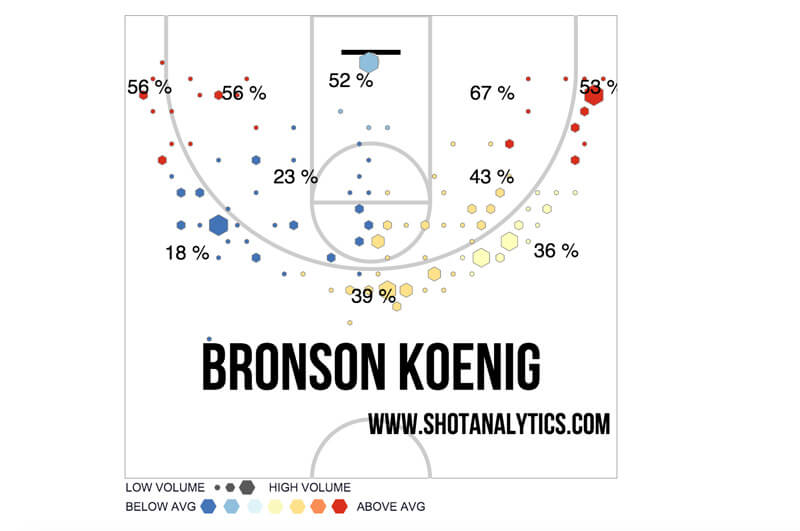 The third option for Wisconsin is redshirt freshman Ethan Happ, a 6-foot-9 forward who should continue to get better as he gains experience. Happ is leading the team in rebounding at 8.1 per game and his defensive rebounding percentage (23.6) is very good. Happ is finishing 53.7 percent of his 2s and has yet to attempt a 3 this season.
Junior guard Zak Showalter, a former walk-on, is coming off a 21-point game against Rutgers where he hit all eight of his shot attempts including 4-of-4 on 3s. Showalter is a low usage player (13.2 percent of possessions while on the floor), but is the team's most efficient shooter (58.1 eFG%) who rarely turns it over. In 500 minutes, he has just 23 turnovers.
Forward Vitto Brown saw spot minutes on last year's team as a sophomore, but has been a bit of a disappointment thus far as a junior. He's been solid on the glass (9.8 OR%, 18.7 DR%), but is finishing just 41.8 percent of his 2s and is shooting less than 30 percent from 3. As his shot chart shows, Brown shoots a lot from the midrange: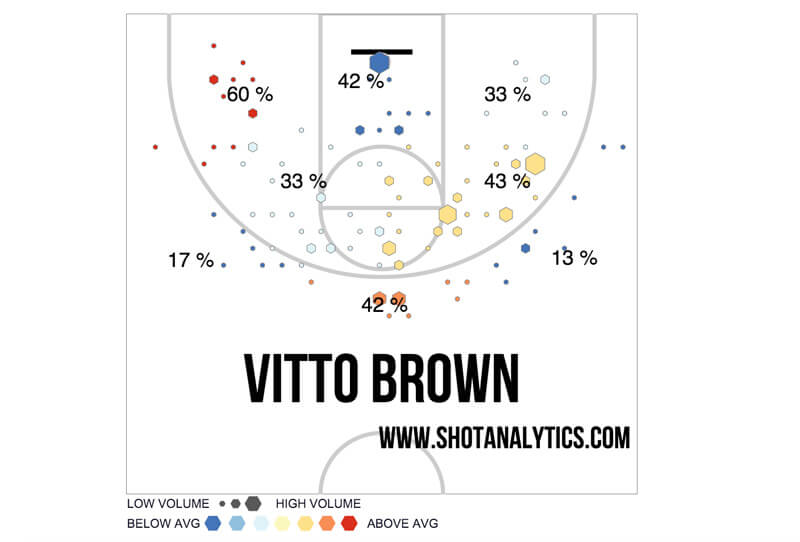 Wisconsin's bench is very inexperienced with three freshmen and a sophomore rounding out the nine-man rotation. Freshman guard Charlie Thomas averages 3.7 points and 3.1 rebounds, but is shooting just over 35 percent.
Another freshman, Khalil Iverson, looks like a promising athlete, but is a player that would have been redshirted on previous Badger teams. Iverson is making 45.5 percent of his 2s. Sophomore guard Jordan Hill has played in 10 of 13 games and is shooting less than 37 percent.
The headliner off the bench going forward might be freshman foward Alex Illikainen, who was an IU recruiting target at one point. Illikainen is playing much more since Gard took over. He's averaged 15 minutes over Wisconsin's last three contests and had 10 points against Purdue.
TEMPO-FREE PREVIEW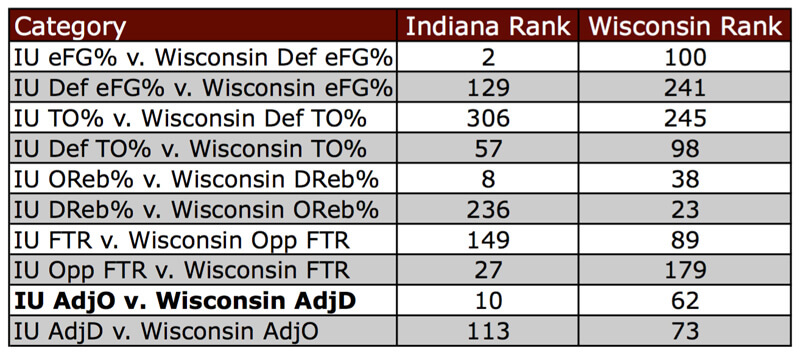 Wisconsin's 2014-2015 team had the nation's most efficient offense and also the most efficient Big Ten offense of the KenPom era. So it was inevitable that the Badgers would experience a dropoff after losing five key contributors and that's exactly what has happened.
Still, there are plenty of surprises in Wisconsin's profile. The Badgers have ranked in the top five nationally in taking care of the ball since the 2008-2009 season, but are currently 98th in the country in turnover percentage. The 3-point shooting has been average (34.1 percent) and the 2-point shooting has been bad (45.8 percent). The one strength of the Wisconsin offense right now is offensive rebounding. The Badgers are rebounding 37.9 percent of their missed shots, which could give Indiana problems.
Defensively, Wisconsin isn't forcing many turnovers and is struggling to guard the 3 as opponents are hitting 37.7 percent of their shots from distance. On paper, both of those numbers are favorable for the Hoosiers.
WHAT IT COMES DOWN TO
Pomeroy favors Indiana by eight with a 78 percent chance of victory, the Vegas line opened at 8.5 points and Sagarin likes the Hoosiers by 10 in Assembly Hall.
As we've seen through two Big Ten games, teams are going to have to score to beat Indiana. The Hoosiers scored 79 points at Rutgers and didn't play particularly well and then at Nebraska scored 79 again after a strong second half. Indiana typically shoots it better at home and is currently 8-0 at Assembly Hall.
Still, the struggles the program has had with Wisconsin over the years certainly will have some worried about the matchup. With Hayes and Koenig, the Badgers have two of the best players in the league. Hayes in particular is an important player for Indiana to contain because he's played poorly so far and seems overdue to get things rolling.
It should be the best crowd yet this season in Assembly Hall with the 1976 team taking the floor at halftime, but as we saw over the weekend in West Lafayette as Iowa spoiled Rick Mount's homecoming, there's no such thing as a guarantee in this year's Big Ten.
(Photo credit: Mike McGinnis/Getty Images North America)
Filed to: Wisconsin Badgers