Big Ten Power Rankings: January 4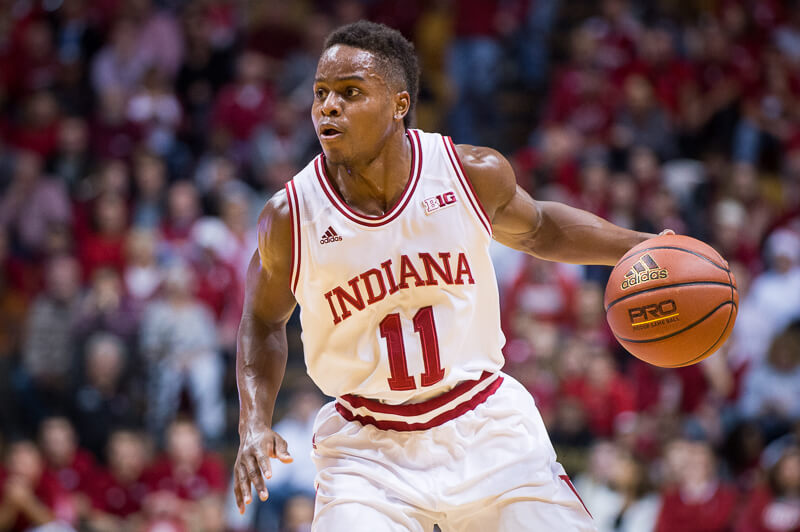 The Inside the Hall Big Ten Power Rankings are back following the opening week of conference play with a new team at the top. Here's a look at where each team stands after two Big Ten games (Note: Points per possession numbers in parenthesis are for conference games only):
14. Rutgers (6-9, 0-2, .91 points per possession, 1.12 points per possession allowed) … There's really not much to say about the Scarlet Knights. They are dreadful to watch and after opening up with losses to Indiana and Wisconsin, I'll be impressed if Rutgers can manage to win one conference game this season.
13. Minnesota (6-8, 0-2, .96 PPP, 1.14 PPP allowed) … Minnesota made things interesting against Michigan State, but the Golden Gophers lack a true game changer, and will continue to have a tough time in conference play. Minnesota struggles mightily on defense, but the schedule gets easier as Penn State, Northwestern and Nebraska are its next three opponents.
12. Penn State (9-6, 0-2, .94 PPP, 1.17 PPP allowed) … Penn State had a shot to beat Maryland in its conference opener as the Nittany Lions had a double-digit lead down the stretch that the Terrapins quickly erased. Penn State followed that up by getting clobbered at Michigan, which was playing without Caris LeVert. With no good wins and multiple bad losses (Radford, Duquesne), it'll be tough for Penn State to have much of a chance to break into the postseason conversation.
11. Nebraska (8-7, 0-2, 1.08 PPP, 1.23 PPP allowed) … There's not much, if any, separation between Nebraska and Penn State. The Cornhuskers have been brutal this season and lost their first two conference home games to Northwestern and Indiana after leading both games in the second half. Someone else besides Andrew White (17.3 ppg) and Shavon Shields (15.4 ppg) needs to step up for Nebraska to be competitive in Big Ten play, or else it could soon join Rutgers at the bottom of these rankings.
10. Illinois (8-7, 0-2, 1.00 PPP, 1.09 PPP allowed) ... Illinois closed out non-conference play with a nice road win against Missouri, but failed to get any momentum by losing at home to Michigan and then narrowly at Ohio State. Illinois will continue to be a pesky out, but it doesn't look like it can be a contender due to injuries.
9. Wisconsin (9-6, 1-1, 1.03 PPP, .92 PPP allowed) … The Badgers have already lost four games at the Kohl Center after losing five key players from last year's national runner-up team. Interim coach Greg Gard earned his first Big Ten win on Saturday over Rutgers, but the Badgers will be challenged this week as they travel to Bloomington and then host Maryland.
8. Ohio State (10-5, 2-0, 1.10 PPP, .98 PPP allowed) … Marc Loving has been the guy for the Buckeyes so far in conference play, averaging 23.5 points in his team's two wins. Ohio State started incredibly slow, but has now won six in a row and will face Northwestern and Indiana this week on the road, which should give us a better idea of where the Buckeyes really stand. OSU is young, but will continue to get stronger as the season goes on.
7. Northwestern (13-2, 1-1, 1.10 PPP, 1.12 PPP allowed) … Northwestern came back to pick up a win at Nebraska which was huge for this team trying to establish itself as a team worthy of a NCAA tournament bid. The Wildcats then got crushed at home against Maryland. Alex Olah being out hurts, but there are other capable players to pick up his scoring. Northwestern has two opportunities for wins this week with Ohio State coming to Evanston and a road trip to Minneapolis to face Minnesota.
6. Indiana (12-3, 2-0, 1.09 PPP, .97 PPP allowed) … Fans will complain about the wins not being clean enough, but the bottom line is that the Hoosiers picked up two important road wins to start off the Big Ten season. Turnovers continue to be a problem, and James Blackmon Jr. being injured won't help once IU has to play the big boys, but wins are wins. The offense is still extremely high powered, and the schedule sets up very nicely for Indiana with Wisconsin and Ohio State coming to Bloomington this week.
5. Michigan (12-3, 2-0, 1.17 PPP, .92 PPP allowed) … Michigan and Indiana are in very similar spots right now. Both are without an important player (Caris LeVert is out for the Wolverines) yet are still finding ways to win. Winners of six straight, Michigan looked impressive in wins over Illinois and Penn State. There are a lot of questions on the inside about whether Ricky Doyle and Mark Donnal can hold their own in conference play. We'll begin to get the answer to that question this week as Michigan travels to Purdue and then hosts Maryland.
4. Purdue (13-2, 1-1, .96 PPP, .97 PPP allowed) … For most of the season, Purdue has been one of the best teams in the country, especially on the defensive end. There aren't many teams that can match the Boilermakers inside. You have to take care of your home court though, and Purdue was unable to do that against Iowa on the night it honored Rick Mount.
3. Michigan State (13-1, 1-1, 1.06 PPP, 1.09 PPP allowed) … Had the Spartans not lost Denzel Valentine to injury, it's possible they would still be undefeated and No. 1 in the country and in these rankings. However, without Valentine MSU is simply not the same team and doesn't have anyone else who can fill his shoes. We will continue to see what the Spartans are made of without Valentine this week when they take on Illinois and Penn State, two very winnable games.
2. Maryland (13-1, 2-0, 1.07 PPP, .93 PPP allowed) … While Maryland hasn't looked quite as impressive as its top five ranking would indicate, the Terrapins have done what they needed to do to get wins. Maryland will play Rutgers and Wisconsin this week and continue to stay in the top two of these rankings. Melo Trimble and Diamond Stone are as tough a one-two combo as any in the conference.
1. Iowa (11-3, 2-0, 1.12 PPP, .97 PPP allowed) … The Hawkeyes take the top spot this week after beating both Michigan State and Purdue. Iowa's been well balanced on offense and defense, and are led by senior Jarrod Uthoff who's averaging 18.1 points and six rebounds a game. The Hawkeyes may own this spot for a while, too, as their lone game this week is at home against Nebraska.
Filed to: Big Ten Power Rankings