What to Expect: Nebraska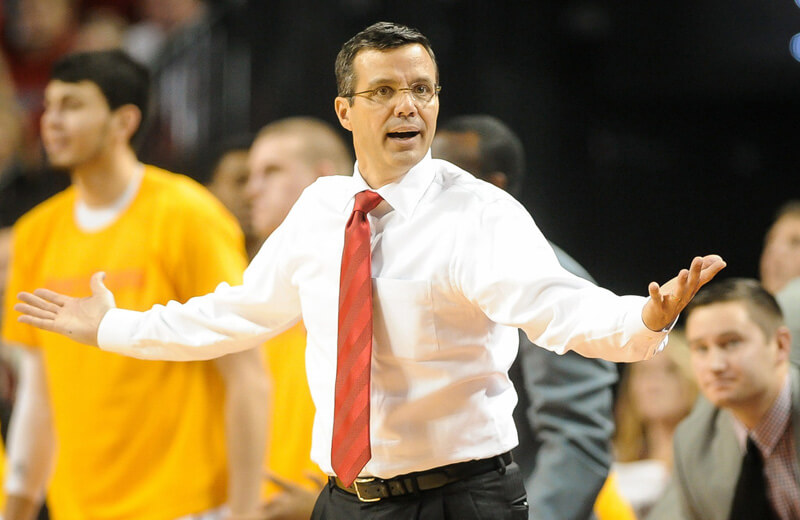 Indiana continues Big Ten play on Saturday afternoon with a road trip to Lincoln to face Nebraska in Pinnacle Bank Arena.
The Cornhuskers are 8-6 following an 81-72 home loss to Northwestern on Wednesday. The game will be broadcast on BTN at 4 p.m. ET:
Indiana didn't play well on Wednesday at Rutgers, but the Hoosiers did enough to escape Piscataway with a 79-72 win. The road gets tougher on Saturday with Nebraska, although the Cornhuskers have already dropped three games in Pinnacle Bank Arena, the newest hoops facility in the Big Ten.
This is the second of seven straight games to open league play in which Indiana is favored by KenPom and another golden opportunity to pick up a conference road win. With a short prep, there's plenty for the Hoosiers to clean up from Wednesday's performance against Rutgers if they're going to emerge from Lincoln with a 2-0 league mark.
MEET THE CORNHUSKERS
After reaching the 2014 NCAA tournament, Nebraska was a major disappointment last season. The Cornhuskers started the season ranked in the Associated Press top 25, but failed to qualify for the postseason after losing their final nine games.
Terran Petteway and Walter Pitchford both declared for the NBA draft, freshman guard Tarin Smith transferred and veterans David Rivers and Leslee Smith graduated, leaving Tim Miles with a significant challenge to field a competitive team.
The centerpieces for the Cornhuskers are junior wing Andrew White, who transferred from Kansas and senior forward Shavon Shields.
The 6-foot-7 White is averaging 17.4 points and 5.5 rebounds per game (both team-highs) and has been very efficient through 14 games. According to Synergy Sports, White has scored 113 points in 92 spot-up possessions, which ranks in the 87th percentile nationally. White is making 43.5 percent of his 3s and 59.5 percent of his 2s. As his shot chart (via ShotAnalytics) shows, he can fill it up from a variety of areas: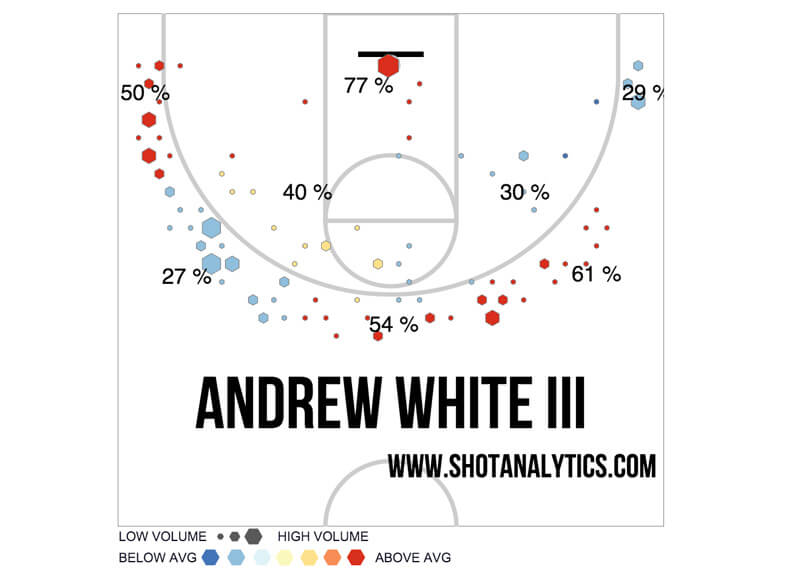 Shields isn't far behind in terms of production (15.8 ppg, 5.4 rpg and 2.9 apg), but his efficiency numbers aren't nearly as good because he takes a ton of long 2s and mid-range shots. He's a poor 3-point shooter (28.1 percent) that will likely look to exploit Indiana's lack of resistance at the rim.
Joining Shields and White in the starting lineup are senior guard Benny Parker, freshman guard Glynn Watson and freshman forward Michael Jacobson.
The 5-foot-9 Parker is turnover prone (25.9 TO%), but is hitting close to 36 percent of his 3s and is coming off of a 5-of-10 performance from deep against Northwestern.
Watson, a four-star recruit from the Chicago area, is a 6-foot point guard who is fourth on the team in scoring at 7.1 points per game. Watson is hitting 35.7 percent of his 3s, but is finishing less than 40 percent of his shots at the rim. His assist-to-turnover ratio is nearly 3-to-1, which is outstanding for a freshman.
Jacobson, who is 6-foot-8 and 220 pounds, only averages 4.2 points and 3.3 rebounds in 13.1 minutes per game.
Miles is bringing junior Tai Webster off the bench and the 6-foot-4 guard is playing much better offensively than he did in his first two seasons. His turnover rate (24 percent) is still too high, but he's making 50 percent of his 2s and 36 percent of his 3s. Webster is Nebraska's third leading scorer at 9.4 points per game.
Nebraska's tallest player, 6-foot-10 Jake Hammond, didn't play against Northwestern because Miles opted to go with smaller lineups. Hammond had played in the team's first 13 games and is finishing 47.2 percent of his 2s. Hammond, however, is just 9-of-23 from the free throw line.
Three forwards are playing rotation minutes off the bench: 6-foot-8 freshman Jack McVeigh, 6-foot-7 freshman Ed Morrow and 6-foot-7 sophomore Nick Fuller. McVeigh likes to step out and shoot the 3 as 37 of his 56 field goal attempts have been from distance. He's hitting 35 percent.
Morrow has been a solid offensive rebounder (12.8 OR%), albeit in limited minutes and Fuller averages just 2.4 points in 8.3 minutes per game.
TEMPO-FREE PREVIEW AND SOME OTHER THOUGHTS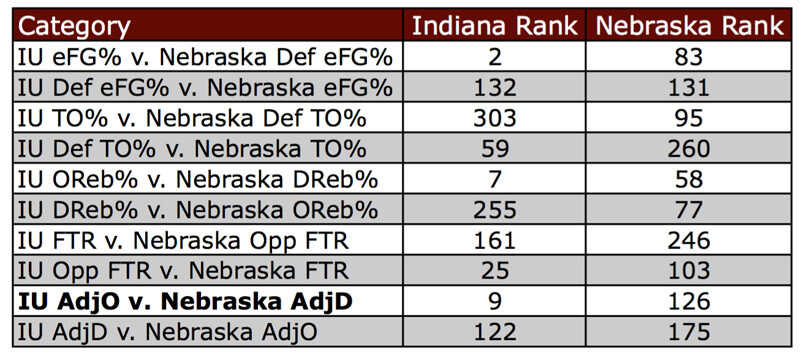 Nebraska played its second best offensive game of the season on Wednesday against Northwestern, but still walked away with a nine-point loss. The reason? The Cornhuskers allowed the Wildcats to score 1.34 points per possession, which was easily their worst defensive performance of the season.
Nebraska is typically a strong defensive rebounding team, but allowed the Wildcats to grab 45.3 percent of their missed shots. That's the worst performance on the defensive glass this year for Nebraska.
The encouraging news for the Cornhuskers? They did a much better job of valuing the ball in the Big Ten opener and posted a turnover percentage of just 9.9. By comparison, IU had a turnover percentage of 30.7 in Piscataway on Wednesday.
Indiana has a much better offense than Nebraska, but if the Hoosiers are turning it over at a high rate and aren't stopping drives to the rim, that advantage could be negated quickly.
WHAT IT COMES DOWN TO
Pomeroy likes Indiana to win by six and gives the Hoosiers a 71 percent chance of victory. Sagarin likes Indiana to win by seven.
It's tough to imagine the Hoosiers playing as badly again as what we saw on Wednesday at Rutgers. Thomas Bryant was a non-factor in the game due to foul trouble and Robert Johnson had his worst game of the season. James Blackmon Jr. didn't play and his status remains unclear moving forward.
But the road in the Big Ten is never easy. Nebraska typically has very good crowds in Pinnacle Bank Arena and the Huskers will be desperate to avoid an 0-2 start in league play at home. This, like several of IU's Big Ten road games this season, is a winnable contest that the Hoosiers need to grab if the goal is to be in conversation at the top of the league standings.
(Photo credit: Eric Francis/Getty Images North America)
Filed to: Nebraska Cornhuskers