Big Ten Power Rankings: December 28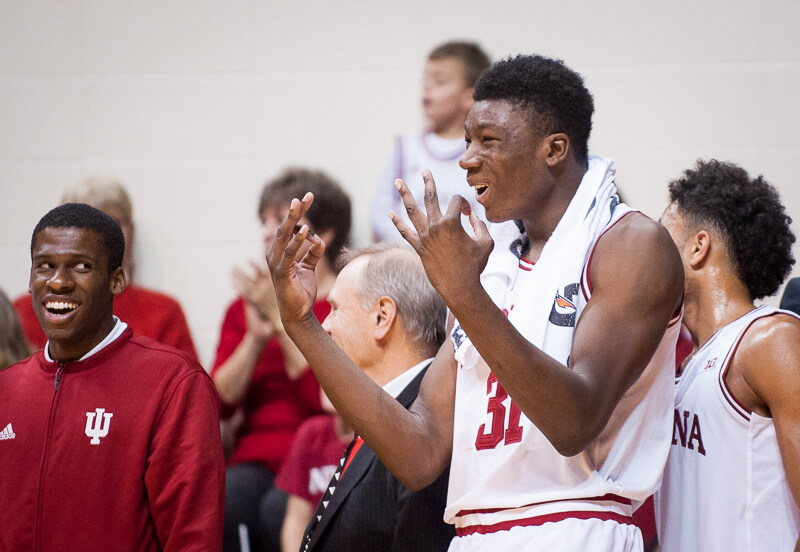 The Inside the Hall Big Ten Power Rankings are back for another season as conference action begins this week. In this special non-conference edition of the rankings, we look at each team's performance this season so far. Beginning next week, Andrew Vailliencourt will author each week's rankings. Here's a look at where each team stands heading into league play:
14. Rutgers (5-7, .95 points per possession, 1.02 points per possession allowed) … It's year three of the Eddie Jordan era in Piscataway and the results continue to underwhelm. The Scarlet Knights are the Big Ten's worst team and it's not even close. At No. 261 in the Pomeroy ratings, Rutgers is 110 spots lower than the next closest Big Ten team in Minnesota. And Pomeroy doesn't have Jordan's program favored in a single conference game. With a new athletic director on the way, Jordan, one of the school's most popular former players, may have a shorter leash to turn things around. Right now, there are very few signs of progress for him to point to.
13. Minnesota (6-6, 1.05 PPP, 1.03 PPP allowed) … The Golden Gophers were expected to take a step back this season with the graduations of Maurice Walker and Andre Hollins, but few expected six losses heading into Big Ten play. Without a post presence, Minnesota is really struggling to score in the paint as evidenced by a 2-point field goal percentage of just 45.9. And defensively, opponents are shooting 38 percent from distance against Minnesota, which is a major reason why the Gophers have the 218th rated defense in the country according to Pomeroy's ratings.
12. Penn State (9-4, 1.02 PPP, .98 PPP allowed) … Pat Chambers has help on the way with a major 2016 recruiting haul, but the Nittany Lions look like they're going to take their lumps once again this season in Big Ten play. A 9-4 record isn't bad, but lopsided losses to Duquesne and Radford prevent Penn State from being higher in these rankings. Furthermore, Penn State's best KenPom win is over Kent State, ranked No. 115 in the country. The Nittany Lions have been below average in 2-point (46.7) and 3-point (30.8) shooting percentage, which suggests the defense is going to have to hold up to carve out Big Ten wins.
11. Nebraska (8-5, 1.01 PPP, .98 PPP allowed) … Besides a recent home loss to Samford, the Huskers have four losses to solid teams: Villanova, Cincinnati, Miami (FL) and Creighton. In other words, Tim Miles could have scheduled some more wins, but his team may ultimately benefit from taking a tougher road in non-conference play. Turnovers have been a major problem so far in Lincoln as Nebraska's turnover percentage (20.6) ranks just 287th in the country. But with a young roster and two solid veterans in Andrew White and Shavon Shields, the Huskers may end up being tough to beat in Pinnacle Bank Arena.
10. Illinois (8-5, 1.07 PPP, 1.02 PPP allowed) … A critical season for John Groce has gone as poorly as possible through 13 games. The Illini have been ravaged by injuries as graduate transfer Mike Thorne is out for the season, Leron Black is out indefinitely, Tracy Abrams was lost for the year in the offseason and Kendrick Nunn missed five games. Things have stabilized a bit recently as the Illini enter league play on a five-game winning streak, including a recent neutral court victory over rival Missouri. Still, the lack of frontcourt depth here is concerning as is the defense, which ranks just 169th in adjusted efficiency per Pomeroy's ratings. With Michigan (home), Ohio State (away), Michigan State (away) and Purdue (home) to open league play, we'll soon find out if Illinois is capable of competing in this year's Big Ten.
9. Wisconsin (8-5, 1.08 PPP, .98 PPP allowed) … Not only do the Badgers already have three losses in the Kohl Center (Western Illinois, Milwaukee, Marquette), they're also now under new bench leadership. Bo Ryan abruptly retired on Dec. 15, paving the way for longtime assistant coach Greg Gard to get his chance to lead the program. The Badgers have taken a major step back with the losses of Frank Kaminsky, Sam Dekker, Traevon Jackson, Duje Dukan and Josh Gasser. Wisconsin is just an average 3-point shooting team (33.6 percent) and a below average 2-point shooting team (45.2 percent). The good news for Gard? He's still got two of the best 15 players in the league on his roster in Nigel Hayes and Bronson Koenig.
8. Northwestern (12-1, 1.1 PPP, .99 PPP allowed) … The Wildcats have 12 wins heading into Big Ten play, but not a single one has come over a team in the top 100 of the KenPom ratings. The non-conference strength of schedule rating for Northwestern is 342nd nationally, which means there's a lot of work to do in order to get into the NCAA tournament conversation. And Sunday's unfortunate news of a stress fracture that will sideline Alex Olah indefinitely won't make things easier. Even without Olah, there's plenty to like about this Northwestern team, who is also without sophomore Victor Law (torn labrum) this season. Bryant McIntosh (33 points in a win Sunday) is playing at a high level and freshman forward Aaron Falzon has been terrific as well. Without a signature non-conference win, Northwestern will probably need to win at least 10 league games to find itself dancing come March.
7. Ohio State (8-5, 1.05 PPP, .95 PPP allowed) … After a 2-4 start that included home losses to UT Arlington and Louisiana Tech, Ohio State has rebounded nicely with a 6-1 record over its last seven. One of those wins was an impressive 74-67 neutral court victory over Kentucky in Brooklyn. The Buckeyes don't yet have a player that can take over a game consistently, but there are several pieces on this roster who could develop into that role. Start with sophomores Keita Bates-Diop (13.0 ppg) and Jae'Sean Tate (11.5), both of whom have been far more efficient than the team's leading scorer, Marc Loving. Ohio State has always been solid defensively under Thad Matta, so if the youth like Trevor Thompson, Daniel Giddens and JaQuan Lyle continues to develop, there's upside with this team.
6. Michigan (10-3, 1.14 PPP, .99 PPP allowed) … The Wolverines are one of the best shooting teams in the land with an effective field goal percentage of 60.2, which ranks fourth nationally. D3 transfer Duncan Robinson is second in the country in offensive rating, Caris LeVert is playing at an All-Big Ten level and when healthy, Derrick Walton has shown to be valuable as both a distributor (27.8 assist rate) and shooter (56 percent on 3s). What separates Michigan from inclusion in the top tier of Big Ten teams right now is its lack of a legitimate post presence and a defense that ranks 98th in the country, according to Pomeroy. Will the Wolverines be able to beat the league's best teams with Ricky Doyle, Mark Donnal, Moritz Wagner and DJ Wilson manning the post?
5. Indiana (10-3, 1.18 PPP, 1.0 PPP allowed) … Heading into league play, the Hoosiers have the best offense in the conference despite turning the ball over at an alarmingly high rate. IU is fourth nationally in 3-point shooting and fifth in 2-point shooting and has the fifth best offense in the country despite a turnover percentage that ranks 273th in the land. Quietly, Yogi Ferrell is putting together a very good senior season, but that's been overshadowed by two losses in Maui, a blowout loss at Duke and a defense that still has major work to do. With a very favorable conference schedule and an elite offense, Indiana has a chance to establish a voice in the Big Ten title conversation. To do so, however, the turnovers must continue to come down and the Hoosiers must take care of business out of gate in league play.
4. Iowa (9-3, 1.14 PPP, .95 PPP allowed) … The Hawkeyes are the clear choice here for the No. 4 spot as they've been solid on both ends of the floor and their three losses have come by a combined 12 points all to teams in the top 43 of the KenPom ratings. Iowa looked like a team that could fall down the standings following the graduations of Aaron White and Gabriel Olaseni, but this is an experienced team being led by forward Jarrod Uthoff, who is hitting better than 46 percent of his 3s. Fran McCaffery is playing a 10-man rotation and the Hawkeyes are solid everywhere with experienced point guards, shooters and frontcourt size.
3. Maryland (11-1, 1.15 PPP, .96 PPP allowed) … Placing Maryland third is more of an endorsement of how good Purdue and Michigan State have been than a snub of the Terrapins. Mark Turgeon has a legitimate national title contender in College Park that should only continue to improve as rotations are defined and newcomers become more familiar with the system and their teammates. The one concern with Maryland right now is turnovers. The Terps are committing them at a high rate (20.3 percent) and point guard Melo Trimble is up three percent from where he finished last season. As Diamond Stone continues to develop, Maryland is going to become even better, but an unfavorable league schedule may ultimately prevent the Terps from capturing the league crown.
2. Purdue (12-1, 1.11 PPP, .87 PPP allowed) … If not for a loss to Butler in the Crossroads Classic, the Boilermakers would have claimed the top spot in the rankings. The Boilermakers have been a dominating team defensively as they boast the league's best perimeter defender in Raphael Davis and a three-headed monster in the paint with A.J. Hammons, Isaac Haas and Caleb Swanigan. And the point guard play, a major question mark heading into the season, has been steady with P.J. Thompson and Johnny Hill splitting the duties. With the country's best defense, Purdue is both a legitimate Big Ten contender and a team that could go all the way to Houston come tournament time.
1. Michigan State (1.17 PPP, .92 PPP allowed) … Michigan State is unbeaten, No. 1 in the polls and has the best win of any Big Ten team (Kansas on a neutral court). Before he went down with a minor knee injury, senior Denzel Valentine had been the best player in the country over his first 12 games. Tom Izzo said before the season that this might be the best shooting team he's had in East Lansing and so far, the Spartans aren't disappointing. Michigan State is 24th nationally in effective field goal percentage. The defense has also been elite as Izzo's team ranks second nationally in effective field goal percentage defense behind Purdue. With the league's most favorable schedule, Michigan State is the clear favorite to win the Big Ten this season.
Filed to: Big Ten Power Rankings