Five takeaways from Indiana's win over Kennesaw State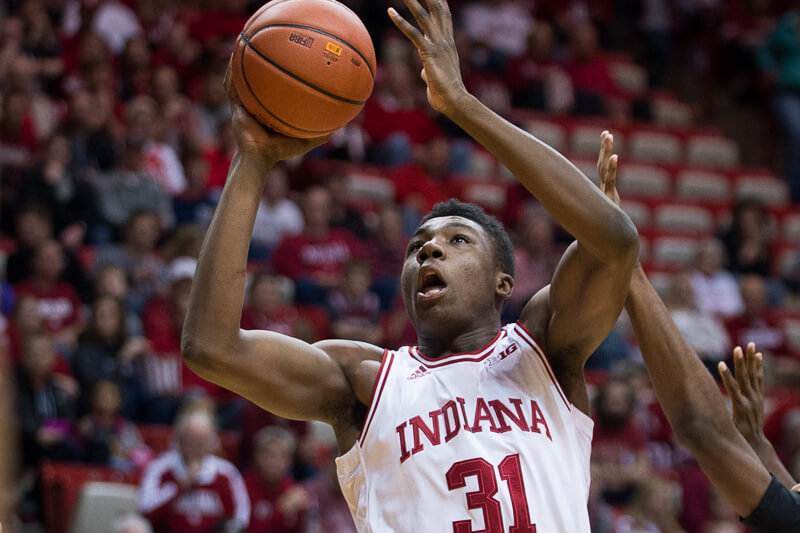 Indiana moved to 10-3 on Tuesday night with a 99-72 win over Kennesaw State at Assembly Hall. It was the fifth straight win for the Hoosiers.
Here's a look at five takeaways from the win over the Owls:
· Indiana's offense was as efficient as it has been this season: Against an opponent that was clearly overmatched, Indiana's offense operated at near peak efficiency on Tuesday night.
The final numbers were silly: IU scored 1.49 points per possession, its highest total this season. Its effective field goal percentage of 75.5 was the third best number of the season. And the turnover percentage was 18.1, a much lower total than we saw in IU's first few games of the season.
If the Hoosiers continue to bring the overall turnover number down – IU's turnover percentage this season to-date is 20.4 – as things move along in Big Ten play, they're going to score well enough to be in any game.
· The defense, however … : IU's defense struggled to stop one of the 30 worst offensive teams in the country, which is obviously a major concern with the start of Big Ten play looming.
Kennesaw State scored countless times at the rim and it wasn't until Indiana went to some different bench combinations that the Hoosiers were able to put up firmer resistance. The Owls scored a season-best 1.08 points per possession and had 40 points in the paint without a true post presence.
"We have got to get a lot better at game plan defense as we move into it, because teams are built to beat you at what they work on every day," Tom Crean said of IU's defensive effort. "And they wanted a lot of lay-ups, they wanted elbow shots and we were not as good at that of taking that away."
Fortunately for IU, the Big Ten schedule starts out favorably. Rutgers ranks just 318th in adjusted offensive efficiency, which is similar to Kennesaw State.
· Bryant finding his groove: Freshman Thomas Bryant went through his struggles early, but over IU's last five games, he's been playing well. Tuesday was no different as Bryant had a career-high 20 points in 26 minutes.
Over IU's last five games, Bryant is averaging 13.2 points and 5.4 rebounds per game. Perhaps more importantly, Crean said he's "more or less" going through full practices now. Bryant is fourth in the country in 2-point field goal percentage (76.3).
"He's getting healthier," Crean explained. "Pure and simple, he's getting healthier, which is allowing us to do more with him and allowing his confidence to grow. He's in practice longer. I don't come up here and talk much about it because it would be written as excuses."
· Defensive rebounding remains an issue: One of the major flaws in IU's defense through 13 games is its defensive rebounding and Kennesaw State was able to exploit the Hoosiers in that area.
The Owls, ranked in the bottom 100 nationally in terms of grabbing their owns misses, had 11 offensive boards and scored 13 second-chance points.
With the size and talent that IU will see in the conference schedule, particularly later on, getting a better handle on the defensive glass is going to be pivotal.
· IU still looking for a full 40-minute performance: Crean said postgame that the list of things his team needs to work on was "too long" to go through in a press conference, but Troy Williams had an observation when asked what the Hoosiers need to do as things move into conference play.
"One of the main things is playing for a full 40 minutes," he said. "The last two games we came out obviously soft in the first half and the second half we turned it around. We just can't depend on that with the Big Ten coming up."
It's a valid critique and while no team wants to be playing its best in December, finding more consistency throughout a game on both ends must be a major emphasis. On defense, Indiana has shown it can stops in spurts when engaged, but there are still far too many lulls and breakdowns. And offensively, the Hoosiers still have stretches where unnecessary turnovers pop up and the simple play isn't made.
Filed to: Thomas Bryant, Tom Crean