Five takeaways from Indiana's win over Notre Dame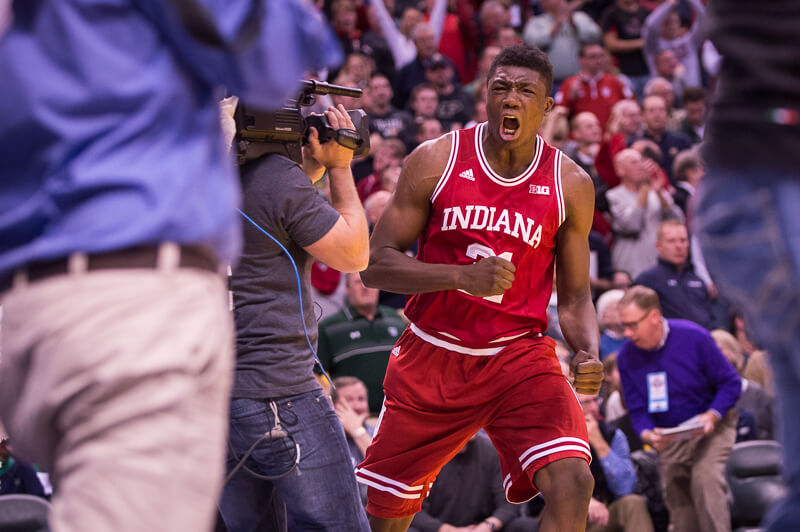 INDIANAPOLIS – Indiana improved to 9-3 on Saturday with a come from behind 80-73 win over Notre Dame in the Crossroads Classic at Bankers Life Fieldhouse.
Here's a look at five takeaways from the win over the Fighting Irish:
· This win should be a confidence booster for Indiana: Things looked bleak for the Hoosiers five minutes into the second half. But rather than letting Notre Dame pull away, the Hoosiers fought back.
Slowly but surely, IU was able to chip away at Notre Dame's lead and finally pulled even at 71 with 4:13 to play. From there, the Hoosiers outscored Notre Dame 9-2 the rest of the way to grind out the victory.
It was pretty evident from the reaction on the IU bench that the win – the first for the Hoosiers that will stand out on a potential NCAA tournament resume – meant quite a bit. There was genuine excitement. Given how poorly IU played for most of the afternoon and it was still able to find a way to win should help build confidence for a group that hadn't found much success away from Assembly Hall.
"I'm very proud of the contributions of almost everyone in the second half and the comeback," Tom Crean said. "That is how you get better. You learn how to get better inside of the game and it usually comes the old fashioned way, on the defensive end and rebounding."
· Troy Williams was huge, especially in the second half: I wrote coming into the game that Williams was the biggest key and the junior had a terrific afternoon.
The 6-foot-7 forward finished with 18 points and 10 rebounds in 25 minutes and his work on the glass was a major difference maker as Notre Dame couldn't keep Williams off the boards. He had several impressive drives in the second half in which the Fighting Irish couldn't keep him out of the lane due to his athleticism.
Williams did have four turnovers, but the positives he brought to the game far outweighed the negatives in this one.
· Indiana was able to string together stops when it mattered: The Hoosiers have been criticized frequently for their defensive lapses in key spots, but holding the nation's No. 2 offense to two points over the game's final 6:32 was impressive.
Credit Crean for making the adjustment to get his team into a zone that disrupted Bonzie Colson and Zach Auguste, who were dominating the game early in the second half. And also credit the IU players for their execution defensively down the stretch.
"Zach and Bonzie were doing a fantastic job," Crean said. "You don't go into the game thinking you are going to be zoning Notre Dame, but you do have to have it ready, and we had another defense ready."
· Johnson's steady play continues: Sophomore Robert Johnson had been a consistent bright spot for Indiana through 11 games and he continued to show off his improvement on Saturday.
Johnson's line in 32 minutes: 17 points (6-of-9 shooting, 2-of-4 FT), three rebounds, three assists, two blocks and no turnovers. The Richmond, Virginia is leading Indiana in 3-point shooting at 57.5 percent and his turnover percentage is down more than four percent from last season thus far.
With defenses keying on Williams, Yogi Ferrell and James Blackmon Jr., Johnson is making the most of opportunities and has quietly emerged as one of IU's most consistent players.
· Bryant's solid performance: It wasn't a breakout game by any means, but freshman Thomas Bryant held his own against Auguste.
After two fouls sent him to the bench early, Bryant didn't commit a foul the rest of the way and finished with 10 points and five rebounds in 21 minutes. Auguste, meanwhile, had just 12 points and seven rebounds – below his season averages in both categories – committed five turnovers and fouled out.
Indiana didn't need Bryant to dominate Auguste to win the game, but they certainly needed him to have a better showing that what we saw in losses to Wake Forest, UNLV and Duke. IU's emotional freshman delivered.
Filed to: Notre Dame Fighting Irish, Robert Johnson, Thomas Bryant, Troy Williams