Notebook: Hoosiers earn much needed comeback win over Fighting Irish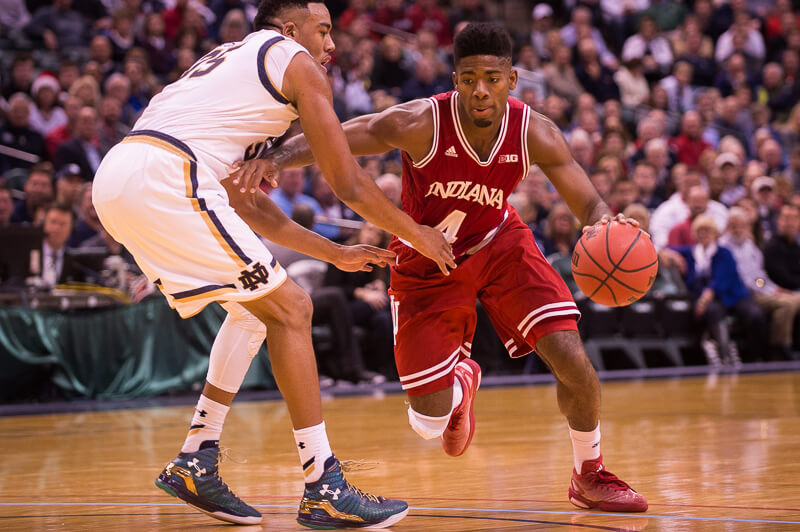 INDIANAPOLIS – Things were getting ugly inside Bankers Life Fieldhouse.
There were boos as IU trailed Notre Dame by 16 in the second half, and the Hoosiers didn't seem able to make any stops on defense.
After the game Robert Johnson said there were probably people turning the game off at home. He likely wasn't wrong.
But after the Fighting Irish opened their biggest lead – 56-40 with 15:11 to play – the Hoosiers made their move. An overall run of 40-17 ensued, including a 17-2 spurt in the final six and a half minutes as IU rallied to beat Notre Dame 80-73 in the Crossroads Classic.
It marked the second straight year with a win for the Hoosiers in the in-state challenge.
"It's a building block for us definitely," Johnson said. "We've been in this situation before where we were down, and we just came together."
The comeback started slowly. IU heated up from behind the arc, and made a stop here and there to inch closer to the Fighting Irish. A 2-3 zone, a defense that had been mostly ineffective this season, was what helped win it.
Notre Dame was forced to start taking more outside shots after repeatedly getting the ball inside to Zach Auguste and Bonzie Colson, who combined for 36 points and 15 rebounds. Those shots didn't fall, and at the four minute mark, the game was tied up. A few possessions later with some made free throws and the comeback was complete.
It was a statement win for a team that was in need of just that.
"You want to win an environment like this, you want to win in your city," IU coach Tom Crean said. "But mostly it's a great win against a great team."
It was the largest comeback for an IU team under Crean, who is in his eighth season.
"We're proud of the win," Crean said. "I'm really proud of the way they bonded together in the second half. It was a tough locker-room at halftime, and it really wasn't from me, it was more them."
Anunoby with "play of the game"
With the defense struggling, and guys banged up from injuries. O.G. Anunoby got meaningful minutes in the second half Saturday. He played just seven minutes total, but his lone points, a dunk with just over five and a half minutes remaining, set the tone for IU's finish.
"That really sparked the game," Troy Williams said. "That was the play of the game right there."
With a few guys in foul trouble, and James Blackmon Jr. ineffective on defense, someone had to step up. In addition to his dunk, Anunoby had four rebounds, including three on the offensive boards.
"A play like that after a possession like that is just huge," Williams said. "It lifts us up and puts the other team down."
Johnson was also complimentary of Anunoby, mentioning that he was crashing the boards and was able to cover other guys when it was needed.
Other guys step up
Yogi Ferrell and James Blackmon Jr. combined for just 19 points, which meant the Hoosiers had to get scoring contributions from elsewhere.
Johnson made the biggest impact on both ends of the court, scoring 17 points to go along with three assists, three rebounds and two blocks. Williams had a double-double, scoring 18 points and 10 rebounds and added three steals and two assists.
Collin Hartman came off the bench to score nine points, get four rebounds and three assists.
"That's how you get better," Crean said. "You learn how to get better inside of a game, and it usually comes the old fashion way, on the defensive end and with rebounding. We beat a really, really good team, there's no doubt about it."
Filed to: O.G. Anunoby, Robert Johnson, Tom Crean, Troy Williams