What to Expect: Notre Dame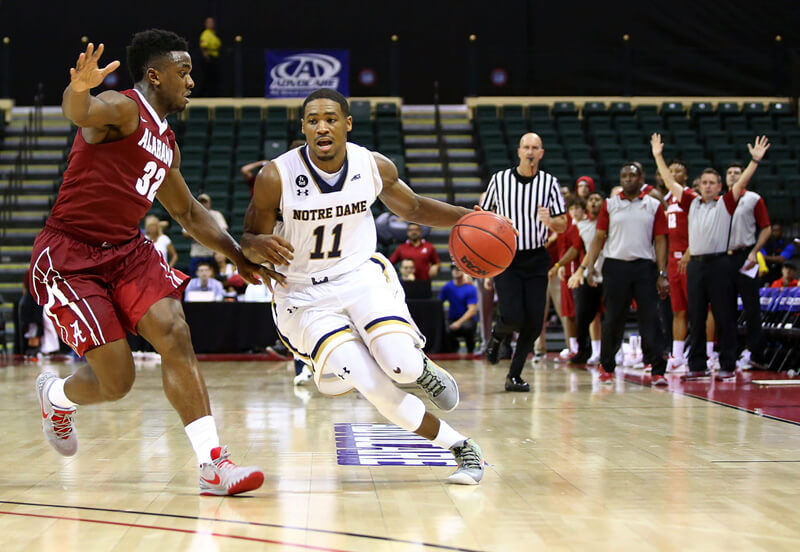 After a week off, Indiana returns to action on Saturday for a matchup with Notre Dame in the Crossroads Classic at Bankers Life Fieldhouse in Indianapolis.
The Hoosiers are 2-2 all-time in the event and beat Butler last season after falling to the Fighting Irish back in 2013. The game will be broadcast on ESPN2 at 2:00 p.m. ET with Dave Flemming and Dan Dakich on the call:
The Crossroads Classic, which will take place through at least 2019, is in its fifth season in Indianapolis and this may be its most intriguing year yet. From a national perspective, the nightcap is the headliner as undefeated Purdue, which is 0-4 all-time in the Classic, meets Butler.
But from an entertainment standpoint, it's hard to argue which game will be more fun to watch. Indiana and Notre Dame will bring two of the nation's best offenses to the floor and the fact that each team is average at best defensively screams that this could be a shootout.
There's no sugarcoating it: This is close to a must-win for Indiana in December. A win means the Hoosiers can march into Big Ten play feeling good about themselves with a non-conference that boosts the resume. A loss, however, means that resume is void of a solid win heading into Big Ten play and puts major pressure on the Hoosiers to win at least 11, if not more, league games.
MEET THE FIGHTING IRISH
Mike Brey's Notre Dame teams typically play a tight rotation and this year's iteration of the Irish is no different. Brey is playing just seven guys regularly and his frontcourt has even less depth than Indiana.
The centerpiece of that frontcourt, however, can be dominant. Zach Auguste, a 6-foot-10, 245 pound senior currently sits in the top ten of KenPom's national player of the year rankings and will give Thomas Bryant his stiffest test to date.
Auguste is utilized frequently as his usage (30.2 %Poss) ranks No. 40 in the country. His 14.4 points per game is second on the team and he leads the roster in rebounding at 10.4 per contest. Auguste is great at cleaning up the defensive boards (26.9 DR%) and finishes close to 54 percent of his 2s. According to Synergy Sports, he's had 50 post-up possessions through nine games and is scoring .92 points per possession on those opportunities, which is solid, but not great.
Joining Auguste up front are 6-foot-5 sophomore forward Bonzie Colson and 6-foot-8 junior forward V.J. Beachem. Colson is an undersized four-man, but his length helps him make up for what he's lacking in height. Like Auguste, he's very good on the defensive glass (23.9 DR%). Colson is Notre Dame's best shot blocker (4.7 block percentage).
Beachem is a scoring wing. He's always been a work in progress physically, but can shoot it. The Fort Wayne native is hitting 43.3 percent of his 3s. According to Synergy, he's great in spot-up situations. His 1.31 points per possession in spot-ups ranks in the 91st percentile nationally. Where Beachem isn't great, however, is inside the 3-point arc. He's finishing less than 43 percent of his 2s.
Freshman Matt Ryan will see minutes off the bench and at 6-foot-7, he must be marked on the perimeter. Ryan is hitting 41.2 percent on 3s and with the other options on the roster, he can benefit from defenses keying too much on other guys. Austin Torres, a 6-foot-7 junior, could also see spot minutes depending on the foul situation. Torres has been very turnover prone in limited minutes.
The three-man backcourt rotation consists of junior Demetrius Jackson, junior Steve Vasturia and sophomore Matt Ferrell, who comes off the bench.
Jackson is one of the nation's best point guards and is making a strong case to be a first rounder in next June's NBA draft. The Mishawaka Marian product is hitting 42.9 percent of his 3s, 61.4 percent of his 2s and leads the Irish in assist rate (27.3 percent). Per Synergy, he excels in a variety of offensive situations:

Vasturia seems under appreciated nationally, but can really shoot it and score. He's third on the team in scoring at 13 points per game and is hitting 44.4 percent of his 3s. Vasturia is most comfortable on the left wing, where he's hitting 50 percent of his 3s. He's also very efficient inside the arc (58.7 percent on 2s).
Farrell is the backup point guard and isn't much of an offensive option. His effective field goal percentage is poor (38.5) and his turnover rate (15.6) is higher than his assist rate (12). In other words, if he's using possessions, it's probably advantageous for Indiana.
TEMPO-FREE PREVIEW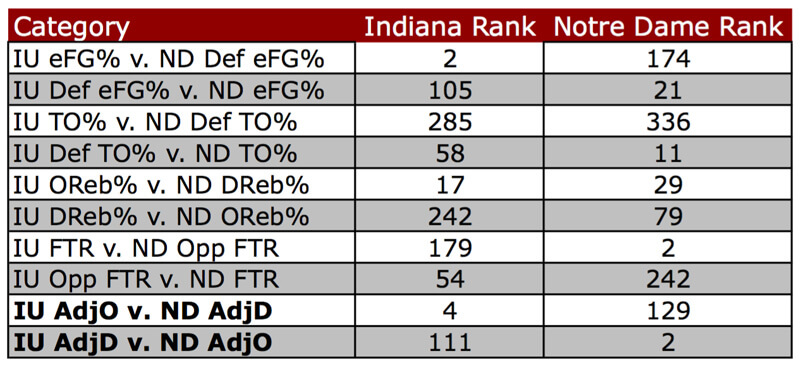 If you fancy efficient offense, Saturday might be as good as it gets. You'll see a pair of top four offenses going head-to-head and the differentiating factor right now is Notre Dame is better at taking care of the ball. Indiana, however, will only have itself to blame on Saturday if it turns it over as the Fighting Irish are one of the 20 worst teams in the country at turning over their opponents. If IU can play anywhere close to even in turnovers, the Hoosiers will have more than enough offense to win.
Where Notre Dame has a chance to really hurt IU is on the offensive glass. The Hoosiers have been shaky on the defensive glass (242nd nationally) and the Fighting Irish, led by Auguste and Colson, can crash. IU is the better offensive rebounding team, but a staple of Notre Dame teams is keeping teams off the boards along with not fouling and not turning it over.
Speaking of fouls, both teams are outstanding at keeping their opposition off the line, so it bears watching how closely the new freedom of movement rules are enforced. NCAA VP of men's basketball championships Dan Gavitt expressed concern this week that the new rules aren't being enforced at the same level recently as they were during the season's opening weeks.
"I am pleased that the package of new playing rules has helped improve the pace of the game, which has resulted in more offensive production," Gavitt said. "But I have significant concerns that the officiating directive to reduce physicality in the game has fallen short of expectations so far."
For Indiana, a more tightly officiated game is advantageous because the Hoosiers have more depth and have both Thomas Bryant and Max Bielfeldt as reliable pieces in the post.
WHAT IT COMES DOWN TO
Pomeroy likes Notre Dame by 1, Vegas opened as a pick' em and Sagarin likes IU to win narrowly. Neither team has been great away from home as IU is 1-3 from Assembly Hall (win over St. John's) and Notre Dame is 2-2 away from South Bend (wins over Iowa and Illinois).
The Bryant-Auguste matchup looms large as does Jackson-Yogi Ferrell, but this may come down to how well Troy Williams performs. There really isn't a natural matchup for Notre Dame to throw at Williams as neither Beachem or Colson seem well equipped to contain his athleticism around the basket. The uncertainty, of course, is whether Williams plays up to his potential or comes out with a five turnover game, which is also possible.
With a week of prep for both teams, this game should be well played and the atmosphere should be outstanding. Games in Bankers Life Fieldhouse almost always have a pro-IU crowd and Saturday should be no different. There's no downplaying the importance of this game for Indiana. A win could be help stabilize what has been a shaky last month and a loss only adds to the fuel that the Hoosiers have been a disappointment thus far.
(Photo credit: Rob Foldy/Getty Images North America)
Filed to: Notre Dame Fighting Irish