IU faces Notre Dame in last marquee non-conference game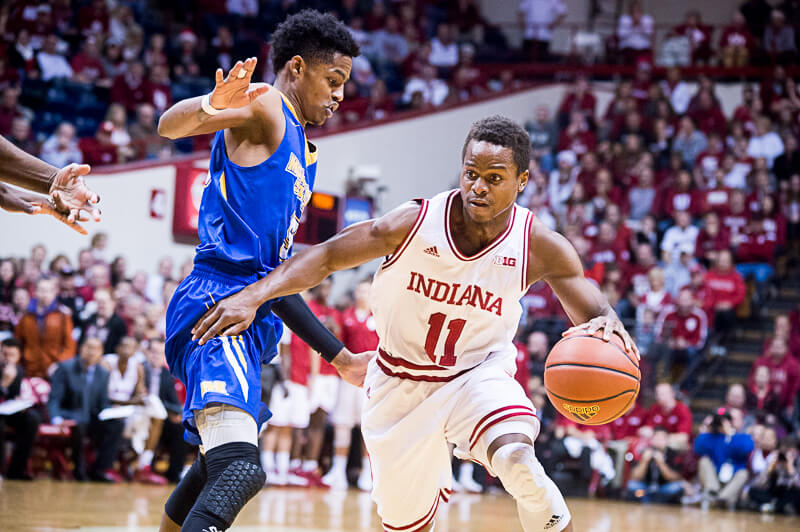 Saturday will see two of the nation's top four offenses go at it at Bankers Life Fieldhouse in Indianapolis as a part of the Crossroads Classic.
In what has turned into an extremely important game for Indiana, the Hoosiers will be forced to stop Notre Dame's duo of point guard Demetrius Jackson and big man Zach Auguste.
Jackson leads the Fighting Irish in scoring with 17.8 points per game and averages five assists a game. Auguste averages a double-double, 14.4 points and 10.4 rebounds per game. He'll be the toughest test IU freshman Thomas Bryant has faced all season.
"He's really aggressive on the glass, rolling well, posting up, facing up," IU coach Tom Crean said. "He's an aggressive guy and he's been in a lot of games. He had a great ending to his year, so he has a lot of confidence. They're good. They are a well-rounded team."
Jackson will be the biggest test of the season so far for Yogi Ferrell. The two points guards have played each other before, as both hail from Indiana, and it's a matchup that has Notre Dame coach Mike Brey excited.
"That matchup is probably worth the price of admission," Brey said on Thursday. "Are there two guards who are playing better than these guys in the country right now? I don't think so."
Ferrell said he is aware of the challenges Jackson will bring.
"I played against him a lot," Ferrell said. "I played against him in the junior-senior all-star game and in AAU. He's a great player, he brings a lot to their team, great point guard. But tomorrow it's going to come down to more than just a one-on-one matchup, it's going to come down to team versus team."
Brey was complimentary of the Hoosiers offense, saying one of the things his team will need to do well is make stops on transition defense. He also noted that he may have his team play some zone defense, but that he doesn't want to leave too many of IU's good shooters open with good looks.
"We know how explosive they are and how fast they play," Brey said. "They really spread you out with a lot of different guys. I think it's going to be a fun game to watch. I'll think it'll come down to who can dig in more defensively to slow the other one down. Going to have to score to win this one."
Brey was quite confident when talking about the state of his program on Thursday, mentioning that he's the longest tenured coach out of the four that will be in Indianapolis on Saturday. He said he views the game against the Hoosiers as a true road game and that he thinks the crowd will favor IU.
"They should be enamored with us quite frankly," Brey said. "We've been winning games in that damn building for a while now. We're the most consistent program in this state and it ain't even close."
IU wasn't interested in responding to Brey's statement when asked on Friday, with Crean saying his team is focused on winning.
Last year at the Crossroads Classic, Notre Dame beat Purdue, and IU topped Butler.
"(Notre Dame is) outstanding as usual," Crean said. "They are extremely talented offensively, a veteran group, battle tested, and they have had a very good year so far. They have a lot of guys that have played in a lot of big games for them.
"They score, they move the ball, and they can beat you in a lot of different ways. They can beat you in the post, with the three, and they do a great job of cutting and moving without the ball. They can get you at their pace and tempo. That is a big part of their game."
Filed to: Notre Dame Fighting Irish