Notes: Indiana's zone, post-up efficiency and more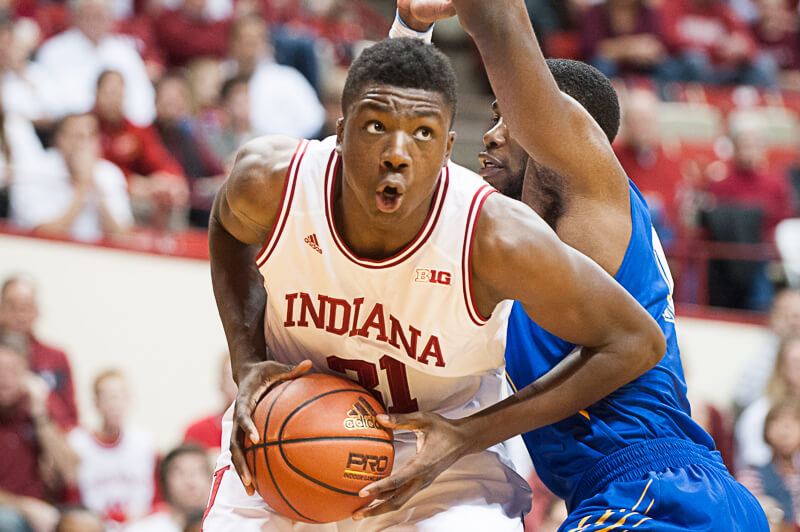 At 8-3 with non-conference games remaining with Notre Dame and Kennesaw State, the Big Ten slate is fast approaching for Indiana. Unfortunately, the non-conference hasn't produced much in terms of a resume for IU because of the early setback in Maui and a blowout loss at Duke. Still, the conference schedule should produce enough opportunities for the Hoosiers to build a resume to get them safely into March Madness.
The Hoosiers will tip off conference play in just 13 days at Rutgers, but there's plenty of work to do before then with Saturday's game and a final tune-up against Kennesaw at Assembly Hall.
Here are a few thoughts on what has and has not worked through the first 11 games of the 2015-2016 season:
1. Indiana's zone has been ineffective: Yes, the schedule to this point hasn't been what we thought it'd be. But overall, the numbers say that IU's defense is better than last season. Still, the numbers aren't great. As of Thursday, the Hoosiers rank 111th nationally in defensive efficiency according to KenPom.com.
But when you dig into IU's halfcourt defense, the zone stands out as a glaring issue. According to Synergy Sports, IU has played nearly 91 percent of its halfcourt defensive possessions in man-to-man. That man defense ranks in the 80th percentile nationally by Synergy as it's allowed .78 points per possession.
The zone, however, is a different story. IU's zone ranks in just the 18th percentile nationally. In 73 zone possessions, the Hoosiers have surrendered 76 points, according to Synergy. The zone hasn't passed the eye test all season and the numbers confirm that it simply hasn't been effective.
2. Post-up possessions bearing fruit: Post-ups aren't a staple of IU's offense, but when the Hoosiers do go into the post, there's been success through 11 games.
According to Synergy, the Hoosiers have had 72 offensive possessions this season considered post-ups and are scoring 1.22 points per possession in those opportunities. That ranks in the 99th percentile nationally.
Thomas Bryant has been good in the post (1.14 points per possession/42 possessions) and Max Bielfeldt has been even better (1.43 points per possession/21 possessions).
3. Offense at its best in spot-up situations: Give Indiana's offense credit for this: The Hoosiers are playing to their strengths. Over 25 percent of IU's possessions are resulting in spot-up opportunities and the Hoosiers are thriving.
In 232 spot-up situations, IU is scoring 1.2 points per possession, which also ranks in the 99th percentile nationally per Synergy.
The most efficient of the bunch thus far has been sophomore Robert Johnson, who has scored 52 points in 34 spot-up possessions. Nick Zeisloft (1.46 PPP) and James Blackmon Jr. (1.24 PPP) have also been strong in spot-ups.
4. Bryant's splits aren't pretty: The freshman McDonald's All-American has gone through his share of ups and downs like most newcomers, but his struggles against elite competition are a bit concerning.
According to KenPom, Indiana has played three games against "Tier A and B" competition. Essentially, these are games against top 50 and top 100 opponents, adjusted for game location. Those three contests: Duke, UNLV and Wake Forest.
And in those three games, the numbers for Bryant haven't been good:

Saturday's game with Notre Dame offers the next opportunity for Bryant show the progress he's made as he'll likely be going head-to-head with Notre Dame senior Zach Auguste, who is having a terrific season so far.
5. Going to zone IU? Good luck: It's not secret that IU has one of the country's best offenses, but the Hoosiers have been absolutely shredding zone defenses.
In halfcourt situations, opponents are playing zone against IU in 13 percent of possessions according to Synergy. IU is scoring 1.4 points per trip, which ranks in the 100th percentile. The man-to-man defense, used 87 percent of the time against IU in halfcourt, isn't finding much success either as IU is putting in .98 points per possession.
Filed to: James Blackmon Jr., Max Bielfeldt, Robert Johnson, Thomas Bryant