News and notes from Tom Crean's radio show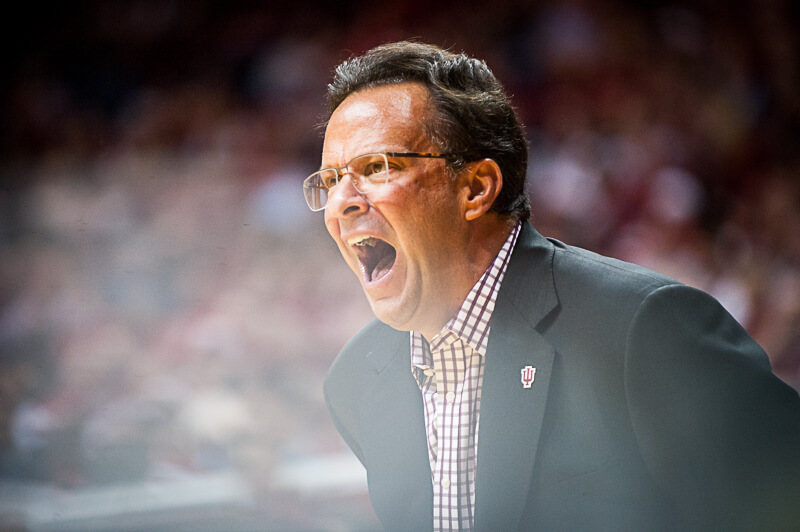 On Monday evening, Indiana coach Tom Crean spoke at his weekly radio show hosted by Don Fischer and looked back at IU's wins over IPFW and McNeese State and also previewed Saturday's game with Notre Dame, among several other topics. Nick Zeisloft also joined the show as the player guest for the final segment.
Below are news and notes from what the Hoosiers' coach had to say:
· On the win over IPFW: "A few too many turnovers, but that's going to happen when you try to turn your speed up a little bit. I thought we got more of that corrected on Saturday (in the win over McNeese State). But we have to get better at both ends of the court, constantly. And there's probably very few teams that don't, but we know we do. And we want to get better."
· Crean noted that the objective coming out in the McNeese State game was to come out and play aggressively on defense without fouling. "We wanted to make sure we didn't take any steps back on the defensive or offensive end. And we had some tremendous runs defensively and stuff that we can build confidence from."
· Crean said that this time of year is very important for improvement. "Pretty soon here we'll have a chance to spend a lot of time on basketball (after exams finish). Our teams have always gotten better at this point."
· On Troy Williams being named CBS Sports national player of the week: "That's a nice personal award for him. I didn't realize that. To me, Troy's development is the most important thing. That he just continue to grow as a player, he's aggressive on the glass, that he continues to see things."
· Crean was asked who some of his top students have been in his time at IU and he said the list of guys who haven't been good would be much shorter than those who have been good in the classroom. He credited Marni Mooney for being instrumental in the program's academic success.
· Crean said he isn't sure that IU's APR score will be 1,000 again the next time scores are announced because of some transfers the last year that will "probably dip into that."
· When asked who practices shooting the most on this roster, Crean mentioned Zeisloft, James Blackmon Jr., Robert Johnson, Yogi Ferrell and Josh Newkirk. He said Collin Hartman and Max Bielfeldt "to a degree" and said that Williams "needs to be one that does more on his own."
· On Newkirk: "He's going to be so good for us when he's eligible and healthy." Newkirk is expected to be cleared to practice next month, according to Crean. Newkirk is continuing to recover from microfracture surgery.
· Crean mentioned that he believes Newkirk will make a difference when he's able to begin practicing with the team. "He's going to make a huge difference in our practices down the road and if we add anyone else down the road. Those kind of things will hopefully get better in January because of it."
· Crean was asked about the advantages of having Johnson in the starting lineup. He said he believes the team has eight starters and the lineup is going to become matchup based as the season moves along. "When we're playing against a really big team, I'm not sure we're set to be in a three-guard lineup."
· Crean says he isn't sure that every player will go home for Christmas, but "everyone will have somewhere to go."
· Crean noted that Thomas Bryant was more healthy in the McNeese State game. He said that he was more aggressive defensively. "Sometimes it's baby steps, sometimes it's big steps. He's just scratching the surface."
· Crean asked what the strangest items are he's asked to autograph. Says he hasn't been signing many autographs lately: "I really haven't." More on the autograph thing, Crean joked: "Sometimes people see me coming and they go the other way."
· On Notre Dame: "They all move without the ball. They're shooting the ball at a very high rate. Mike's a great coach. They're always hard to play because they rarely beat themselves and he's going to switch defenses. Their movement without the ball is always extremely high level." Crean noted that he believes it's the 14th or 15th time that he's coached against Brey.
Filed to: Tom Crean