Five takeaways from Indiana's win over McNeese State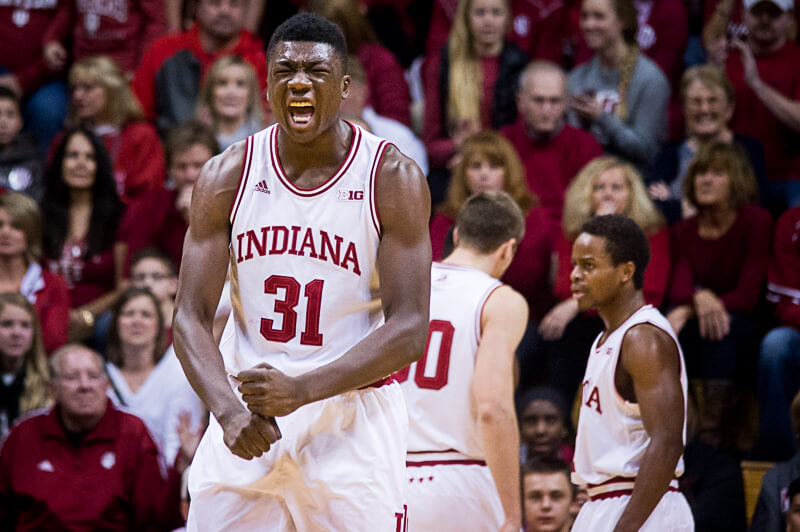 Indiana moved to 8-3 on Saturday night with a 105-60 poleaxing of McNeese State at Assembly Hall. The win improved the Hoosiers to 7-0 this season at home.
Here's a look at five takeaways from the win over the Cowboys:
· Indiana took care of the ball: After solid performances in lowering their turnovers against Alcorn State, Duke and Morehead State, the Hoosiers were shaky in that regard in Wednesday's blowout win over IPFW.
So what was the response against McNeese State? Indiana coughed it up just nine times for a turnover percentage of 12, a season-best. And as we've seen with this offense, you can pretty much throw out the quality of the opponent when looking at this stat because most of IU's miscues up to this point have been self inflicted.
Slowly, Indiana's overall turnover percentage is coming down. Right now, it sits at 20.7 percent on the season, which is 281st nationally. Obviously nowhere close to where it needs to be, but progress nonetheless.
· Bryant bounces back: Freshman Thomas Bryant hadn't been himself in recent weeks, but Saturday night was a bounce back effort against an opponent who didn't have the size or strength to contain him.
The final line: 18 points (7-of-7 FG, 4-of-5 FT), nine rebounds and a turnover in 21 minutes. Bryant said in the postgame that his health isn't an issue and that he's "just working on getting better each day with the team."
But the competition level is about to pick up in a major way as the freshman will be tasked with attempting to slow down Notre Dame senior Zach Auguste in just six days. Will Bryant be ready to meet the challenge?
· Strong play continues for Bielfeldt: Graduate senior Max Bielfeldt is going to be an important piece for the Hoosiers once conference play begins and it appears he's getting more comfortable in his role in Bloomington.
The 6-foot-8 forward is quietly putting together a strong season so far. He's shooting 70.8 percent on 2s, is IU's best offensive rebounder (12.6 OR%) and is also hitting half of his 3s, albeit in limited attempts (12).
Bielfeldt played just 18 minutes in the McNeese State win, but finished with 11 points, six rebounds, two assists, two steals and just one turnover.
"He's playing with a lot of confidence," Tom Crean said of Bielfeldt. "And he's getting better all the time. He can shoot the ball and rebound it and he's smart and defends."
· Morgan returns to play limited minutes: Freshman Juwan Morgan, who hadn't played since IU's disappointing trip to Maui, returned on Saturday and played six minutes.
Morgan is clearly still a ways off from being able to help against high level competition, but with limited frontcourt depth, there's a good chance he's going to be thrown into the mix early in the Big Ten schedule.
With six days to prepare for Notre Dame and just one game in 11 days prior to the Rutgers contest, Indiana will need Morgan and freshman O.G. Anunoby to keep making progress.
· Ready or not, Saturday's game is pivotal: There's no other way to put this: Indiana's game against Notre Dame on Saturday is crucial. Win and the Hoosiers can go into Big Ten play with what will likely be a 10-3 non-confernece record and a five-game winning streak.
A loss, however, would mean that IU squandered its final chance to get a win that might stick out on its NCAA tournament resume.
We'll obviously have much more this week on the game, but it should be a great atmosphere matching up a pair of teams that are elite offensively and pedestrian defensively.
Filed to: Juwan Morgan, Max Bielfeldt, Thomas Bryant