Notebook: Blackmon Jr. and Bryant power IU to victory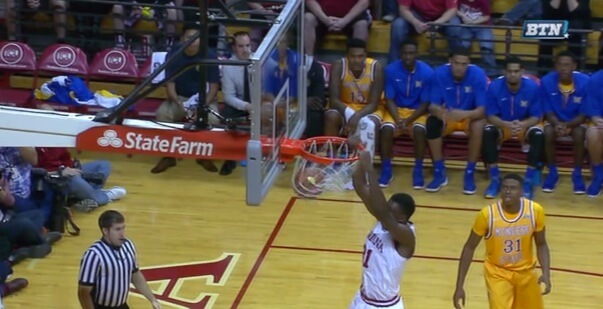 It was another easy win at Assembly Hall for the Hoosiers, topping McNeese State 105-60. After a 37-11 run over a 10-minute span in the first half, IU was in the driver's seat the rest of the way and didn't let up.
James Blackmon Jr. led all scorers with 24 points. He added four rebounds, two assists and two blocks. He also didn't turn the ball over.
IU turned the ball over just nine times as a team. Blackmon Jr. said there were a lot of things that led to the low number, and it started with ball movement.
"Ball movement, making the right pass, making the early pass to guys running the break, and just being smart," Blackmon Jr. said. "I feel like everyone took care of the ball tonight."
He added that he felt it was the team's spacing on offense that led to all of his open shots, saying he has been working with the other guards to keep the ball moving.
"I feel like it was a spark to what we want to do," Blackmon said. "We felt like we just want to keep it up and the coaches talked to us about how this is practice for Notre Dame. So we wanted to come out and make a statement a little bit."
Blackmon's improvement on defense over the past three games has played a big role in the team's overall defensive improvement. It will have to continue, as the Hoosiers take on Notre Dame in the Crossroads Classic on Saturday in the last real test of the non-conference slate.
Bryant with a strong game
Thomas Bryant finished the night with 18 points and nine rebounds, in a bounce back performance after recording just four points and two rebounds against IPFW. He has been battling a foot injury, but said after the game that he feels healthy. Crean didn't quite agree.
"We'll see when we get to practice, talk to the trainers and we'll base it on our schedules and we'll go from there," Crean said.
IU out-rebounded McNeese State 47-40. Nineteen of those were offensive rebounds for the Hoosiers.
Bryant has continued to have his minutes limited throughout the season so far. Having these big games is important for his growth, Crean said.
"It's very important for him. He's worked hard," Crean said. "We got some extra work done with him today, which was this morning or this afternoon before walk through, which was good. And just kind of re-establishing a couple things for him. But the ball moved really well. Those guys did an excellent job tonight, no question."
Hot shooting night
Indiana shot 51 percent from the floor and 46 percent from three-point range in the win. Five players finished in double figures for the Hoosiers — Troy Williams, Yogi Ferrell and Max Bielfeldt to go along with Blackmon Jr. and Bryant. Six different players made at least one 3-pointer. On the defensive side, IU held the Cowboys to 32 percent shooting and just 18 percent from behind the arc.
Other notes:
Tim Priller had two points, two rebounds and two steals in two minutes.
Juwan Morgan saw his first game action since getting injured in Maui.
Filed to: James Blackmon Jr., Thomas Bryant, Tom Crean