McNeese State final test before Crossroads Classic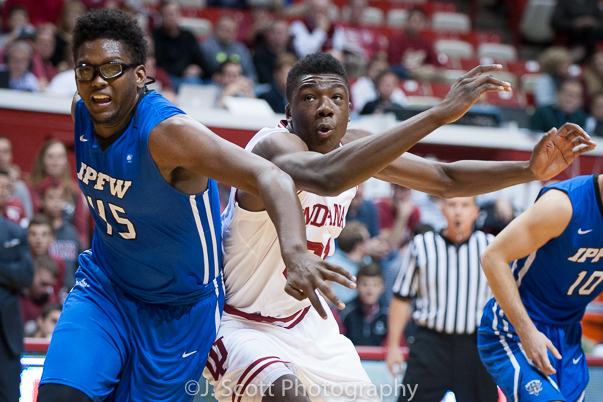 IU has one more tune-up before facing Notre Dame in the Crossroads Classic next Saturday at Bankers Life Fieldhouse.
McNeese State, No. 313 in the KenPom ratings, will visit Bloomington Saturday evening, as the Hoosiers go for win number eight. The focus will again be on defense, something Collin Hartman says has been stressed more than anything else in practice since the Duke game.
"Coach (Tim) Buckley always talks about having the demeanor on defense, letting other teams know they aren't going to score on you just by the way you carry yourself on defense," Hartman said. "The stance that you're in and the mentality of saying this guy's not scoring on me, we're getting this stop."
That defense is one of the three areas Max Bielfeldt says the team needs to, and will, improve on before conference play.
"I think we started to take the right steps in terms of playing team defense, rebounding, getting out and running," Bielfeldt said. "Those are probably three of our biggest focuses so far."
McNeese State has just one win and it came against Dillard University, an NAIA program. The Cowboys are coming off of a 97-64 loss to UL-Lafayette.
"You can only take one game at a time," Hartman said. "It's preparation after preparation. It's getting the mentality to go 1-0 each time. These games are helping to get us ready mentality and physically for what's coming."
It's a game that IU could see guys like walk-on Harrison Niego get playing time. Niego impressed the coaching staff this week with his play against IPFW. The 6-foot-2 guard played 12 minutes and had four rebounds and an assist. IU dominated IPFW on the glass as the Mastodons grabbed just 20.4 percent of their missed shots.
"I think all five of us are boxing out better, we're hitting our men," Bielfeldt said. "We're working on it in practice making contact when the shot goes up."
Freshman Thomas Bryant is expected to be available for the Hoosiers, despite the fact that he's working through injuries.
"You want him to play through some conditioning aspects, where he can push through times when he gets winded. But it's a balance," Judson said. "There was a time the other night where he wanted to come out but we left him in to push through it."
Bryant is receiving treatment, and is able to participate in a good portion of the team's practices, but it varies day-to-day on how he feels. He is a "little bit in and out," according to IU assistant coach Rob Judson. The freshman McDonald's All-American has been working on his defense, and has made a change on at least one area.
"He made a big adjustment in terms of his mentality on ball screen defense," Judson said. "The speed of the game in that play in particular is something most guys have to adjust to."
Filed to: Collin Hartman, Max Bielfeldt, Thomas Bryant