What to Expect: McNeese State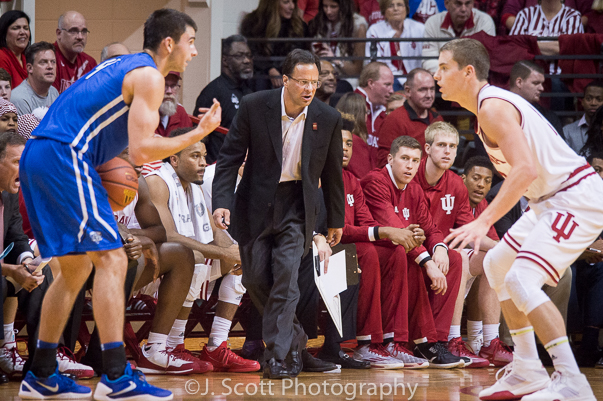 Indiana returns to action on Saturday night in Assembly Hall for a meeting with McNeese State of the Southland Conference. The Cowboys are 1-6 with their lone win coming over Dillard University, an NAIA program.
The game will be broadcast at 6:30 p.m. ET on BTN with Kevin Kugler and Jon Crispin on the call:
IU has just two guarantee games remaining on the schedule and the first matches the Hoosiers up with McNeese State. From a KenPom rating perspective, the Cowboys are the third worst opponent on the IU schedule as they come in ahead of Alcorn State and the final non-conference opponent, Kennesaw State.
This is a game in which we're unlikely to learn much of anything about Indiana given the discrepancy in talent level. But as IU heads into finals week, which will also include preparation for next Saturday's tilt in Indianapolis, it's also worth mentioning that the Hoosiers are entering a stretch that was viewed as favorable entering the season.
IU's next 10 games: McNeese State, Notre Dame, Kennesaw State, at Rutgers, at Nebraska, Wisconsin, Ohio State, at Minnesota, Illinois and Northwestern. A chance to build momentum is certainly there, but can the Hoosiers seize the opportunity and restore some of the preseason promise?
MEET THE COWBOYS
Look for Indiana to continue with its three-guard starting lineup as McNeese State has very little size on its roster. The Cowboys are led by 6-foot junior point guard Jamaya Burr, who averages a team-best 13.9 points per game. Burr is making just 35.9 percent of his 2s against Division I opponents.
Freshman Jarren Greenwood, another 6-foot guard and 6-foot-6 guard Lance Potier, the team's second and third leading scorers, also start. Greenwood is just 6-of-20 on 3s against Division I competition and Potier averages 8.1 points, 4.6 rebounds and two assists per game.
Shaun Johnson, a 5-foot-10 senior guard, is likely to see some minutes off the bench. He averages 2.9 points and 1.6 rebounds.
McNeese State doesn't have a player taller than 6-foot-9 and its main frontcourt pieces are just 6-foot-7.
Senior forward Craig McFerrin has been solid on the glass (11.2 OR% and 18.1 DR%) and has finished close to 57 percent of his 2s against Division I opponents. Junior forward Tevin Jackson starts up front with McFerrin and is an inefficient offensive player (41.7 eFG%).
Sophomore Stephen Ugochukwu uses more possessions while on the floor than any other Cowboy (33.6 percent) and averages seven points and 3.6 rebounds.
TEMPO-FREE PREVIEW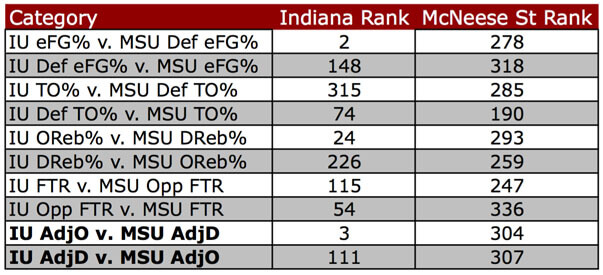 This one is likely to get ugly fast. McNeese State has no offensive firepower and also no answers for Indiana's elite offense.
We'll likely opine a bit more on IU's offense at the conclusion of the non-conference slate, but the overall numbers are impressive sans the turnovers. The Hoosiers are the second best shooting team in the country and have the third best offensive efficiency despite ranking 315th at taking care of the ball.
IU is 10th in 3-point shooting (43.5 percent) and fourth in 2-point shooting (61.4) and also ranks in the top 25 nationally in offensive rebounding percentage. If, and it's a big if, the turnovers slow down, this could end up as the best offense in the country.
WHAT IT COMES DOWN TO
The Pomeroy prediction is IU by 26 with a 98 percent chance of victory while Sagarin's numbers favor the Hoosiers by 28. This one will likely be over by the second media timeout, if not sooner.
If there's one thing to watch, it's the turnovers. After three solid games taking care of the ball, Indiana reverted to earlier season form against IPFW with 17 miscues. It's easy to fall into bad habits when you're steamrolling a team and can get away with mostly anything, but the Hoosiers are running out of time to sharpen up the execution.
With just three non-conference games left before the start of a Big Ten schedule that starts out favorably and gets difficult in February, it's no longer early in the season. Will the Hoosiers make a move or continue to exhibit inconsistent play? The next 10 games will likely answer the question.
Filed to: McNeese State Cowboys