Notebook: Niego makes most of opportunity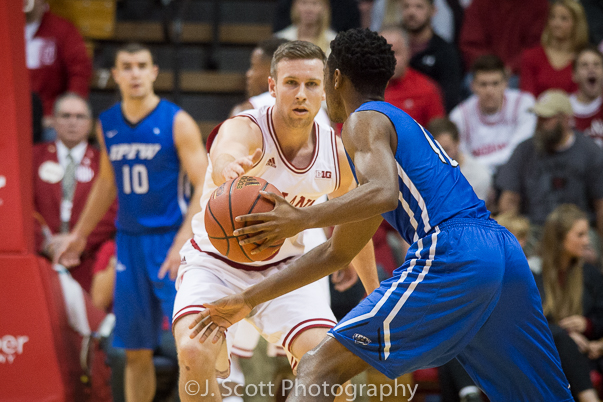 As the fouls mounted up on Wednesday night in the first half, Tom Crean was forced to go deeper into his bench than usual.
James Blackmon Jr. had three fouls before halftime and Robert Johnson and Nick Zeisloft each had two. With limited backcourt depth, Crean turned to freshman walk-on Harrison Niego when Blackmon Jr. picked up his third foul with 7:54 left in the first half.
Niego, who had played a total of 16 minutes through IU's first nine games, delivered in Indiana's 90-65 win over IPFW.
He defended, hit the open man and even dove over the IPFW bench, which resulted in a broken chair and loud applause from the IU fans in attendance.
"When you have foul trouble, you have to jump in and it's the next man up," Niego said. "That's kind of how we do things around here. Someone gets in foul trouble, gets hurt, I have to be ready no matter what. That's kind of the mindset I came in with today."
The 6-foot-2 Niego, a product of Lyons Township (Ill.) high school, had to leave Wednesday's pregame meal early according to Crean because he had to take a final exam.
IU's eighth-year head coach had no hesitation to go to Niego, who had multiple Division I offers and that trust was rewarded. Indiana outscored IPFW by 10 in Niego's 12 minutes on the floor.
"I'm not surprised that he played that way," Crean said. "He's a very confident young man. At his age, high school, AAU, he was always a leader. I thought he came in and played to his personality. He really made our team better tonight."
Bryant dealing with "injury situations"
Freshman Thomas Bryant played 18 minutes in IU's win and finished with just four points and two rebounds.
Crean was asked about his performance in the postgame press conference and whether confidence is an issue right now for the McDonald's All-American.
"His confidence will be just fine," Crean said. "He's dealing with injury situations and things like that that are internal that he has to get through. We keep trying to help him through all of that. I think he's just scratching the surface."
Over IU's last three games, Bryant has just eight rebounds. Through nine games, he's averaging just 4.9 rebounds per game.
Crean said Bryant will ultimately need to produce more statistically for IU to reach its potential, but also noted that he's seen progress from him defensively recently.
"For us to be a really good team he's got to get more than four points and two boards," he said. "But as far as the adjustments he's having to make defensively and do the things against these quick guards when they run up into these ball screens, I think he's making progress."
Career nights for Ferrell, Williams
Both Yogi Ferrell and Troy Williams set personal milestones in Wednesday's win. Ferrell topped his previous career-high of 30 points at Illinois on Dec. 31, 2013 with 38 points against the Mastodons.
Ferrell only needed 18 shot attempts to reach his career best and he also hit all 10 of his free throw attempts. He was just four points shy of Steve Alford's Assembly Hall record of 42 points in a single game.
"Man, I wish I could have got that," Ferrell said with a laugh. "It would have been fun just to break a record. But, you know, I'm not going to force shots. I just basically took what the defense gave me. I'm going to keep that in mind next time."
Williams, meanwhile, pulled down a career-best 19 rebounds and also had five blocks.
The junior forward said the rebounds were more "being in the right place at the right time" than anything else, but Crean saw it a little differently.
"I think Troy responds. Troy responds to different things," Crean said. "He responded to getting better. He responded to improvement. He responded to playing with even more energy. The key for him is to continue to build on that."
Filed to: Harrison Niego, Thomas Bryant, Troy Williams, Yogi Ferrell