Five takeaways from Indiana's win over IPFW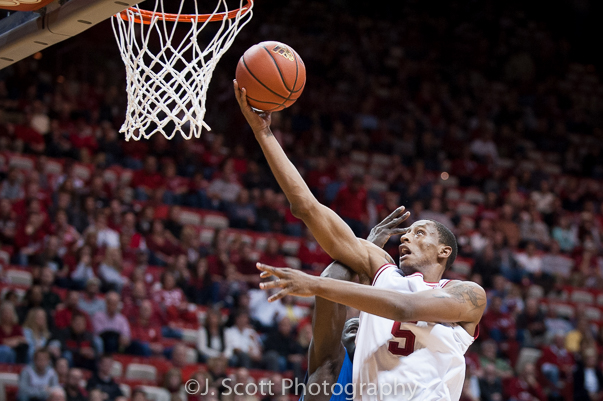 Indiana moved to 7-3 on Wednesday night with a comfortable 90-65 win over IPFW at Assembly Hall. Here's a look at five takeaways from the win over the Mastodons:
· The game lacked energy from the start: From a sparse crowd to frequent whistles to IU's carelessness with the ball, Wednesday's game didn't have much flow.
There were a total of 46 fouls and 31 turnovers (17 by IU), which resulted in play stopping often. As a result, the fans in Assembly Hall were not engaged for a majority of the night.
IU has now played six of its eight non-conference home games and the two remaining opponents (McNeese State and Kennesaw State) are two of the three worst teams on the schedule. In other words – the start of the Big Ten schedule can't come soon enough.
· Good Troy, Bad Troy: Both sides of Troy Williams were on display on Wednesday. The good Troy: a career-high 19 boards and a career-high five blocks.
The bad Troy: Five turnovers, all of which could have been avoided by simply slowing down and not trying to do too much. It's become a theme with Williams, who now has a 22.5 turnover percentage this season, which is up more than three percent from last season.
That said, the rebounding and activity around the basket were certainly encouraging, particularly on a night where Indiana didn't get much from Thomas Bryant.
· Johnson's perfect shooting night: Like Williams, sophomore Robert Johnson still needs to cut down on the turnovers. His turnover percentage of 24.5 is the highest among IU's regulars.
But Johnson was once again magnificent from the perimeter as he hit all five of his 3-point attempts. Johnson is now shooting a team-best 60 percent on 3s and has an effective field goal percentage of 68.4 through IU's first nine games.
"It was just a good effort by my teammates to find me when I was open," Johnson explained. "A lot of the shots I got were wide open. You can't miss a lot of those."
· Ferrell's efficient 38: The most impressive thing about Yogi Ferrell's career-high 38 points? How efficient the performance was.
The senior guard shot 12-of-18 from the field and 10-of-10 from the free throw line. He didn't force shots and also dished out five assists and grabbed five rebounds.
Tom Crean was asked if the points came easy for Ferrell, a notion that he dismissed.
"I don't think anything comes easy for anybody on the team," Crean explained. "I don't think anything comes easy for a guy that's that good. I think he pushed the pace. I don't think they gave him those points. I think they're a good team and he had to earn them. I think because of the way he was on the attack on both ends of the court, good things really happen."
· Thomas Bryant wasn't himself: Crean said postgame that Bryant is "dealing with injury situations" and the freshman McDonald's All-American wasn't effective in the win.
Over IU's last three games, Bryant is averaging just eight points and 2.6 rebounds in 21.7 minutes per game.
Given his importance to the team's success this season, it's important that Bryant returns to the form he exhibited in the Creighton win as the conference season approaches.
Filed to: Robert Johnson, Thomas Bryant, Troy Williams