Notebook: Defensive effort sparks win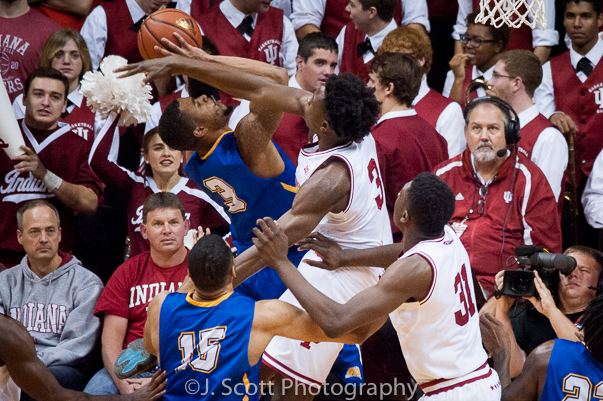 It was almost like seeing a whole new team Saturday at Assembly Hall. For at least one night, the defensive lapses that have plagued the IU basketball team were not there for IU's 92-59 win against Morehead State.
It was refreshing, as the Hoosiers passed the eye test and improved in the box score.
IU out-rebounded MSU 35-31. The Hoosiers turned the ball over 13 times and forced 23 by the Eagles. IU even forced two shot-clock violations in the first half.
It was sound basketball.
The Eagles shot 31-percent from the floor and made just four triples.
IU blocked seven shots and had seven steals. It shot 36 free throws. Players were diving for loose balls. It was the kind of performance people expect to see.
Morehead State, which ranked No. 117 in KenPom before the game, is a better team than others we have seen at Assembly Hall so far this year. Certainly no Duke, but not Alcorn State.
The players knew they had to play better defensively, and responded.
"I think we know our defense needed to get better and we really worked on it the past two days," Max Bielfeldt said. "Just simple things somebody got a little sloppy on. I think we really worked together today and put out a pretty good product."
Tom Crean noted the season is a process, and that he was pleased with the way his guys responded to the tough loss on Wednesday.
Bielfeldt was one of the standouts, scoring 12 points without missing a shot and grabbing four rebounds.
"I think we emphasized these past couple of days, all five playing one big defense collectively rather than each guy trying to take their own match-up," Bielfeldt said. "It was fun to see guys playing together, all five as one unit."
Johnson leads on defense
Robert Johnson isn't the flashiest player, but he brings a much needed defense-first mindset to the court. It showed against Morehead State. He pressured the ball on both shot-clock violations the Eagles had, locking down the ball-handler all across the perimeter. It's that sort of effort that is contagious.
James Blackmon Jr., who has been a liability on defense thus far, looked better and had two steals. Troy Williams, who led the team in scoring with 16 points on 6-of-7 shooting, only turned the ball over once.
When the guards are able to pressure the ball like they did Saturday night, it's difficult to get the ball into the lane. Morehead State Coach Sean Woods said after the game that he thought his team would be able to get into the lane more, but was shut down.
"They hadn't been real tough defensively," Woods said. "I thought they were much tougher tonight. It doesn't take a rocket scientist to figure out they haven't been good defensively."
Still unbeaten at home
IU (6-3), is 5-0 at home in Assembly Hall this season.
In each win, the Hoosiers have gone on a big run that pushes the game out of reach for the opponents. This time the run came midway through the first half, as IU went on a 29-6 run that started with them being down 13-12.
Filed to: Morehead State Eagles