Morehead State to bring plenty of challenges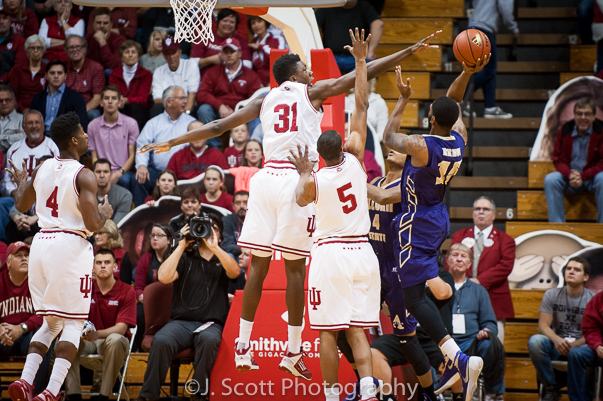 After getting blown out Wednesday at Duke, things don't necessarily get much easier for IU when Morehead State comes to town Saturday.
The Eagles have just one loss – by one to a tough Illinois State team on the road – and are on a four-game win streak.
Tom Crean described them as a team that wouldn't shock anyone if they won their conference.
"They're playing extremely well right now," Crean said on Friday. "They bring relentless pressure defensively. They can switch all five positions, they can shoot, they run the dribble drive offense and they run it really, really well. It's like the dribble drive on steroids."
Morehead State does two things well that IU struggles with. The Eagles rank 16th in the country in turnovers forced (17.7), and 17th in the nation in offensive rebounding (15.7). They also have the best scoring defense in the country, allowing just 54.5 points per game.
"They're all over the glass," Crean said. "It's going to be a challenge."
IU will have its hands full on defense, as it will with most opponents this year. After playing a mix of zone and man-to-man defense against Duke, Crean says he isn't going to simplify the defense. He noted an example of nobody being in the corner and bumping out to nobody Wednesday.
"That's an awareness issue, that's a communication issue," Crean said. "Those things can't happen whether you're in man or zone. I don't know if it's a matter of simplifying it's a matter of being better at what we're doing."
He also said the Hoosiers didn't play the ball hard enough, and says it's easier said than done to keep opponents in front of the ball. Duke wanted to get to the free throw line, he added, and that trying to stop the dribble penetration often caused open shooters on the perimeter.
"We probably were a little too worried about the dribble instead of just attacking it," Crean said. "We were conscious about the drive."
He said IU must be more aggressive early on. With freshman Thomas Bryant manning the post, Crean said it will be a while before the rim protection is where he wants it to be.
While Morehead State doesn't have the height to stay matched up with IU, Bryant and others will have to pay attention to DeJuan Marrero, a forward, who leads the Eagles in rebounds per game at 6.7.
After being asked a question about his best scorers being weaker defenders and how it differs from teams in the past, Crean gave a very basic answer that he would later repeat several times.
"I think we just have to work to get better and work to improve in every area of what we're doing," he said. "It starts in practice and we need to carry it over."
Filed to: Morehead State Eagles