Notebook: Defense and rebounding non-existent in loss at Duke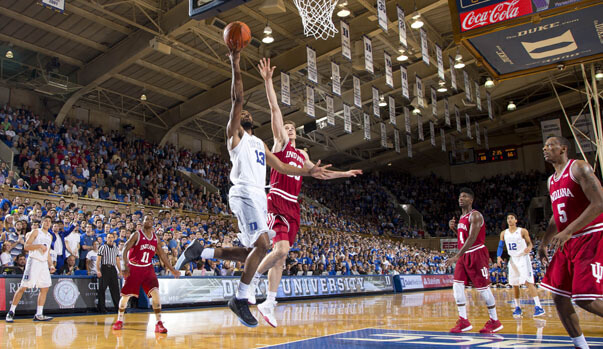 The final numbers for Indiana tell the story of just how lopsided Wednesday's 94-74 loss at Duke was. And a good place to start is probably the number zero.
IU's starting power forward and center, Collin Hartman and Thomas Bryant, combined for zero rebounds. Zero, for the entire game.
In the first half, you can add in starting small forward Troy Williams, who had zero rebounds. He finished the game with three.
IU's five starters combined for nine total rebounds in the game. Its leader was Robert Johnson off the bench with six. Duke outrebounded IU 38-25, 19 of which were offensive boards for the Blue Devils. Duke scored 26 second chance points, the most IU has given up in a game since 2012.
The rebounding was bad enough that the fact that Indiana shot 51 percent from the field and turned it over just nine times didn't matter. The Hoosiers still lost by 20.
Duke shot 53-percent from the floor, and turned the ball over six times.
Dick Vitale ranted about how he could play better defense at his current age than what he saw on the court from IU. He couldn't believe that players at this level still needed to buy into defense.
Duke was able to do nearly anything it wanted on the offensive side of the ball. Brandon Ingram had 24 points, including 18 in the first half. Matt Jones scored 23 points, Grayson Allen added 16. The three players combined to shoot 26-for-45, good for 57.7-percent.
Duke scored 1.52 points per possession, the highest it's ever had since that stat started being tracked 20 years ago.
"We were not nearly good enough on the ball defensively," Tom Crean said. "We never really made them feel us, presence-wise. We didn't have a lot of trouble scoring ourselves, but we didn't put a lot of pressure on them."
Crean said his team was forced to play help defense which left shooters open, and that that way of defense caused problems for IU. He doesn't want to be forced into that help defense, and his players hadn't seen the length a team like Duke had before.
"We didn't get enough stops," Crean said. "We didn't get enough stops in a row. We didn't create enough pressure on them to put them in enough uncomfortable situations."
After the game, Crean mentioned several times that it's only December 3 in a brief press conference that lasted just over four minutes.
"It's eight games in," he said. "I think we'll get better. That's the bottom line."
Other Notes:
Indiana led for 8:04 during the first half, with it's largest lead of the game being six. Duke would later lead by 25 in the second half.
Duke's starters out-rebounded IU 30-9.
IU shot 16.7-percent from 3-point range in the second half.
(Photo credit: Duke University)
Filed to: Duke Blue Devils