Five takeaways from Indiana's loss at Duke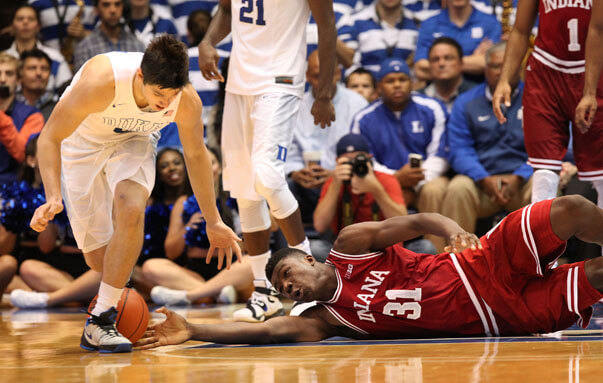 DURHAM, N.C. – Indiana suffered its third loss of the season in decisive fashion on Wednesday night at Cameron Indoor Stadium. The Hoosiers were crushed by No. 7 Duke, 94-74, in a game that wasn't even close after halftime.
Here's a look at five takeaways from the loss to the Blue Devils:
· It may be early December, but Indiana has a major flaw that isn't going away: Tom Crean mentioned in his postgame press conference that it's only December 3, but that doesn't change the fact that Indiana has shown no improvement defensively when its played capable competition this season.
Duke scored how it wanted and when it wanted on Indiana to the tune of 1.52 points per possession. That's not going to get it done, especially on the road. Crean offered little in his postgame remarks to explain why the deficiencies continue.
"Guard the ball better," he said. "We need to guard the ball better. We need to make sure we're not playing angles and giving up position, as much as getting up into the ball and putting really good pressure on the ball."
· Second chance points were the difference: Duke beat Indiana to rebounds throughout the game and as a result, the Blue Devils absolutely dominated the offensive boards.
Not only did Duke shoot an effective field goal percentage of 61, they rebounded 54 percent of their missed shots and scored 26 second chance points. Indiana scored just eight. Two IU starters – Collin Hartman and Thomas Bryant – didn't grab a single rebound.
· The Hoosiers didn't turn it over, but it didn't matter: Turnovers were a major problem for Indiana through seven games. Careless mistakes cost Indiana in close losses to Wake Forest and UNLV, but for the most part, those mistakes didn't pop up on Wednesday.
Indiana finished with just nine turnovers for a turnover percentage of 14.6, its best performance of the season. The Hoosiers also scored better than 1.2 points per possession for the fifth time in eight games.
But it didn't matter because Indiana couldn't stop Duke. The Blue Devils took care of the ball even better than IU (six turnovers, 9.7 turnover percentage) and also shot an effective field goal percentage of 60.7.
· Indiana allowed Brandon Ingram to break out of his slow start this season: Freshman Brandon Ingram came to Durham with a top 10 national ranking and major expectations.
But through seven games, Ingram was struggling offensively. His effective field goal percentage was just 43.3, but he got it going early against the Hoosiers with high percentage looks that were lightly contested.
The versatile 6-foot-9 wing finished with a career-best 24 points on 6-of-9 shooting on 2s and 4-of-6 shooting on 3s.
· The Cameron Indoor Stadium environment is worth experiencing: If you've never been to Duke for a game, put it on your bucket list. Wednesday was my first trip to the venue and it didn't disappoint.
In terms of seating capacity, it's much smaller than other blueblood programs, but it's every bit as loud as any Big Ten venue.
When Duke got things rolling, particularly in the second half, it wasn't hard to see why the Blue Devils have now won 121 straight non-conference home games. It's one of the best venues in college basketball.
(Photo credit: Mark Dolejs-USA TODAY Sports)
Filed to: Duke Blue Devils, Tom Crean