What to Expect: Duke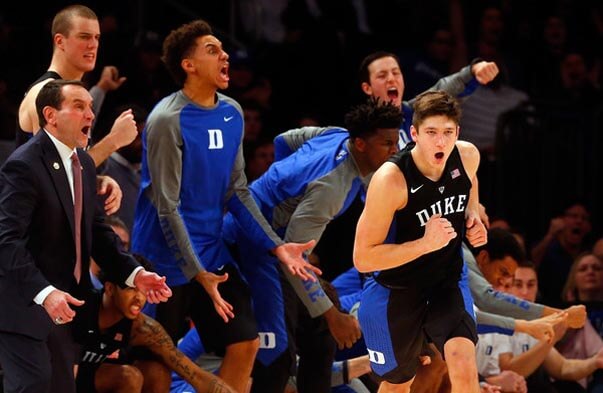 Indiana travels to Durham, North Carolina for what will likely be its toughest road game of the season on Wednesday evening against No. 7 Duke.
The Blue Devils are 6-1 with wins over VCU and Georgetown. The game will be broadcast at 9:15 p.m. ET on ESPN with Dave O'Brien and Dick Vitale on the call:
Indiana's opportunities to bolster its resume before Big Ten play were severely harmed in Maui, but the Hoosiers have one of two remaining chances to pick up a conference win worth mentioning on Wednesday.
The challenge, however, is a daunting one. Duke has won its last 120 non-conference home games inside the friendly confines of Cameron Indoor Stadium. The last loss for the Blue Devils on their home floor? February 26, 2000 to St. John's.
Billed as one of the premier matchups of this year's Big Ten/ACC Challenge, Indiana-Duke has lost a bit of its luster given the struggle of the Hoosiers through seven games. It's still a primetime nationally televised game between two of the nation's best offenses, but is IU ready to hang with one of the nation's best teams in a raucous environment? We'll soon find out.
MEET THE BLUE DEVILS
Those who follow recruiting closely are familiar with much of Duke's roster as Mike Krzyzewski and his staff regularly stock the program with five-star, McDonald's All-American recruits.
This year's Duke team is young, but loaded with talent and plenty of upside. Duke lost three players early to the NBA (Jahlil Okafor, Justise Winslow and Tyus Jones) and also graduated point guard Quinn Cook, but had no trouble reloading with a star studded recruiting class to pair with key contributors from last year's national championship team.
Duke is playing just eight guys and is led by sophomore guard Grayson Allen, who averages a team-high 22.6 points per game. The 6-foot-5 guard is drawing 6.6 fouls per 40 minutes, is shooting 48.6 percent on 3s and is hitting 92 percent of his free throws. Keeping him out of the lane is likely to be a major problem for Indiana's defense.
Joining Allen in the perimeter rotation are junior Matt Jones and freshmen Derryck Thornton, Luke Kennard and Brandon Ingram.
Jones started on last season's title team and is second on the team in scoring at 12.7 points per game. Like Allen, he's been red hot from 3 to start the season (48.7 percent) after hitting just 37.6 percent from deep as a sophomore.
Kennard, a left-hander who is wired to score, is coming off a 22-point game against Utah State, but has struggled from the perimeter so far. Kennard is just 8-of-28 on 3s, but is bound to start figuring things out soon.
Thornton, who reclassified from 2016 to 2015, is the only true point guard on the roster. But like Kennard, has also gone through some early growing pains. Thornton is turning it over on 20.5 percent of his possessions and also has the lowest effective field goal percentage of Duke's regulars at 39.8.
Ingram is using 24.9 percent of possessions while on the floor (second to Allen), but has an effective field goal percentage of just 43.3 and is hitting just 56.2 percent from the line. At 6-foot-9, his length and athleticism will cause problems for IU, especially if the Hoosiers go small. That said, if IU is going to play off anyone on the perimeter, Ingram (24 percent on 3) and Thornton (33.3 percent) are the smart bets.
In the post, Duke starts seniors Marshall Plumlee and Amile Jefferson. The 7-foot Plumlee has been a role player up until this season, but has emerged as an important piece to the puzzle. Plumlee has taken just 19 field goal attempts, but has earned 32 free throw attempts. More importantly, he's provided solid rim protection (8.5 block percentage) and rebounding (21.3 DR%).
Jefferson's role has also grown in his final season as he's the team's best rebounder (10.6 per game) and is finishing an incredible 70.2 percent of his 2s. Freshman Chase Jeter is the backup big, but is playing just nine minutes per game. The Las Vegas native is averaging 3.2 points and 2.5 rebounds per game.
TEMPO-FREE PREVIEW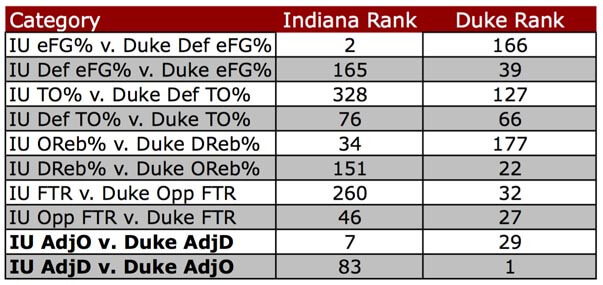 The difference between Indiana and Duke right now offensively comes down to one factor: turnovers. The Hoosiers are hitting a higher percentage from the floor by a pretty significant margin, but Duke's turnover percentage of just 16 (66th nationally) gives the Blue Devils the more efficient offense thus far.
The challenge for Indiana is going to be figuring out a way to either A) get to the foul line or B) get some easy looks around the basket. The Hoosiers have struggled to get to the line through seven games and Duke, of course, has the ability to drive the ball and either finish or get to the line. That could be especially problematic for Indiana given how its defended straight line drives so far. Early foul trouble could spell doom for relatively thin frontline depth.
WHAT IT COMES DOWN TO
Duke opened as a 9.5-point favorite in Vegas and the Pomeroy prediction likes Duke by 10 with just a 19 percent chance for the Hoosiers to pull off a win.
For the upset to happen, Indiana has to take care of the ball and also be smart about how it defends Duke. Allen is obviously the key, but Jones also is an experienced veteran with the ability to make teams pay. The other three freshman have all struggled to varying degrees, so maybe the strategy is to play off that trio on the perimeter until they prove they can make shots consistently.
If IU is able to execute its offense with a turnover percentage near or lower than what we saw last season and get solid looks, the Hoosiers have the chance to make this a game. Indiana simply hasn't proven that it has the defense to stop one of the nation's best offenses, so an offensive explosion is the ticket to keeping things interesting.
However, if the turnovers linger and Duke establishes its inside game early and often, it could be a long evening for the Hoosiers under the bright lights of Cameron Indoor Stadium.
(Photo credit: Jim McIsaac/Getty Images North America)
Filed to: Duke Blue Devils