At the Buzzer: Duke 94, Indiana 74
DURHAM, N.C. – A few quick thoughts on Indiana's 94-74 loss to Duke in the Big Ten/ACC Challenge at Cameron Indoor Stadium.
How it happened: Indiana came out strong offensively and even led by as many as six in the first half, but its inability to get any stops defensively defined the evening. And if the Hoosiers don't figure out a solution, winning games against quality opponents is going to be a major uphill battle.
After trailing by nine at halftime, Indiana didn't score its first points in the second half until a Yogi Ferrell free throw at the 15:08 mark. The Blue Devils were left open constantly on the perimeter as IU played a passive zone and converted like the nation's No. 1 offense. The Hoosiers had no answer early for Brandon Ingram, who scored 18 points in the first half and finished with a game-high 24.
Number that needs work: Start and finish with defense. Duke scored a ridiculous 1.52 points per possession on the Hoosiers. The Blue Devils also grabbed 19 offensive rebounds and scored 26 second chance points. While Indiana was competitive through the first 20 minutes, the second half was all Duke from the onset.
Statistic that stands out: The Hoosiers did do a better job taking care of the ball, an issue that ailed them through their first seven games. Indiana turned it over just nine times. Progress, but with the poor defensive performance, it didn't matter.
Final stats: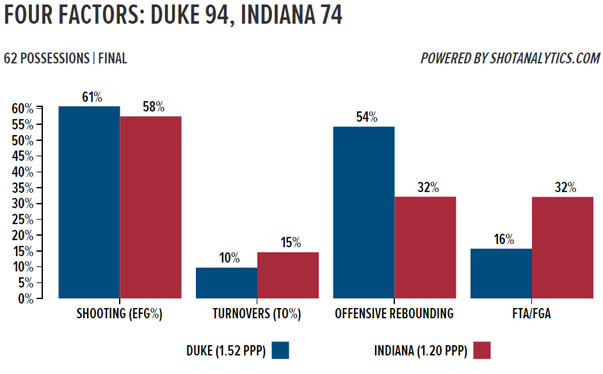 (Photo credit: Mark Dolejs-USA TODAY Sports)
Filed to: Duke Blue Devils