At the Buzzer: Indiana 112, Alcorn State 70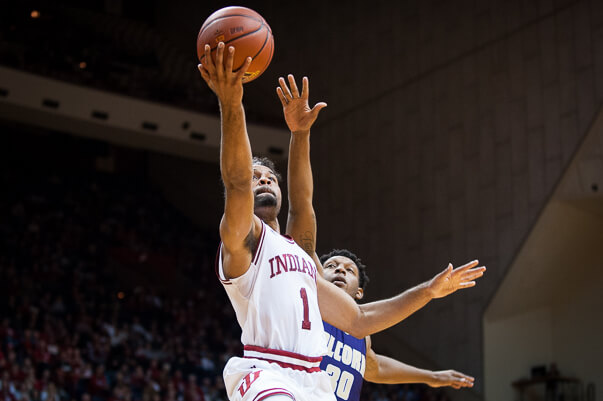 A few quick thoughts on Indiana's 102-70 win over Alcorn State:
How it happened: Indiana controlled Alcorn State, one of the worst teams in Division I, throughout the evening. The Hoosiers weren't very good defensively through the first 20 minutes (.97 points per possession allowed), but were slightly better to begin the second half. All in all, this game turned out as expected: Indiana pounded a team with little talent.
Standout performer: James Blackmon Jr. scored a career-high 33 points, including 24 in the first half. He shot 11-of-15 from the field, including 6-of-9 on 3-pointers. Alcorn State had no one capable of guarding Indiana's perimeter players and Blackmon Jr. was able to take advantage.
Statistic that stands out: The Hoosiers shot 15-of-26 from behind the 3-point line for 57.6 percent. Most of the looks were the result of ball movement and athleticism that Alcorn State simply couldn't cover.
Number that needs work: Indiana turned it over on 22.8 percent of its possessions in the first half, which is slightly below its season average, but still too high. The Hoosiers were better after intermission and finished the game with a turnover percentage of 17.
What's next: Indiana travels to Durham, North Carolina to face No. 7 Duke in the Big Ten/ACC Challenge at Cameron Indoor Stadium. Tip-off is at 9:15 p.m. ET on ESPN.
Final stats: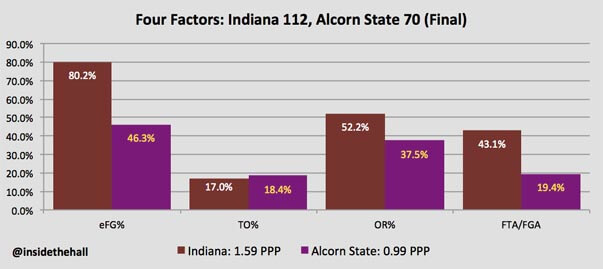 Filed to: Alcorn State Braves