Notebook: Turnovers doom Hoosiers in loss to UNLV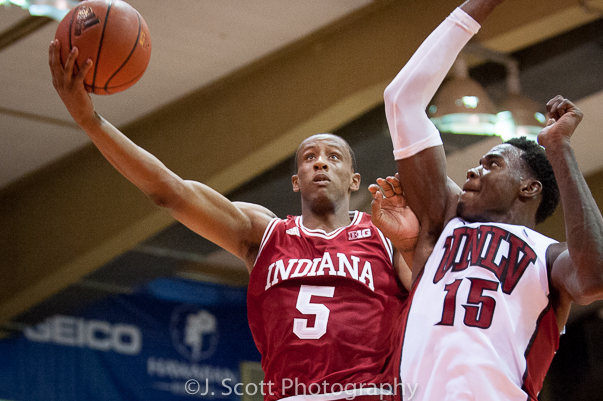 Indiana came into the Maui Invitational undefeated and ranked No. 13. It will leave with two losses, and will almost assuredly fall out of the rankings.
21 turnovers and 10-for-19 shooting from the free throw line doomed the Hoosiers in their 72-69 loss to UNLV on Wednesday. After getting behind big early, IU was never quite able to come all the way back and take a lead.
Only three players out of the 10 who played managed to not turn the ball over, and IU's three main ball-handlers — Yogi Ferrell, James Blackmon Jr. and Troy Williams — each had four turnovers.
"Really it was just us," Blackmon Jr. said. "I feel like (UNLV) didn't do too much of anything. I feel like it was us that made turnovers that we could have prevented. But their pressure was good. We knew that they would come out and pressure us and it was going to be a dog fight from the beginning. So I feel like we should have just prevented that more."
UNLV scored 22 points off of IU turnovers, compared to the Hoosiers scoring nine points off of 12 UNLV turnovers.
"We got ourselves in a hole at the beginning with our turnovers, and you're not going to beat any type of team, let alone one as talented as UNLV, when you're giving them 22 points," Tom Crean said. "It's unacceptable with the guys that have the ball in their hands for us to be giving the ball that way, and we've got to get that fixed. We really do, or we've got to fix the lineup."
Crean was also critical of his team trying to make home run plays instead of going for the simple, common sense plays. He said he needs his players to realize you look better when you make the simple plays.
"For us, we can't have it, Troy can't throw a no-look pass," Crean said. "He can't do that. That's not what we're doing. I'm using Troy as an example, but we're making too many turnovers. We made too many mental mistakes, okay, that ended up looking physically wrong because of the way we passed the ball because we weren't as aware as we needed to be."
IU just wasn't able to get its offense going, as only two players reached double figures. Nick Zeisloft scored scored 17 points and Blackmon Jr. scored 13 on 5-of-12 shooting. Ferrell had nine points and dished out nine assists while grabbing six rebounds.
"I'd much rather have a team that you have to slow down some than one that you can't get to play at a high level of speed," Crean said. "Our turnovers, they're coming all over, right? They're coming all over. They're not just coming because we're playing fast. They're coming in the half court too. So we'll get better with it. We'll get better."
After being called for a five-second violation with three seconds left, IU was given a second chance after UNLV threw the ball away. Zeisloft got up a three, but it was blocked.
Foul trouble inside
The Hoosiers were also in foul trouble, as Collin Hartman reached four fouls early in the second half, Blackmon Jr. would eventually foul out and Thomas Bryant finished with four fouls as well. Juwan Morgan went down with an ankle injury and had to be carried off the court by teammates, also in the second half.
"We're playing with three freshmen on the front line," Crean said. "We don't have the front line that we were projected to have. We don't have the front line that we thought we were going to have. So we've got to get that down. They've got to deal with the different coverages that are there and all that different type of stuff. There is no question we can get better at every aspect of the game."
Filed to: 2015 Maui Invitational, UNLV Runnin' Rebels