Five takeaways from Indiana's win over St. John's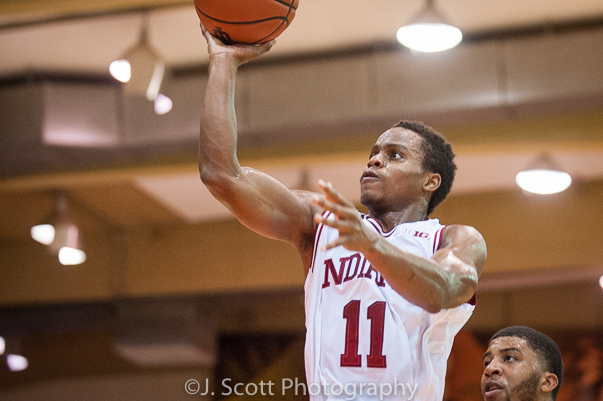 After a surprising 82-78 loss to Wake Forest on Monday, Indiana turned back St. John's on Tuesday in the 2015 Maui Jim Maui Invitational at the Lahaina Civic Center.
Here's a look at five takeaways from the 83-73 win over the Red Storm:
· Indiana's defense played poorly again: After managing just 55 points in a 37-point beatdown at the hands of Vanderbilt on Monday, St. John's scored 73 points against Indiana on Tuesday morning. And they did it in two less possessions than they had on Monday against the Commodores.
In fact, from an efficiency standpoint, that was the best offensive performance of the season for St. John's. The other opponents for the Red Storm thus far besides Vanderbilt? Wagner, UMBC and Rutgers. That's not good company for Indiana to trail.
The Hoosiers continue to struggle at defending both straight line drives and ball screens. The lack of resistance at the rim is also concerning as both Wake Forest and St. John's have finished easily in the paint over the last two games. The last two games have been a regression for Indiana defensively.
· The benching of James Blackmon Jr. and Troy Williams was needed: If Indiana is going to reach its potential, it's going to need James Blackmon Jr. to play better defensively. It will also need Troy Williams, who had five turnovers against Wake Forest, to make better decision making.
Given that Williams is now in his third season and Crean has been direct with Blackmon Jr. about the need to step it up defensively, the move to remove both from the starting lineup after Monday's game was the right one.
Nick Zeisloft and Robert Johnson don't give Indiana the upside that Williams and Blackmon Jr. provide, but Zeisloft takes care of the ball and Johnson has shown that he can play respectable defense at times. Until Williams and Blackmon Jr. get the message, they should continue to come off the bench.
· Ferrell rebounds after poor performance on Monday: Yogi Ferrell didn't play well on Monday, but he bounced back on Tuesday with a strong effort offensively.
The senior point guard finished with 22 points, seven assists and four rebounds in 36 minutes. No one else on IU's roster played more than 30 minutes in the win.
"We were upset with the loss yesterday, but we looked at this as another opportunity for us to go out and show everybody what we're made of, and I felt like we did that today," Ferrell said.
· Indiana made getting the ball to Bryant a point of emphasis: Crean is often criticized for how he utilizes his post players, but Indiana made it a point to find Thomas Bryant early and often on Tuesday.
The result was a 19-point performance for the freshman on 7-of-9 shooting from the field and a 5-of-7 mark from the foul line. St. John's had no answer for Bryant inside and he took advantage.
"I just know if I just keep playing, keep running and posting up, that those guys will give me the ball, and they did," he said. "Luckily, I made some moves and got some buckets in there and just took it from there."
· The Hoosiers are about to have their biggest mental challenge of the three days: Three games in three days is not easy, particularly when you consider the time change, the distractions and how long of a day the Hoosiers had on Monday.
It's not going to get any easier as IU prepares to take on an energetic UNLV team that won on Tuesday without Stephen Zimmerman (flu-like symptoms).
Will the Hoosiers step forward, fight the fatigue and deliver their best performance of the event? Or will Wednesday be more of what has transpired over the first two games in Maui? The answer will tell us plenty about where Indiana stands right now.
Filed to: 2015 Maui Invitational, St. John's Red Storm