The Minute After: St. John's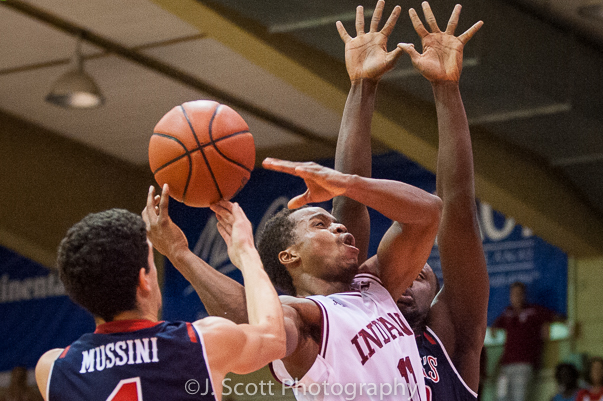 Thoughts on an 83-73 win over St. John's:
LAHAINA, Hawaii — On an overcast morning in the land of the cruel sun, Indiana's fatigue from a never-ending Monday showed up in its win against St. John's.
The disappointing, unexpected loss to Wake Forest was tough for this squad to stomach.
"We had some hurt feelings," Tom Crean said of his team.
On Monday after the loss, Crean said Indiana spent longer than expected with their film session of the game. This led to missed scheduled evening gym time. They ended up having to do their walkthrough in their hotel ballroom instead.
"I gave us too much credit for having 16 good minutes (against Wake Forest)," Crean said. "We didn't."
Couple the long Monday in with a five hour time zone difference and a 9 a.m. start against a below average squad in a similar time-frazzled condition, and the quality of the performance starts to make some sense.
This is not to excuse all the listless play from Indiana. But context is important before we dive into the details.
Those details were tough to swallow. The Hoosiers have certainly showed stretches — or even full games — of the type of defense they need to play to be taken seriously this season. But that was not on display this morning. The Red Storm entered the contest with the 243rd most efficient offense per KenPom. Indiana allowed them to score 1.07 points per possession, just a touch less than the 1.11 it allowed to Wake Forest on Monday.
It was the same old story: Too much easy stuff off the perimeter to the basket.
Indiana played slower today and had six less possessions than in its loss to Wake Forest. But the turnovers still persisted. The Hoosiers turned it over on nearly a quarter of their possessions (23.5 percent) and the Red Storm scored 25 points of those miscues. A lot of them were of the mental variety. The Hoosiers made passes to areas of the court their teammates had vacated or simply never were. When Collin Hartman is making mental errors and turning the ball over (three turnovers), you know something is a little off.
"We were a little ruffled today," Crean admitted after the game.
Indiana was never able to blow the Red Storm out of the gym as some had hoped the Hoosiers would. There were never quite in danger of letting the scales tip in St. John's favor, either. It was a survival this morning more than anything.
The Hoosiers got Thomas Bryant the ball early and often and he had a nice bounce back game after a lot of defensive issues against Wake Forest. Bryant went to work in the post against the Red Storm and was an efficient 7-of-9 from the floor and 5-of-7 from the line for 19 points.
Crean sat James Blackmon Jr. and Troy Williams at the start of both halves today, sending a bit of a message about their play against Wake Forest yesterday. Blackmon Jr. still had four turnovers in just 17 minutes of play.
The Hoosiers have one last shot to string together more consistent play on both sides of the ball tomorrow and end on a positive note before they head back to the mainland.
But whether they'll be able to shake the cobwebs out and put it all together is anyone's guess after so much up and down play through five games this season.
Filed to: 2015 Maui Invitational, St. John's Red Storm