Notebook: Bryant bounces back, loss sparks lineup change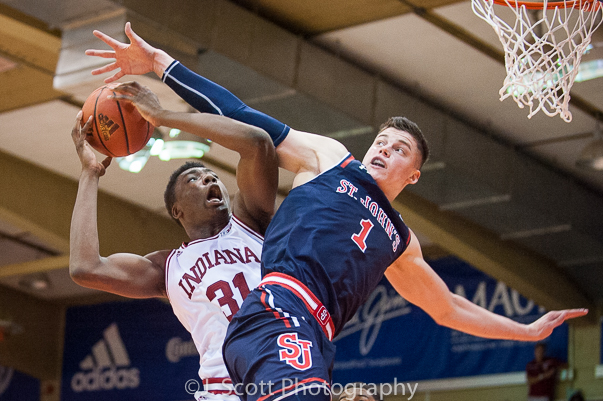 Less than 24 hours after suffering its first loss of the season, Indiana was back on the court in Maui looking to earn a win.
The Hoosiers did just that, winning 83-73, albeit in sloppy fashion.
Yogi Ferrell led all scorers with 22 points, and also had seven assists and four rebounds. Thomas Bryant bounced back from his struggles against Wake Forest and finished with 19 points and three rebounds in 22 minutes.
"The type of adjustments I made was just staying on the attack," Bryant said. "Just let the process go through and just play with my teammates and trust Coach and all my teammates out there. I just know if I just keep playing, keep running and posting up, that those guys will give me the ball, and they did. Luckily, I made some moves and got some buckets in there and just took it from there."
Bryant's offensive effort was key as the freshman goes through those first year growing pains. He's being counted on to produce immediately for a program that struggled in the post last season.
Despite the win, Tom Crean said he was even more displeased with his team's performance against Wake Forest after watching the tape. He said he doesn't even think they played 16 good minutes, as he had credited the team following the game.
"We got away from what was working," Crean said. "We got away from what we needed to do, and we needed to grow up in a matter of hours."
Crean noted that IU is still making adjustments inside to match its opponents as it acclimates Bryant, Max Bielfeldt and its other newcomers.
"We didn't play great," Crean said. "It wasn't always pretty. (St. John's) made baskets. But it's not going to be when you're playing against other competitive teams when you're in this environment. But we played with great purpose. We went to a game plan that really was where we needed to end the game yesterday, and we didn't end it that way, but we came at it and established it right away."
Turnovers were also an issue as St. John's scored 25 points off of 16 IU turnovers.
"They scored too many points off the turnovers," Crean said. "But today, if it was going to be a 15-round fight, we wanted to make sure we could be in it all 15 rounds, and I think that ended up happening that way. It's not easy to win."
Loss sparks lineup change
Crean decided changes needed to be made after IU's loss to Wake Forest, so he replaced James Blackmon Jr., Troy Williams and Max Bielfeldt in the starting lineup with Robert Johnson, Nick Zeisloft and Collin Hartman.
Despite each new starter playing more minutes than those who they replaced, they were outscored by Blackmon Jr., Williams and Bielfeldt 28-12.
"I thought Yogi and Rob did a fantastic job of getting the teams centered early and Thomas did a great job of getting the team anchored," Crean said. "Collin and Nick were all over the court. That's exactly what it has to be."
After scoring just two points in the second half against Wake Forest, Ferrell took over the game, similar to what would happen during times last season.
"We were upset with the loss yesterday, but we looked at this as another opportunity for us to go out and show everybody what we're made of, and I felt like we did that today," Ferrell said. "We showed a lot of toughness. It starts off in the first half."
Filed to: 2015 Maui Invitational, Thomas Bryant, Tom Crean, Yogi Ferrell