What to Expect: Wake Forest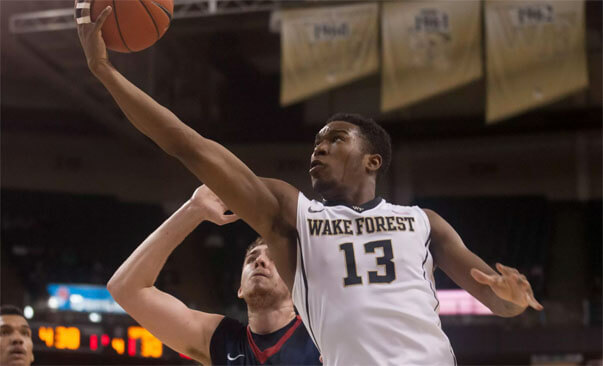 Indiana begins play in the 2015 Maui Jim Maui Invitational today against Wake Forest at the Lahaina Civic Center. (Note: Inside the Hall's Ryan Corazza and Jamie Owens are in Maui and will be providing coverage all week.)
Today's game will be broadcast live on ESPN2 at 5 p.m. ET with Jon Sciambi and Bill Walton on the call. The full Maui bracket is available here.
Is Indiana ready to win three games in three days? We're about to find out. The Hoosiers tip off in Maui today with Wake Forest, which is 2-1 and coming off of a home loss to Richmond.
The Maui field is an impressive one as IU, Kansas and Vanderbilt are all ranked. In addition to those three teams, there's a day one matchup between UNLV and UCLA, which should also be entertaining. Throw in Wake Forest and St. John's, which are both rebuilding but are recruiting well, and you've got one of the stronger fields of any of the early season tournaments this season.
But before Indiana can look ahead to a day two matchup with Vanderbilt or even a potential meeting on Wednesday with Kansas, the Hoosiers must first focus on the Demon Deacons, who will be looking to play spoiler in the opener.
MEET THE DEMON DEACONS
Wake isn't at full strength as senior guard and leading scorer Codi Miller-McIntyre is recovering from a left foot fracture and isn't expected to play in Maui. Miller-McIntyre, who averaged 15.6 points per game last season, did travel with the team for the event.
The Demon Deacons have also been without Cornelius Hudson, who averaged 7.5 points per game last season, and Rondale Watson, as both were suspended late last month for a violation of departmental rules. It appears Hudson may be on the verge of a return, but Watson was not expected to travel to Maui.
In the absence of Miller-McIntyre, freshman guard Bryant Crawford (pictured) has played well in the first three games of his career. Crawford is coming off a 21-point performance in Wake's loss to Richmond in which he hit four of his five 3-point attempts. IU fans likely remember the name as Crawford made multiple visits to Bloomington when Kenny Johnson was on the coaching staff. Crawford has 15 assists in three games, but also has 12 turnovers.
Mitchell Wilbekin, a 6-foot-2 sophomore guard, is just 9-of-25 from the field through two games, but has done an excellent job of taking care of the ball (turnover percentage of just 4) and also getting to the line (13 attempts in three games). Junior guard Trent VanHorn comes off the bench for Danny Manning and is nearly invisible offensively (per KenPom) as he's using just 8.3 percent of his team's possessions while on the floor.
Wake starts three forwards up front and the headliner is 6-foot-9 senior Devin Thomas. At 255 pounds, he's a strong rebounder on both ends and is finishing 51.4 percent of his 2s, but is hitting just 57.7 percent from the foul line in 26 attempts. He's also got six blocks through three games and is averaging 17 points per game.
Joining Thomas in the frontcourt rotation are 6-foot-10 sophomore Konstantinos Mitoglou and 6-foot-7 forward Greg McClinton. Mitoglou likes to step out and shoot from the perimeter, but is just 4-of-16 from deep thus far. Like Thomas, he's been strong on both the offensive (12.9 OR%) and defensive glass (29.0 DR%). McClinton is shooting close to 58 percent from the field so far, but is just 1-of-6 from the foul line.
Three others to watch on the Wake roster are freshman center Doral Moore and freshman forward John Collins. Moore, who had an IU scholarship offer, is a work in progress and is playing just seven minutes per game, but has the talent to develop into a very good player down the line. Collins, who is 6-foot-10, had 13 points and four rebounds in 12 minutes in the loss to Richmond.
THOUGHTS ON THE MATCHUP AND A LOOK AT SOME NUMBERS
In his comments on Sunday, Tom Crean mentioned Wake's physicality and the numbers bear out that Indiana is going to have a rebounding battle on its hands.
Through three games, the Demon Deacons are rebounding 44.2 percent of their misses and are also cleaning up the defensive glass as opponents are only grabbing 23.3 percent of missed shots. Indiana, however, has been equally impressive on the boards so far as the Hoosiers are allowing opponents to grab just 20.8 percent of their misses and are in the top ten nationally early in offensive rebounding percentage.
Another factor that bears watching is whether Indiana is able to keep Wake off the free throw line as the Deacons have a free throw rate (FTA/FGA) percentage of 55.8 through three games. The Hoosiers have done a great job of avoiding fouls, but keeping Thomas Bryant and Max Bielfeldt on the floor will be a key in this game.
On the flip side, Wake has been dreadful at defending the 3-pointer, which isn't a recipe for successfully defending Indiana. Richmond just torched Wake for 11-of-23 from deep and Manning's club is allowing opponents to shoot over 40 percent on 3s so far.
Additionally, Wake has been below average defensively so far this season (1.01 points per possession allowed) and opponents are only turning it over on 10.4 percent of possessions. As we've seen through three games, the best way to slow Indiana down is to get the Hoosiers to turn it over. When that doesn't happen, the percentages say the Hoosiers will get a quality look and score efficiently.
WHAT IT COMES DOWN TO
Vegas opened with Indiana as an 11-point favorite, but that number has moved up to 12.5 as of Monday morning. The Pomeroy prediction likes IU by 10 and Sagarin likes the Hoosiers by 15.
Wake's best chance to be successful against Indiana is to be physical, try to draw fouls and get to the line. The Demon Deacons are playing at a similar pace to Indiana, but attempting to run with an offense this explosive may not be the best strategy, especially with a freshman point guard who has been turnover prone. The crowd could also be a major factor if IU gets on a run as Hoosier fans are expected to be a vocal majority in the Lahaina Civic Center.
Indiana's defense has been better than last season early on, but will it travel to a neutral court setting? Wake isn't a good shooting team, so keeping them out of the lane will be a key, as well as cleaning up the defensive glass. If that happens, Indiana should be in line to move on for a Tuesday meeting with the St. John's-Vanderbilt winner.
(Photo credit: Jeremy Brevard-USA TODAY Sports)
Filed to: 2015 Maui Invitational, Wake Forest Demon Deacons