Notebook: Defense disappoints in Maui loss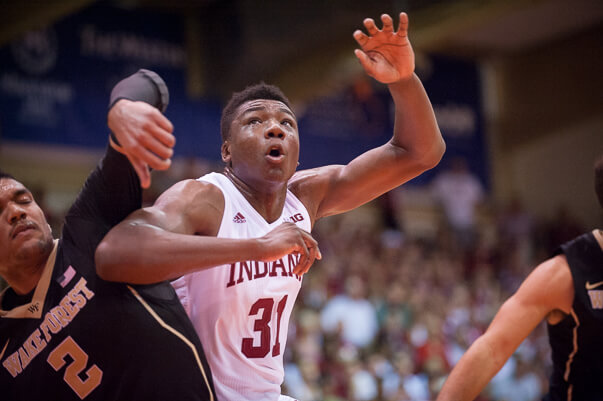 Indiana's trip to Maui started off with a disappointing loss Monday, as the Hoosiers fell to Wake Forest 82-78.
After a first half that saw Dinos Mitoglou light up the Hoosier defense, IU started to pull away in the second half, reaching a nine-point lead with just over seven minutes left to play. The defense, however, couldn't hold up, and Wake Forest was able to hold on for the win after IU's final possession, a three-quarter court pass to Max Bielfeldt, resulted in a turnover.
Freshman big man Thomas Bryant got his first taste of the national stage, and allowed Demon Deacon center Devin Thomas to score 21 points and grab eight rebounds.
"We didn't play the post-up game the right way," Tom Crean said following the loss. "No question that we should have changed defenses on them and just gone with some of that. But, again, it was things that we needed to take away a little bit. We just opened up a little bit too much in our coverages on the side pick-and-roll, which was the penetration, and we didn't get up on the strong hands."
Wake Forest shot 51 percent overall and 43 percent from behind the 3-point line. It was able to move the ball and penetrate inside throughout the game.
"I'm not sure if it would have mattered, zone or man," Crean said. "The zone was a concern because we haven't spent a lot of time at that yet. But you don't want to let them get a running start at the glass. We were much more physical in the second half on the glass, but not to the point of winning the game."
IU also committed 14 turnovers, 12 of which were by starters. Crean took the blame, saying it's something he's going to have to look at, and that it could result in the Hoosiers slowing it down a little on offense.
"Wake Forest deserved to win because they played a better game for a longer period of time," Crean said. "It's hard to beat anybody when you play 15, 16 solid minutes, and that's what we did."
IU was also beaten on the glass as Wake Forest grabbed 18 offensive rebounds. Sophomore guard Robert Johnson said the team needs to pick things up on defense, and that the Demon Deacons were able to get inside too easily.
"I think it came from, first off, a lack of communication, that was a big part of it," Johnson said. "Second thing, I'd just say a mindset. For myself and everybody else we've got to continue to build a defensive mindset that we're going to go out there and stop you."
Yogi's streak ends
It's been 68 games since Yogi Ferrell had not made a three-pointer, but that streak came to a close Monday as he was held to nine points and missed all three of his long-range attempts.
Ferrell played 36 minutes, and took two shots in the final minutes, but both were off-balance misses.
Loser's bracket
Indiana will now take on St. John's at 2 p.m. ET on Tuesday.
St. John's lost to No. 19 Vanderbilt on Monday 92-55. The winner of this game will play for 5th place in the tournament on Wednesday.
Filed to: 2015 Maui Invitational, Robert Johnson, Tom Crean