Five takeaways from Indiana's loss to Wake Forest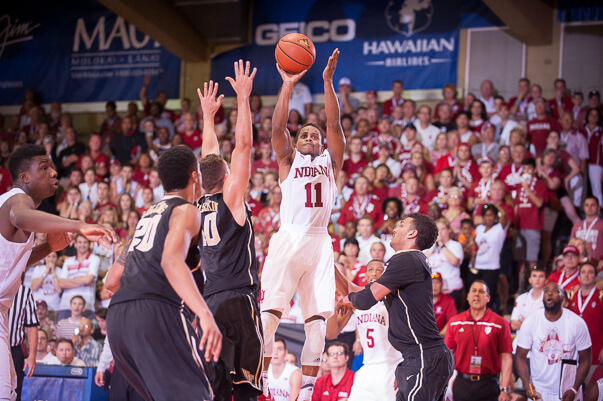 Indiana dropped its opener in the 2015 Maui Jim Maui Invitational on Monday with an 82-78 loss to Wake Forest at the Lahaina Civic Center.
Here's a look at five takeaways from the loss to the Demon Deacons:
· Indiana's ball pressure and defense has a long way to go: Through three games, Indiana's defense looked improved.
On Monday, the Hoosiers took a step back when they allowed Wake Forest to drive uncontested into the lane repeatedly and score easily at the basket. Danny Manning's team kept going to what was working for a majority of the game: Get into the lane and finish at the rim.
The Demon Deacons scored 52 points in the paint and with the exception of a 13-minute stretch of the second half, the Hoosiers simply didn't play good enough defense to win. Given how dependent the trajectory of Indiana's season is on an improved defense, Monday's performance was a negative.
· It appears the Hoosiers are going to have trouble with teams that have size: Thomas Bryant is an upgrade in the front court. But on Monday, he played like a freshman. There will be more games where that's the case and as a result, Indiana is going to have games where it will be dominated in the paint by teams that play aggressively.
"We were not as committed as we needed to be on the glass," Tom Crean said in his postgame press conference. "And we weren't hitting anybody, which was disappointing."
The impact of not having much of an offensive presence in the post in this game was also felt as Indiana really didn't get many easy scores at the rim. Getting outscored 52-32 in the paint isn't going to win many games unless you shoot a ridiculous percentage from deep, which Indiana didn't do.
· Troy Williams had some strong moments, but he hurt IU down the stretch with turnovers: Indiana had momentum and a nine-point lead with 7:34 to play. The Hoosiers even had a window to put together a bigger lead, but three straight poor possessions were the beginning of Wake getting back into the game.
Those aforementioned possessions all involved Williams, who had five of IU's 13 turnovers.
The junior wing had turnovers at both the 6:51 and 6:24 marks and then missed a 3-pointer, which marked three straight missed opportunities with the Hoosiers leading by seven. From there, Wake cut the lead to five and eventually was able to overtake IU down the stretch.
· Indiana needed more out of its backcourt: It was a rough afternoon for Yogi Ferrell and James Blackmon Jr., who combined to shoot just 5-of-19 overall and combined for 16 points.
The two were just 1-of-9 on 3-pointers and Ferrell's streak of 67 straight games with a made 3 also came to an end. The duo also shot just six free throws.
Compare that with the Wake Forest backcourt of Mitchell Wilbekin and Bryant Crawford, which combined for 26 points on 10-of-26 shooting and it's hard to draw a conclusion other than the Demon Deacons winning that battle.
· This was a bad loss because of how it happened, but it's only November: There's no sugarcoating a loss like this, particularly when Indiana was in position to build a bigger lead and pull away late.
Indiana played an awful first half defensively, turned it on for about 13 minutes and played well on both ends and then faltered down the stretch.
The Hoosiers certainly have plenty to learn and this game isn't going to make or break the season. It's still November and it's up to the players and coaches to be able to isolate the negatives and improve on them as the season builds towards conference play. The best Indiana can do now is a fifth place finish in Maui, which is certainly a disappointment, but this isn't a season defining loss by any means.
Filed to: 2015 Maui Invitational, James Blackmon Jr., Thomas Bryant, Tom Crean, Troy Williams, Yogi Ferrell