Notebook: The lion comes out as Bryant sparks Hoosiers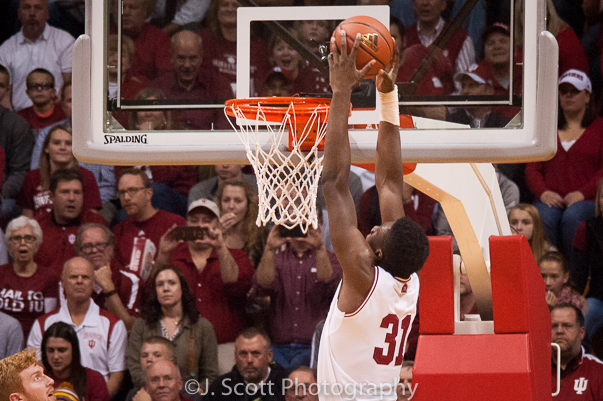 Before the stands in Assembly Hall were even full, Indiana had pulled out to a double-digit lead over Creighton. And the Hoosiers never looked back.
IU improved to 3-0 on the season with its 86-65 win, its final game before the Maui Invitational begins Monday.
Freshman center Thomas Bryant who had 17 points, seven rebounds, two assists and four blocks, led the way for the Hoosiers. Sophomore James Blackmon Jr. led the team in scoring with 19 points, and Yogi Ferrell, Troy Williams and Nick Zeisloft all also reached double-figures.
Bryant was the story Thursday night though as he showed his energy and passion throughout the game and brought the crowd to its feet on multiple occasions.
So what got into Bryant? He says the lion came out of him, which he was asked to explain in the postgame press conference.
"A person that works on his craft on and off the court, and a person that always brings it and always has the passion, no matter what," Bryant said. "No matter the circumstances if you're down by 20 or up by 20, you're going to have that passion and that will to try to get that win or try to get that stop or always work with your teammates to get open shots for them or you scoring down low on the post. You always have that passion with it."
It wasn't just the crowd that Bryant got excited as he flexed and let out a roar towards the student section, his teammates felt it too.
"I'm kind of a laid-back-type of guy, but when I see him like that, that makes me want to bring more energy to the game," Blackmon Jr. said. "Guys like that on our team make it so much better for the fans and also us, we feed off that."
Bryant said he's always played with that passion, something that started in grade school. He said he was never the most talented player and had to separate himself from the rest of the group, and that was how he did it.
"I've always kept it with me," Bryant said.
Defense steps up
Through the first two games of this season, Creighton averaged 98 points per game. It would come nowhere close to that number at Assembly Hall.
"Overall, at times it seemed liked they played harder than we did," Creighton coach Greg McDermott said. "I do not think we reacted well to the adversity. . . That's a very good basketball team we just played."
IU held Creighton to just 16.7 percent shooting from 3-point range, and didn't allow a single three in the second half. The Bluejays came into the game shooting 39.7 percent from behind the arc.
Creighton's leading scorer coming into Thursday, Isaiah Zierden, managed just four points. The Hoosiers also grabbed 35 of their misses shots and got 19 rebounds from its guards.
"19 rebounds was a real key thing for us from our guards, because there are going to be long rebounds," Crean said. "The way we defended the three was positive. The way we got back in the break, we gave them some baskets and turnovers in the post. But those were the key things that we needed to defend the corners, especially on the break."
IU also forced 15 turnovers. Blackmon Jr. credits those turnovers to the ball pressure and noted that knowing there are guys behind the guards that can block shots allows them to be more aggressive.
Other Notes:
IU turned the ball over 18 times. Troy Williams led the team with four. Through three games, IU has a turnover percentage of 24 percent.
Yogi Ferrell now has 1,429 points in his career, good for 19th in program history. He trails Walt Ballamy by 12 points for 18th.
Filed to: James Blackmon Jr., Thomas Bryant