Defense to be tested as Hoosiers host Creighton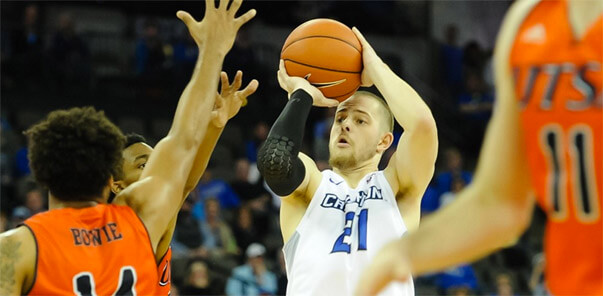 The inaugural Gavitt Tipoff Games includes Indiana this season, as the Hoosiers host the Creighton Bluejays tonight at Assembly Hall.
It's the first meeting between the two schools since 1974.
"There is no doubt that we are playing an extremely fast, very energetic, very tough opponent," Tom Crean said on Wednesday. "It is going to take all of us going all out to have a shot to squeak out a win. They move with or without the ball, they play with tremendous purpose, and their spacing is as good as I have seen."
Creighton, members of the Big East conference, has beaten Texas Southern and the University of Texas at San Antonio in their first two games this season.
The Blue Jays have scored over 196 points over their first two games.
"They do a lot offensively with the three," Crean said. "They shoot almost 50 percent of their shots from the three. Right now they are shooting at a pretty good rate. But it is the speed, quickness, penetration, the veteran play, and the addition of their transfers, who are a little bit older now and know their system, that make the difference."
Guard Isiah Zierden leads Creighton in scoring through two games, averaging 19.5 points per game. He is expected to be joined in the starting lineup by guards Khyri Thomas and Maurice Watson Jr., Cole Huff at forward and 7-foot big man Geoffrey Groselle, who averages 6.5 rebounds per game.
"They are physical and they have great presence inside at the rim," Crean said. "They play very well together. Greg McDermott is an outstanding coach. They get a lot of attention for their offense, just like us, but they also play outstanding defense."
Crean called Creighton one of the best passing teams he has seen, and said its spacing allows them to do a lot on offense including setting good screens.
"Frankly, they are better at what we really want to be good at than we are right now," Crean said. "We have got to be better at it tomorrow night, and eventually be better at it consistently. But, tomorrow night, our transition defense will be extremely valuable, our ability to rebound and defend the corners, get the ball stopped, make the next pass with accuracy, all of the things that we are going to need down the road are going to be extremely important and that starts tomorrow."
He also put an emphasis on rebounding, saying there's a long ways to go before reaching midseason form and that the Hoosiers aren't even in early season form yet.
He stressed that the team's guards need to be more active in getting to the boards. IU currently ranks fourth nationally with an offensive rebounding percentage of 49.1.
"We have got to be absolutely committed to getting to the glass," Crean said. "The guys that are at the basket need to create some rim protection, some rim presence, when the shot goes up, and it is more about the perimeter rebounding."
Filed to: Creighton Blue Jays