What to Expect: Creighton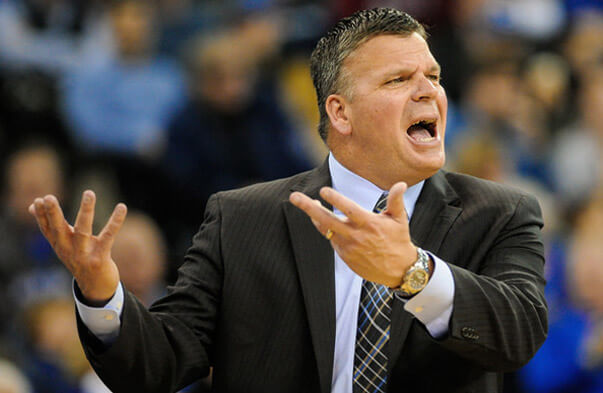 The Gavitt Tipoff Games come to Bloomington for the first time on Thursday night as Indiana faces off with Creighton of the Big East.
The game will be broadcast live on BTN at 7 p.m. ET with Kevin Kugler and Seth Davis on the call.
Indiana's non-conference schedule is ramping up beginning Thursday as the Hoosiers begin a six-game stretch that could feature five major-conference opponents.
Up first is Creighton, picked to finish in the bottom half of this year's Big East before IU leaves on Friday for the Maui Invitational, which is filled with several formidable opponents. The Hoosiers will then get Alcorn State at Assembly Hall upon returning home before a trip to Cameron Indoor Stadium to meet Duke caps off what will be a challenging stretch.
Through two games, Indiana has been the team most expected it to be: Elite offensively with plenty of work to do defensively. But the Hoosiers have yet to be challenged by an opponent good enough to give us an idea of how this group stacks up nationally. That will change beginning on Thursday night in Bloomington.
MEET THE BLUEJAYS
Creighton finished last season just 14-19 overall and 4-14 in conference play, but it wasn't as if the Bluejays weren't competitive. Greg McDermott's team had to adjust to losing his son and 2014 national player of the year, Doug, and struggled to finish out close games. Overall, Creighton lost 10 games by five or fewer points.
There's reason for some optimism this season in Omaha as McDermott welcomes a pair of transfers in Cole Huff and Maurice Watson Jr. and a freshman in Khryi Thomas who should all make immediate impacts.
Through two games, McDermott has started a three-guard set with Watson Jr., Thomas and junior Isaiah Zierden.
The 6-foot-3 Zierden had to be shut down for the final 13 games last season after suffering a knee injury, but is leading the team in scoring thus far at 19.5 points per game. He hit 39.6 percent of his 3s last season and ranked in the top 40 nationally in turnover rate (just 9.6 percent).
Watson Jr., a 5-foot-10 point guard who transferred from Boston University, has 12 assists in two games and averaged 13.3 points and more than seven assists as a sophomore before arriving at Creighton. His assist rate of 49.9 was second in the country during the 2013-2014 season at Boston U.
Thomas, a 3-star recruit who is originally from Omaha but played a year of prep school in Virginia for his final high school season, averaged 13.7 points on Creighton's three-game preseason trip to Italy.
Senior guard James Milliken has come off the bench the first two games, but averaged 9.6 points and shot nearly 39 percent on 3s last season. JUCO guard Malik Albert is expected to provide backcourt depth and has a team-high 13 assists through two games.
In the frontcourt, Huff, who was a highly sought after transfer from Nevada, is the headliner. At 6-foot-8, he shot better than 40 percent on 3s as a sophomore at Nevada and finished in the top 15 in the Mountain West Conference in scoring.
7-foot senior Geoffrey Groselle starts at the five and finished close to 65 percent of his 2s last season, but isn't much of a shot blocking presence.
Toby Hegner, a 6-foot-10 sophomore, averaged 6.7 points last season and has hit 4-of-9 3s in 21 minutes off the bench through the team's first two games. In a somewhat surprising move, five-star recruit Justin Patton, who is from Omaha, is redshirting this season to work on his strength and to also put on weight.
THOUGHTS ON THE MATCHUP

Both teams are averaging north of 73 possessions through two games, so a high scoring game with an up and down pace is the expectation.
Creighton was a top 65 offense nationally last season, but only shot in the mid 30s on 3s and only converted 47.6 percent of its 2s. Those numbers should be better this year, but how much better could determine just how much of a move the Bluejays make in the Big East standings.
The sample size is obviously small, but through two games, Creighton has given up a point per possession against Texas Southern and UTSA and is allowing an effective field goal percentage defense north of 55.
Indiana shouldn't have a problem scoring, but will the Hoosiers be able to get consistent stops? It bears watching how IU approaches guarding Huff, who has to be accounted for all over the floor. Additionally, Yogi Ferrell will have to limit the playmaking ability of Watson Jr., who will look to set his teammates up for easy scoring opportunities early.
WHAT IT COMES DOWN TO
After a pair of games it was able to cruise through in Eastern Illinois and Austin Peay, Indiana's schedule is about to become much tougher.
Pomeroy likes the Hoosiers to win by 13 with an 86 percent chance for victory and the line in Vegas for this game opened at IU by 12.5.
Creighton appears to have the offensive pieces to push Indiana defensively, but can the Bluejays slow down Indiana's elite offense? The Hoosiers are coming off a terrific shooting performance in their last outing and will be looking for a strong performance before heading to Maui for three games in three days.
(Photo credit: Eric Francis/Getty Images North America)
Filed to: Creighton Blue Jays