Notebook: Hot shooting propels Hoosiers to win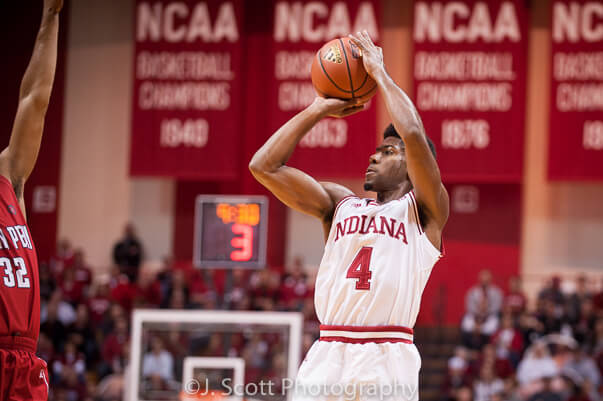 After not shooting it at last season's standards through two exhibitions and the regular season opener, Indiana couldn't miss on Monday night in Assembly Hall.
The hot shooting performance led to a 102-76 blowout win over Austin Peay.
The Hoosiers shot 80-percent from the field and from 3-point range in the second half and 66.7 percent from the floor for the game to improve to 2-0.
IU hit 16 3's, falling two shy of the school record of 18, and made 15 straight shots over 12 minutes of play. Yogi Ferrell said postgame that he and his teammates had no idea they had made 15 in a row.
Ferrell led the way for the Hoosiers with 22 points, nine assists and six rebounds. He was one of five players in double figures. James Blackmon Jr. had 20 points, Nick Zeisloft, who dislocated a finger in the first half, added 15, Troy Williams had his bevy of dunks in scoring 14 points and Thomas Bryant added 11.
IU has had runs that put the game out of reach in each game so far this year including the preseason, but this was the first one that came in the second half.
Frenetic pace
Unlike Friday's opener that was played at just 68 possessions, Monday's game was far more up and down.
The game finished at 80 possessions and there were 43 turnovers between the two teams, 23 for Austin Peay and 20 for IU. The sloppiness was overshadowed by the great shooting performance. Blackmon Jr. had five turnovers, Ferrell had four and Johnson had three. Nine different players scored for IU, and eight had turnovers.
"Our defensive energy was really good, even when we made mistakes, we played with energy," Tom Crean said. "We probably gambled a little bit too much, a little bit too reckless. There is a give and take to that."
Zeisloft said 20 turnovers is way too high of a number and picked out a couple reason why that number was high.
"A little carelessness, and not making the right reads sometimes taking one too many dribbles instead of making the simple play and pass," Zeisloft said. "But we'll work on that in the next few days definitely."
Common opponent
Vanderbilt, a team IU may face in the Maui Invitational if both teams win their opener, beat Austin Peay 80-41 last week. After the game Austin Peay Coach Dave Loos was asked to compare the teams.
"They're both really good teams. I think they are both going to be among the best teams in the country. Tonight, Indiana was just making shots. We could not get out to them. Indiana has a really good basketball team. I didn't think (Nick Zeisloft) was going to miss."
He said the biggest differences between the two teams were that Vanderbilt is bigger, with two 7-footers, but that IU is more athletic.
Other Notes:
Yogi Ferrell extended his NCAA leading streak of consecutive games with a made 3-pointer to 68.
Six different Hoosiers made a 3-pointer.
Monday was the first time since last November that IU scored 100 points.
IU had 25 assists and 14 steals.
Filed to: Nick Zeisloft, Yogi Ferrell