Five takeaways from Indiana's win over Austin Peay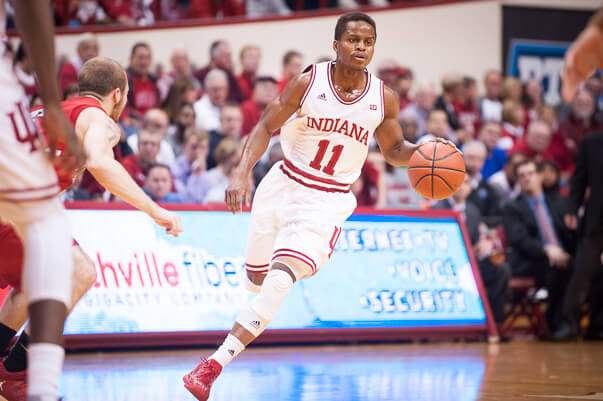 Indiana moved to 2-0 on Monday night with a comfortable 102-76 win over Austin Peay of the Ohio Valley Conference.
Here's a look at five takeaways from the win over the Governors:
· Indiana's ball movement in the second half was in midseason form: We've seen some impressive shooting performances from Indiana in Assembly Hall in recent seasons, but last night was right up there with all of them from a statistical standpoint.
The Hoosiers had an effective field goal percentage of 80, the highest ever for the program under Tom Crean. Indiana hit 15 consecutive shots in the second half and hit 16 3-pointers. The key was Indiana's willingness to make the next pass and find the open man.
"It was a lot of that (the ball movement)," Tom Crean said. "It was getting the break. It was getting really good looks on the break. They're playing very loose but effective and efficient. Loose and reckless is bad. We got that a little bit in the first half, but really utilizing the whole court is where we're at our best."
· Nick Zeisloft finds his stroke: The redshirt senior was just 3-of-8 on 3s through two exhibitions and the season opener, but Monday night, Zeisloft looked like the shooter who had the nation's second best offensive rating last season.
Zeisloft hit a 3-pointer at the 12:31 mark, missed two 3s and then appeared to dislocate his pinky finger on his shooting hand around the 10 minute mark of the first half. He returned with 3:48 left before halftime and quickly knocked in a 3 and followed that up with three more treys after halftime.
"It didn't affect his shooting," Crean said. "So that's good news. I was definitely excited when they said he's fine, so we don't want to lose him. We don't want to lose anybody, but we don't want to lose that guy."
· Crean uses the bench to motivate for start of second half: Indiana's defense wasn't nearly at the level it was on Friday night and Crean made a switch to the lineup to begin the second half.
Both James Blackmon Jr. and Troy Williams found themselves sitting next to the coaching staff after halftime as Robert Johnson and Collin Hartman started in their place.
The Hoosiers are still very much a work in progress defensively despite having 14 steals and 57 deflections last night.
· Morgan, Anunoby going through growing pains as freshmen: While neither Juwan Morgan or O.G. Anunoby were expected to make the impact of fellow freshman Thomas Bryant, it's clear through two games that both guys still need seasoning before they'll be ready to contribute regularly.
Morgan is scoreless in 14 minutes over IU's two wins while Anunoby has eight points in a total of 24 minutes. As the competition level picks up beginning on Thursday, both players will need to limit mistakes in order to remain in the rotation.
· The IU students are still fascinated by Tim Priller: After capturing the adoration of the IU faithful last season, sophomore forward Tim Priller is still a fan favorite in Bloomington.
With the game firmly in hand late in the second half, the Crimson Guard again started the "We want Pril-ler" chants. And once he entered the game, the students were engaged as ever with every movement Priller made on the floor.
Yogi Ferrell tried to explain the Priller phenomenon in the postgame press conference.
"I don't know why they love Tim so much, they just do," Ferrell said. "And for the crowd to get hyped for Tim like that, Tim loves it. He's not going to let it get to his head. He's still going to do everything he needs to do for our team, but it's something fun to watch."
Filed to: Juwan Morgan, Nick Zeisloft, O.G. Anunoby, Tim Priller