What to Expect: Eastern Illinois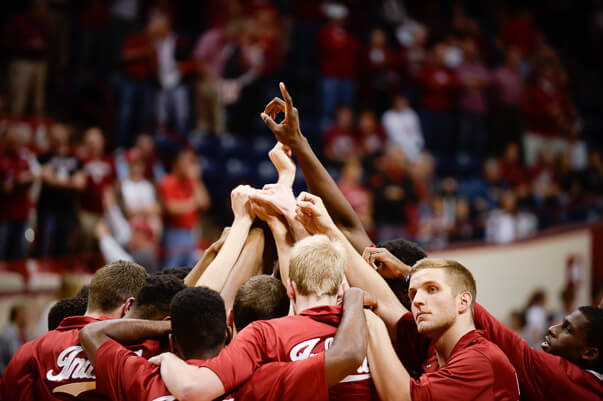 Indiana opens the 2015-2016 season on Friday night at Assembly Hall with Eastern Illinois, a member of the Ohio Valley Conference (OVC).
The game will be broadcast live on BTN Plus (online, subscription only) at 7 p.m. ET with (Scott Stewart, Sam Rumpza and Olivia DeWeese) on the call.
Basketball is back tonight in Assembly Hall, which is under construction but ready to go for the 116th season of Indiana basketball. The Hoosiers enter the season with plenty of expectations, but plenty of questions linger as well.
Those expectations – Indiana is ranked in the top 15 and picked by many to finish in the first couple of spots in the Big Ten – are nothing new for the program. But to meet them or even exceed them, Indiana must prove that it can raise its level of play defensively.
The first test that actually means something is tonight as IU welcomes Eastern Illinois, a team that won 18 games last season, to Bloomington.
PERSONNEL
Jay Spoonhour, the son of the late Charlie Spoonhour, enters his fourth season at Eastern Illinois with an interesting mix of players.
On the experience side, Spoonhour welcomes back a pair of key contributors in forward Trae Anderson and guard Cornell Johnston. The 6-foot-4 Anderson earned second team All-OVC honors last season. At 235 pounds, he's a physical presence who can rebound, but can also step out and shoot the 3 (40 percent last season).
Johnston, who is just 5-foot-7, was the OVC freshman of the year last season and led the team in assist rate (27.2 percent) and 3-point shooting at better than 50 percent.
6-foot-11 senior Luke Piotrowski returns inside after averaging 3.6 points, 2.1 rebounds and a block per game last season.
Eastern Illinois will also rely heavily on newcomers as Spoonhour attempts to integrate seven new players into the mix. The headliner appears to be JUCO guard Demetrius McReynolds, a Louisville native who averaged 15.6 points for Eastern Florida State College last season.
Another JUCO addition is 6-foot-4 A.J. Riley, a Peoria, Illinois native who averaged 9.5 points, four rebounds and 2.8 assists last season at John A. Logan College.
Freshman forward Patrick Muldoon also figures to play a role early after earning all-state honors in Kansas in his final prep season.
A TEMPO-FREE REVIEW FROM LAST SEASON
Eastern Illinois actually finished 216th in last season's KenPom ratings, which is higher than six of the teams that came to Assembly Hall last winter for non-conference guarantee games.
The Panthers finished last season 85th nationally in effective field goal percentage and 52nd in 3-point shooting percentage. They also finished with a better overall defense than Indiana with a defensive efficiency rating of 175th in the country.
Given the amount of newcomers they're working in, the computers are less bullish on this year's group as Pomeroy predicts an offense and defense both ranked outside of the top 250 nationally.
WHAT IT COMES DOWN TO
After opening last season with one of the 10 worst teams in the country in Mississippi Valley State, Indiana will be a little more challenged with Eastern Illinois, which is picked to finish as high as second in the west division of the OVC.
Still, this is a game that IU should win and do so comfortably as the Pomeroy prediction is IU by 22 with a 97 percent chance of a win. The Vegas line, which opened with IU favored by 16, quickly went all the way up to 23.5, where it currently sits.
This is the first of three games at Assembly Hall for Indiana before it departs for Maui, a trip where the Hoosiers are sure to be tested on the second and third day of games. We probably won't fully know where this team is at in terms of the nation's elite until then, but the season is finally here and so is the excitement about what it could potentially become.
QUICK FACTS ON EASTERN ILLINOIS
Location: Charleston, Illinois
Enrollment: 8,913
Established: 1895
Filed to: Eastern Illinois Panthers