Notebook: Defense, Yogi and Troy rock the offense and managed minutes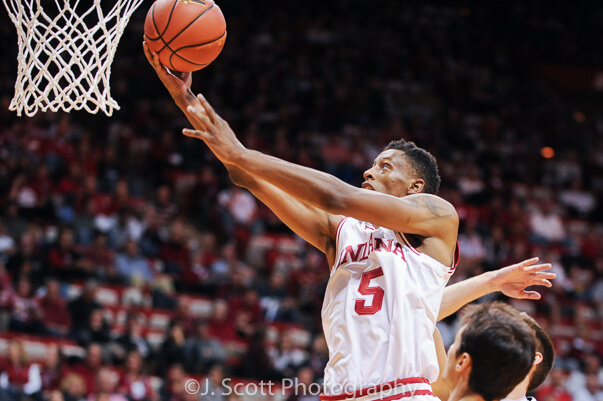 It was a tale of two teams for IU between the first and second half of Monday's exhibition finale against Bellarmine, the No. 4 team in NCAA Division II.
The Hoosiers held on to win 73-62, but were outscored in the second half 42-38. That fact left IU's veterans unsatisfied with the effort.
"I mean, no, (we're not happy)," junior Troy Williams said. "That's huge. That's not even the Big Ten. I mean, they're a great team, don't get me wrong, but that's not even the Big Ten. That's not what's coming next Thursday. That's something we've got to work on."
Creighton is the team Williams is referring to next Thursday as the Blue Jays will be in Assembly Hall for the Gavitt Tip Off Games.
In the first half, IU held Bellarmine to 20 points, and made 11 straight stops while enjoying a 23-2 run. The Knights went eight minutes and 14 seconds without scoring.
"I feel like one great thing we have is when we have a mindset to want to get a stop, we're going to get it, and that carries on throughout the whole game," Ferrell said. "If we don't keep that same mindset, then teams like Bellarmine are going to gain confidence and guys are going to think they can score on us, and that's definitely not something we want to do."
Ferrell added that he thought Bellarmine did a good job of screening for George Suggs, who hit a three 3s to start off the second half. IU's senior guard said communication was lacking and that the transition defense really hurt the Hoosiers after intermission.
Bellarmine shot 40.4 percent for the game and 27.8 percent from behind the arc.
"I thought their perimeter defense was great," Bellarmine coach Scott Davenport said. "As for inside, we did not do a good job of getting the ball inside, so I cannot answer that. I thought in the second half we tried to make them more aggressive by making them chase after the basketball."
Yogi and Troy carrying the scoring load
Unsurprisingly, Ferrell and Williams showed they can handle the scoring when guys like James Blackmon Jr. and Thomas Bryant don't put up big numbers.
Ferrell led all scorers with 21 points and also had eight rebounds and four assists. Williams had 20 points, eight rebounds, one assist and one big block that led to a Blackmon Jr. dunk – the only points of the game for the sophomore guard.
"You can challenge them. You can get them off a spot. You can try to get to them. They make great shots," Davenport said. "You can tell (Yogi Ferrell) is a senior All-American. He's a great basketball player. He knows when to push the gas and knows when to back off. That basketball is in good shape when it's in his hands."
IU shot 43.1 percent from the floor and 32 percent from behind the 3-point line.
Max Bielfeldt was consistent, scoring eight points and grabbing six boards. Bryant also scored eight points and had five rebounds.
"We feel like we're a great offensive team," Ferrell said. "We've got so many weapons in the bag. So we've just kind of got to let those things work for us, and we've got to focus on other things that are going to help us win the game. When we've got momentum like that going for us, we've just going to stick with it and don't let off the gas."
Minutes limited in final exhibition
Crean said that he was managing the minutes of several players tonight to stay fresh for Friday's season opener against Eastern Illinois.
James Blackmon Jr. played just 22 minutes, Thomas Bryant and Max Bielfeldt each played 16 and freshmen Juwan Morgan and O.G. Anunoby played eight and nine minutes respectively.
Crean added he doesn't have a set rotation yet, and isn't sure how deep it will be. He does want it to be consistent though and not vary from game-to-game.
"Game-to-game will be match-ups and that may be lineups as we go, but you want a level of consistency in all your guys," Crean explained. "That's when it's truly two deep. You don't want any nervousness, you don't want anxiety. You want a heightened level of awareness and an urgency, and you have to be ready coming off that bench. Whether you started the game and got subbed or whether you're a sub, you have to be ready."
Filed to: Tom Crean, Troy Williams, Yogi Ferrell