IU closes out preseason against Division II power Bellarmine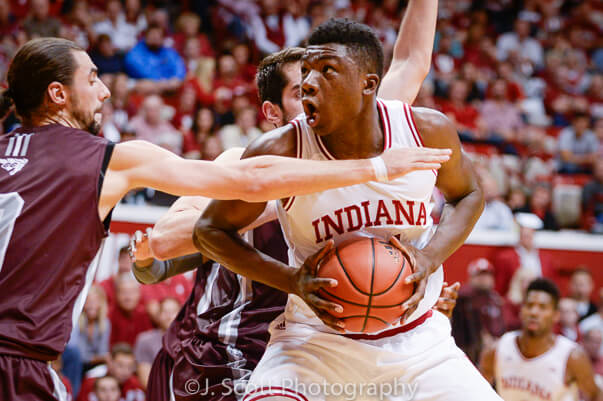 For the first time since 2004, the Bellarmine University Knights will step inside Assembly Hall to take on Indiana at 7 p.m. today in game two of the exhibition season.
IU took care of business last week against the University of Ottawa, winning 82-54, while Bellarmine dropped its first two preseason games against Louisville and Cincinnati, 71-55 and 81-60, respectively.
"(Bellarmine is) one of the better passing teams I've seen in a long time," IU assistant coach Chuck Martin said on Saturday. "We've really got to focus in on the weakside defensively, lots of cuts, lots of screens. They do a tremendous job of reversing the ball. They played Louisville really, really tough and had some good moments versus Cincinnati."
Bellarmine is a more physical team than Ottawa, and is expected to pose more of a threat inside to the Hoosiers. IU coach Tom Crean said he and his staff schedule teams in the preseason that can provide a challenge.
"These are the kind of games our team needs right now," Crean said. "They're going to make it very hard on us and give us great preparation for what we will have to face in November and beyond. These kind of games are going to help us get better."
Bellarmine is currently ranked No. 4 in Division II, and reached the Final Four last season after going 31-4. The No. 1 team in Division II, Augustana, beat Iowa on Friday in an exhibition game.
"Bellarmine will be extremely physical," Crean said. "They are a great screening team. It continues to prepare you for the different things you are going to see from a team that is very committed to their half-court offense and defense."
The Knights are led by junior guard Rusty Troutman, who averaged 11.3 points per game, 5.5 rebounds and 2.7 assists per game last season. His younger brother Rhett comes off the bench. Junior forward Josh Derksen averaged 11.6 points per game last year, and leads the team so far in the preseason with 15 points per game.
Bellarmine will have a lot more height to match up with freshman Thomas Bryant and senior Max Bielfeldt.
"Bellarmine is similar to Ottawa, only difference is they're bigger," Martin said. "Against Louisville they started 6-foot-10, 6-foot-9, 6-foot-10 and 6-foot-5."
IU will look to play a cleaner game today after turning the ball over 19 times last week. Troy Williams had six of those himself.
"Troy has had a really good preseason," Martin said. "We want him to be aggressive, we want him to drive the ball to the basket."
Martin added that with more gameplay, he expects fewer turnovers and believes the Hoosiers will be at the free-throw line more often. The Hoosiers took just nine free throws in the Ottawa game.
Sophomore James Blackmon Jr. led IU with 15 points, and three others got into double figures. Expect minutes of several players to again be limited. IU opens the regular season on Friday versus Eastern Illinois.
"Bellarmine is a model of success as a University and as an athletic program," Crean said. "Scott Davenport has been my friend for 25 years and I respect him immensely. He has made Bellarmine a national powerhouse."
Filed to: Bellarmine Knights