Recruitment of De'Ron Davis hitting the home stretch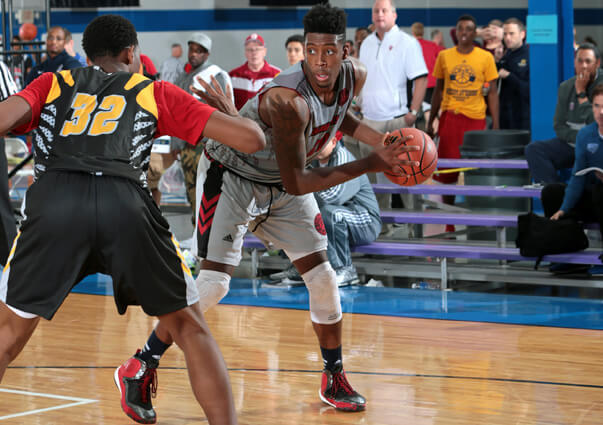 The recruitment of class of 2016 Overland, Colorado forward De'Ron Davis is in its final stages.
And Indiana, which has recruited Davis for more than three years now, appears to be in very solid position for the four-star prospect.
Davis, who is taking his official visit this weekend to Mississippi State, plans to make a commitment in the weeks following that visit, according to his high school coach.
"His priority level with each program is very, very high," Overland coach Danny Fisher told Inside the Hall on Thursday. "Indiana might have the edge just because they've shown him that forever. It's been a long time that he's been a high priority for them. It's been a long time that he's been a No. 1 priority for them. They haven't just talked about it, they've absolutely showed it."
Given the length of time between Davis's visit to Bloomington in late September and his trip to Mississippi State, the IU staff has continued to show up at preseason workouts at his high school.
Last week, Tom Crean was at Overland to see Davis and on Wednesday, assistant coach Chuck Martin did a follow up trip.
"They've been in more (than Mississippi State)," Fisher explained. "To me, it makes absolute sense because Indiana was first with everything including the official visit. I think they've made such a strong effort to continue to be present with De'Ron because their visit came a little bit earlier and Mississippi State ends up being his second visit."
Indiana continues to pitch Davis on the idea of being a major piece in its frontcourt from the day he steps on campus.
A big part of the plan is the potential to play alongside McDonald's All-American Thomas Bryant.
"They talk about that a whole lot," Fisher said. "Coach Martin was most recently here and that was something he discussed. Some of the things they would do well with each other and some of the ways they would be able to feed off of each other. I definitely think that's within the plans for what they do."
Davis will be accompanied by his mom on his trip to Starkville. She also joined him on his visit to Bloomington.
After the visit concludes, the decision making portion of the process will begin with a commitment expected sometime in the next two weeks.
"I really do feel like Indiana has the edge, but the most important thing is how he's going to be used in his ultimate development," Fisher said. "Both of these programs have high level coaches who are very good at development and who have done a really good job at showing him how he's going to be used.
"I know for sure within two weeks of the Mississippi State, he's going to give a commitment to one of those two. And the signing, I'm not sure if he wants to do that in November yet, but he's definitely going to decide where he wants to go and make that public in November."
Filed to: Deron Davis