Ottawa Notebook: Big men, defense, and building leads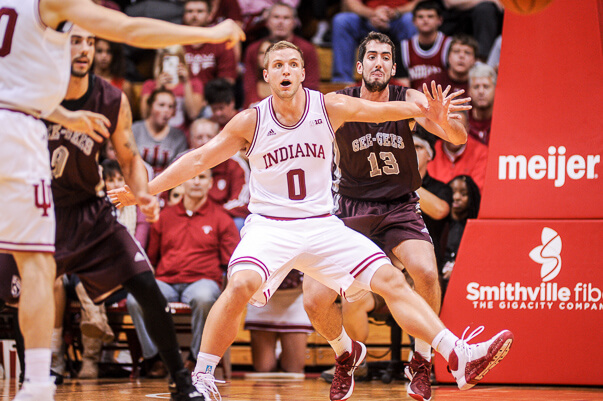 Tuesday was the first time highly-touted freshman Thomas Bryant and transfer Max Bielfeldt were on the court in an Indiana uniform for game action. Neither disappointed.
Bryant recorded a double-double, with 12 points and 11 rebounds (six of them on the offensive glass), while Bielfeldt nabbed eight points to go along with eight rebounds.
Indiana coach Tom Crean chose to start both big men against an undersized Ottawa team, a move that paid off and impressed Ottawa Coach James Derouin.
"I think the first thing that jumps to mind is the size on the offensive glass," Derouin said. "They were missing a big I think when they played us last year, and of course now they've added the freshman center this year, and I thought on the offensive glass especially they were outstanding. 18 offensive rebounds, those extra possessions were huge."
Five of Bielfeldt's rebounds were on the offensive side, and forward Troy Williams, who had nine boards, had two offensive rebounds.
Crean said after the game that he needs his guards getting to the glass better, and will be something the team works on as the season goes on.
"There were a couple times it looked really impressive with the effort we were showing on the offensive boards, especially with Thomas, Max and Troy," Crean said. "We got to get more from others."
He insisted he has not decided on a set lineup, and is more concerned with who finishes a game than who starts.
"I love playing with Thomas," Bielfeldt said. "He's such a physical presence down there. I kind of bring a physical presence in a different way. Me and him down there, it's fun to be rebound buddies almost. He's definitely an easy guy to play with."
Improved defense?
Ottawa was the lone Canadian team to beat IU during last year's five-game preseason trip. This year, the story was much different, something Derouin attributed to IU's improved defense.
"I thought their defense was a lot tighter in their man-to-man," Derouin said. "I thought their rotations defensively, baseline cutoffs, the crack-backs and the close-outs on our skips were much, much tighter than they were a year ago. Their close-outs on our shooters and their challenge, obviously something they focused on for us coming in. They know we shoot the ball well and that was the big difference."
IU allowed just three points in the final 9:31 of the game. The Hoosiers held the Gee-Gees to just 19 percent from 3-point range — far below their season average of 45 percent.
Ottawa's leading scorer Mike L'Africain was limited to nine points, and only one player reached double digits, Caleb Agada with 17 points.
"I think our guys came out a bit shaky," Derouin said. "A little nervous, a little intimidated by everything. Made some mistakes that were pretty abnormal for our team."
Derouin also said he likes playing talented teams like IU because they expose weaknesses, and thought the Hoosiers really took advantage on the glass.
Building on leads
During availability on Monday, Crean emphasized the need to improve on expanding leads to take the opposing team out of the game. IU did that on Tuesday, ending the game on a 25-3 run to complete a 28-point victory.
It was a sloppy game, as the two squads combined to commit 42 turnovers, 19 of which were by IU.
"There was a stretch there that went from a 6 or 7 (point deficit) to 14, 15, 16," Derouin said. "Some calls and a couple loose balls went against us and then the body language changed. It was a downhill run from there."
While saying he felt his team got a little nervous, Derouin also said the Assembly Hall crowd wasn't too ferocious.
"I was expecting it to be a little more hostile to be honest," he said.
Filed to: Max Bielfeldt, Thomas Bryant