Five takeaways from Indiana's win over Ottawa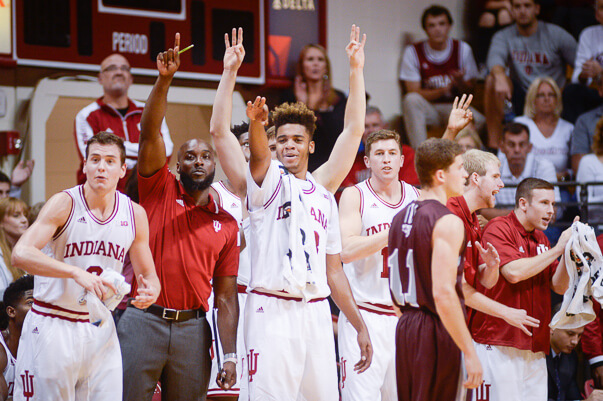 In our first exhibition look at the 2015-2016 Indiana Hoosiers in Assembly Hall, the outcome was a comfortable 82-54 win over Canadian power Ottawa on Tuesday night.
Here's a look at five takeaways from the win:
· Bryant brings the energy: It doesn't come as any surprise for those who saw him as a high school player, but the addition of freshman McDonald's All-American Thomas Bryant should be a game changer because of his energy.
The 6-foot-10 big man from Rochester, New York asserted himself early and finished his exhibition debut with a double-double. Bryant wasn't particularly efficient from the field (5-of-16), but he blocked a few shots and created space on the glass for his teammates.
"It seems like everything is carved out when shots go up," sophomore James Blackmon Jr. said. "It makes it easier for us. I'm going in there crashing the glass, it's already wide open, so it makes it easier for all of us."
· Defense looks better late: It would be foolish to draw any conclusions on whether Indiana's defense is significantly improved based on an exhibition.
The Hoosiers gave up plenty of open looks on the perimeter, particularly in the first half, that Ottawa normally knocks down. But things seemed to tighten up down the stretch as IU limited Ottawa to just three points over the game's final 9:13.
The Gee-Gees put up 109 points on Indiana last August in an exhibition and managed just 54 points on Tuesday night, prompting Ottawa coach James Derouin to suggest that he did see some improvement.
"I thought their defense was a lot tighter in their man-to-man," he explained. "I thought their rotations defensively, baseline cutoffs, the crack-backs and the close-outs on our skips were much, much tighter than they were a year ago."
· Hartman easing back into action: Collin Hartman missed significant time in the preseason due to a rib injury and wasn't even a certainty to play against Ottawa as of Monday. But the junior forward came off the bench and scored four points in 17 minutes, which was a welcome sight for the IU coaching staff.
"It was the most minutes Collin Hartman has played since he got injured," Tom Crean said in his postgame press conference. "His first day of any type of contact was the last two days. So he did a nice job."
Hartman will certainly be in the conversation for a starting spot on this IU team. His versatility as a player who can shoot and also provide some size and rebounding alongside Bryant and Troy Williams has value.
· Turnovers make for sloppy first half: Indiana had trouble with decision making early and the result was a turnover percentage of 33.8 through the first 20 minutes.
The Hoosiers were able to stabilize things after halftime, but still finished the game with a turnover percentage of 26.8, nine percent higher than their average last season.
One game isn't cause for concern, but the takeaway is that Indiana needs to remain focused on making the simple play. If that happens, the immense offensive talent on this roster will have the upper hand over the opposition more often than not.
· Ottawa didn't play well, but IU was smart to schedule this exhibition: Rather than rolling in a Division II or NAIA team for a complete drubbing, Tom Crean challenged his team by scheduling Ottawa.
The IU players who were back from last season remembered the loss last season in Montreal. And the newcomers learned about the loss from the returning guys. Indiana was as motivated as it could have been in this situation and the opportunity to play a team with nine games already under its belt was unique.
"The guys that were here last year, we all talked about that, to the freshmen, to Max," Blackmon Jr. said. "We knew how much it meant to us. When they made that run on us, we talked it out and said, 'if this is a close game at the end, they could go on a run.' We wanted to shut that down."
Filed to: Ottawa Gee-Gees