IU ready for first test against Ottawa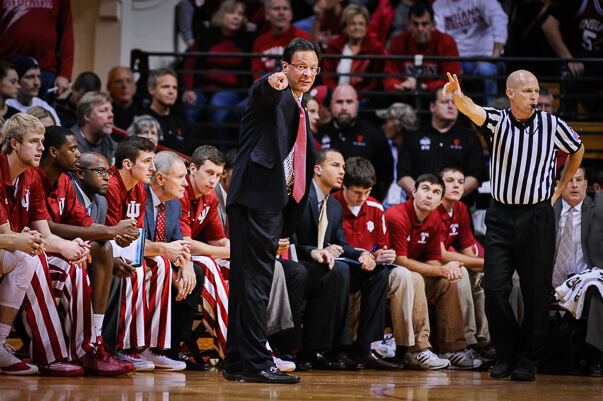 After a month of practices and two public scrimmages in Assembly Hall, Indiana will finally have the opportunity to welcome an opponent to Bloomington later today.
The University of Ottawa, the only team to beat the Hoosiers last August during a five-game exhibition tour in Canada, should present a formidable exhibition challenge.
The Gee-Gees are 8-1 through their first nine games, but are coming off a 74-70 loss on Sunday to McGill University.
"They're coming in off of a loss, so I'm sure they'll be in a good mood," Tom Crean said on Monday afternoon. "We have a lot of respect for this team, that's why we scheduled them… They play at an extremely high level."
Ottawa relies heavily on 3-point shooting as the Gee-Gees have made 119 shots from behind the arc through nine games. It also plays with a 24-second shot clock and rarely uses that much time before shooting.
"I think they move the ball extremely well," Crean said. "They can play out of the post, where they try and create some four-around-one to create some isolation in the post, to try and get you to over-help, then kick it out. Their whole offense is predicated on penetrate and kick. Getting you to over help."
Fifth-year senior Mike L'Africain is the Gee-Gees leading scorer at 16.6 points per game. He is shooting 50-percent from behind the arc and has 40 assists in nine games. In last year's game in Saint Lambert, L'Africain scored 27 points and made 6 of 8 of his 3-point attempts.
"(L'Africain) gets us ready for seeing other really good guards," Crean said. "We think it'll be an excellent test."
IU is expected to be without forward Colin Hartman, who suffered a rib injury in practice a couple weeks ago after setting up to take a charge on Troy Williams.
Crean also said James Blackmon Jr. will have his minutes managed, so he isn't pressed more than he needs to be following offseason knee surgery. Freshmen Thomas Bryant, O.G. Anunoby and Juwan Morgan will all also see their minutes watched.
"It's a long season and they've all dealt with different things throughout the preseason," Crean explained. "We want to play through fatigue and get to a point of fatigue, but we don't want to put them in situations that their not ready for. They're extremely ready to play someone else."
Crean said the biggest things he will be looking at are how his team is able to build on leads and how the team plays on defense.
"It starts with transition defense, because we have to get back and find the shooters," Crean said. "That prepares you for all the good teams that you face.  Everyone that runs the floor for them (is skilled), they are a quick moving team, and they play off the pass far more than they play off the dribble.  There are a couple of guys that will really penetrate and kick but they make the next pass like it is breathing."
He also noted that IU's post defense would be tested with Hartman being the only inside presence returning from last year's team. He said while Yogi Ferrell and Troy Williams have each had to guard players occasionally in the post, he doesn't want them being down there too much.
"Defensively, we want to do a sound job of containing the ball," Crean said. "They are coming in here with a lot of experience, they are game tested, and they are a veteran group to begin with.  I kind of like that, I did not realize at the time that we scheduled this that they would have this many games, but they do, and I think that is great for us."
While it's certainly a topic of preseason discussion among fans, Crean said on Monday that he hasn't determined a starting lineup and plans to use a variety of different looks throughout the exhibition.
"I said a long time ago that I am not married to playing with three guards all season," Crean said. "I am married to Joanie, not a lineup."
Filed to: Ottawa Gee-Gees