Five takeaways from Hoosier Hysteria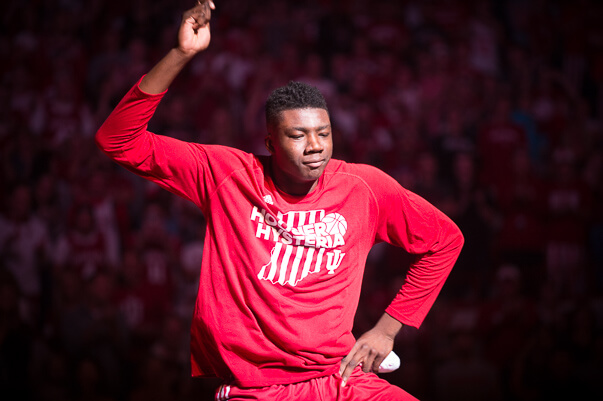 Indiana's season opening event, Hoosier Hysteria, took place Saturday night in Assembly Hall and included player introductions, a 3-point shootout, dunk contest and a 15-minute scrimmage.
Here's a look at five takeaways from Hysteria:
· Thomas Bryant looks healthy: Indiana's freshman McDonald's All-American has missed some time this preseason due to a sore arch in his foot, but he was a full participant on Saturday in Hysteria's event. Bryant did a little bit of everything. He danced, he dunked and he ran the floor hard in the scrimmage.
The encouraging thing about Bryant's participation was that he appeared to be moving at full speed. Tom Crean has said that Indiana has been cautious with Bryant in recent weeks and that he's only had seven full practices.
"He still wears a boot. I didn't make a decision on the dunk contest until really late this afternoon," Crean said. "Not that he couldn't do it. He's definitely healing. We're just trying to make sure we're extremely precautionary with him."
· Troy Williams appears to be a better shooter, but will it translate to games? Troy Williams talked about improvement in his jump shot this summer, but Saturday he put it on full display in winning the Hysteria 3-point shootout.
But can the junior forward carry over his improvement from the perimeter to the regular season? It's certainly a storyline to monitor as the season gets underway.
As a sophomore, Williams only took 13 attempts from distance. With a strong lineup of capable shooters surrounding him, Williams certainly is still best utilized as a player who can create for himself and others off the dribble. But if he can keep defenses honest with the jumper, Indiana becomes even tougher to cover as opponents won't be able to sag off and clog up the lane.
· Ferrell's team controls scrimmage: Unsurprisingly, the team with Indiana's best player, Yogi Ferrell, won the scrimmage to close out the evening.
Ferrell commanded his team well and mixed things up by showing his ability to both distribute and score. He established Bryant early and then made it a point to get into the lane and score when the opportunity was there.
"He's got to take ownership of the guys on the court in putting them in the right spots all of the time," Crean said. "As far as directing traffic, building confidence, building that belief that they've got to have in one another on the court. And it's not just when things are going well. It's when things are not going well.
"And Yogi's got to be able to play over the tough shooting nights, he's got to be able to play over the collapsing defenses or the defenses that are built on him. And he's got to be the key component of how much the ball moves."
· Hysteria's entertainment value was high: Hysteria is an event built for the players, fans and recruits to enjoy and this year's version didn't disappoint.
From E! News host Catt Sadler's strong performance as host to the video packages to the player introductions with pyro, the crowd was engaged throughout the evening. Matt Englert, known in Bloomington as "DJ Unique," also deserves kudos for his work at center court. The event moved efficiently and didn't drag on as it has at times in the past, which is important for keeping fans and recruits entertained.
This was Indiana's best turnout for Hysteria since 2012, when the Hoosiers began the season ranked No. 1. Attendance was estimated at close to 13,000 fans, which simply doesn't happen at many other places in the country.
· Recruit turnout strong as expected: Indiana had a strong list of prospects attend Hysteria, including multiple nationally ranked players.
It didn't take long for the program to get a recruiting lift, either, as 2017 guard Al Durham committed early on Monday morning. Just some of the players spotted at Hysteria: Mario Kegler, who was on his official visit, 2016 commits Curtis Jones and Grant Gelon, 2017 five-star forward Kris Wilkes, 2017 wing Justin Smith and 2018 New Albany guard Romeo Langford, who is considered the best in-state player in the class.
Filed to: Hoosier Hysteria