Notebook: Troy Williams the first player to ever win Hoosier Hysteria dunk and 3-point contests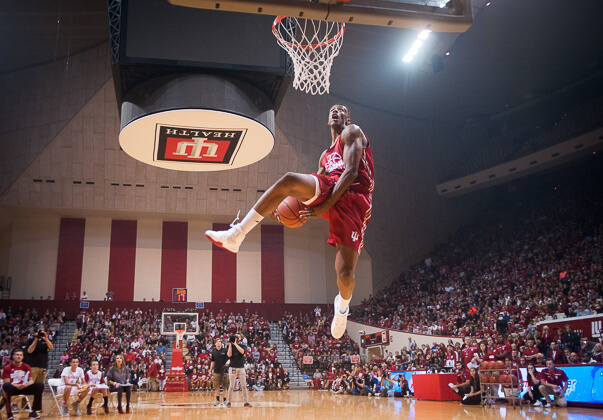 As Troy Williams stood next to Yogi Ferrell and Nick Zeisloft on Saturday night as they argued over who is the team's best shooter after a three-way tie in the men's 3-point shootout, the Hoosiers junior had one comment.
"I'm just here so I don't get fined," he said with a laugh.
But after women's basketball player and women's 3-point shootout winner Tyra Buss chose Williams to face in the overall final — she mentioned Williams isn't known for his shooting — the 6-foot-7 forward showcase an improved perimeter stroke.
Williams beat Buss, 18-14, in the final to win the Hoosier Hysteria 3-point shootout. And just minutes later, Williams went on to win the dunk contest over Juwan Morgan with a reverse slam in the final.
He became the first player to ever win both the 3-point shooting and dunk contests in the same Hoosier Hysteria.
"I'm not one for talking," he said, "but I need to quiet some people down when need be."
And after his wins, when Hoosier Hysteria emcee Catt Sadler jokingly asked what he ate for breakfast, Williams had a simple reply.
"I don't eat breakfast," he said. "Thoroughbred."
Bryant a full participant, newcomers 'learning a lot of things'
Freshman forward Thomas Bryant was a full participant in Hoosier Hysteria after he battled a foot injury and strep throat over the first couple of weeks of practice.
Bryant, who participated in the 3-point shootout, dunk contest and 20-minute scrimmage, completed just his seventh practice of the season earlier on Saturday, according to Indiana coach Tom Crean. But his impact, he said, is already noticeable.
"All of the sudden the energy of our practices pick up," Crean said. "He has this infectious energy."
Bryant is among several newcomers to the Hoosiers this season — including fellow freshmen O.G. Anunoby, Morgan and Harrison Niego and graduate student Max Bielfeldt, who Crean said "brings a lot to the team." And while Crean said the staff is proud of what the newcomers are doing, he mentioned there still is a long way to go in terms of their understanding of playing through fatigue and the new shot clock.
But that didn't hold back his overall optimism about them as they ready for their first exhibition in just over a week.
"They have incredible attitudes," Crean said. "They want to learn and they work to get better every day."
Hartman limited with rib injury
Junior Collin Hartman was held out of the scrimmage and was limited to participating in only the 3-point shootout as he continues to heal from a rib injury.
Crean told the media following Hoosier Hysteria that he does not expect Hartman to be in action for another week, but he gave no guarantees on his recovery timeframe, either.
"I don't want to predict because everybody heals differently," he said. "But I wouldn't expect him in the next week. I'd say it would be sometime after that in a guessing game. But that's the best guess. It's gotta heal."
Bryant leads all scorers in scrimmage
Bryant led all scorers in the 20-minute scrimmage with 13 points, as his Cream team with Ferrell, Robert Johnson and Anunoby, among others, topped the Crimson squad, 35-28.
Williams led the Crimson team, which also included James Blackmon Jr., Nick Zeisloft, Morgan and Bielfeldt, with nine points, and he also added two assists, two blocks, one steal and one rebound.
Additional standouts during the scrimmage included Anunoby, who was the third-highest scorer with eight points, Ryan Burton, who finished with the highest rebound total at five, and Blackmon, who recorded six points, a scrimmage-high four assists, one rebound and one steal.
Crean jokes about best-, worst-dressed players
When asked by Sadler who is the best-dressed player on the team, Crean was quick to rank Williams as the best, followed by Bielfeldt and James Blackmon Jr.
But he also did not hesitate in mentioning the Hoosiers' worst-dressed player, as well.
"Thomas has mastered how to wear sweatsuits that don't match," Crean said. "He's that guy."
Fuchs to remain part of IU basketball team
Sophomore Jordan Fuchs was announced as a member of the Hoosiers' basketball team on Saturday night, but the dual-sport athlete could not be in attendance as he was with the IU football team in East Lansing.
Fuchs played in three games for the Hoosiers as a freshman after joining the team following the end of football season in late November.
Filed to: Hoosier Hysteria, Troy Williams